BALTIMORE - How things can change in an offseason.
The only chances the Bengals had to beat the Ravens on Sunday in a less than auspicious debut were given by the defense because the offense came up with a huge goose egg in a crushing Opening Day loss, 17-10, against a rookie quarterback and rookie head coach.
"Make it the headline," said wide receiver T.J. Houshmandzadeh. "The defense played great. The offense sucks."
A game decided in the trenches? The Ravens offense was 5-for-5 on plays of third-and-one, but this one summed it up on offense.
When running back Kenny Watson barely missed getting a first down on a third-and-eight option pitch, the Bengals were faced with a fourth-and-one from the Baltimore 25 with 7:26 left in the game. The Bengals went with Scott Kooistra as an extra tackle on the right side next to tackle Stacy Andrews and guard Bobbie Williams, and Ravens tackle Haloti Ngata stuffed Chris Perry for no gain and no win.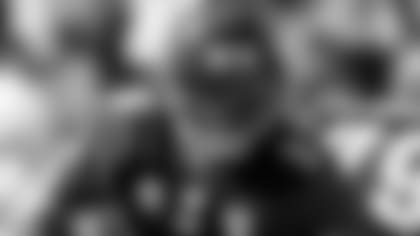 Carson Palmer hit on only 10 of his 25 pass attempts for just 99 yards. (Getty Images)
"That's a nine out of 10 play," said Bengals quarterback Carson Palmer. "Usually we make that nine out of 10 times. That's our bread-and-butter."
"The defense played great. They gave us a chance to win the game," said Palmer, whose 35.2 passer rating was the worst of his career. "We got outplayed. It was an ugly game ofensively. We scored three points. And that was a two-minute drive. We didn't have a drive where we just beat them up front and moved the chains. It's a sick feeling. It will be even sicker when we watch film. ... The only positive thing is it's Week 1. There's 15 left."
Just how bad is the passing game? Chad Johnson had just one reception as Ocho Cinco, the first time he's been held to just one catch in a game since Sept. 24, 2006 in the Bengals' 26-20 win in Pittsburgh, a stretch of 29 games. Houshmandzadeh had just three for 44 yards.
The Ravens handed it to the Bengals offensive line, holding Perry to 37 yards on 18 carries (double his career high for attempts)
"The way they were playing," Ocho Cinco said, "we could only beat them running the ball and throwing to the tight end."
Head coach Marvin Lewis lamented the failure to convert the short-yardage plays.
"The key were the third-and-one and fourth-and one. We don't stop them on defense and they stop us," Lewis said. "They were critical plays in the game. Physically, we have to play better football than we played today. ... All in all, that's the disappointing thing. They get down and dirty and be more physical at the end of the game. Both sides of the football."
The Bengals never got the ball back after Ngata stoned Perry as the Ravens converted two third-and-ones and a third-and-three running the ball.
Bengals cornerback Johnathan Joseph breathed some life into his flagging club when he scooped up rookie running back Ray Rice's fumble forced by SAM linebacker Rashad Jeanty and walked in from 65 yards out for a touchdown that cut Baltimore's lead to 17-10 with 10:15 left.
The Ravens didn't ask rookie quarterback Joe Flacco to do much in his NFL debut, but the Bengals did just enough in the first three quarters to let him dominate what looked to be one of their most crushing Opening Day losses ever here at M&T Bank Stadium when he took off on a 38-yard touchdown run with 15 seconds left in the third quarter to give the Ravens a 17-3 lead.
But lay this one at the feet of the Bengals offense and not Flacco's. It was as miserable as it was in the preseason. Palmer got hurried and harried by the Ravens in the first three quarters while completing just nine of 23 passes for a horrendous 75 yards while the backs had just 42 yards on 18 rushes.
The passing game was non-existent. Chad Ocho Cinco had only one catch for 22 yards and T.J. Houshmandzadeh only three for a meager 44 yards.
On his first touchdown since high school, Flacco simply spun out of the pocket on a rollout to his right and had nothing in front of him as cornerback Leon Hall and safety Marvin White, as well as the linebackers, couldn't get off their blocks.
As a side note, Flacco's longest run at Delware was for 25 yards, but he looked like Fran Tarkenton on what looked to be a broken play.
As another note, middle linebacker Dhani Jones wasn't on the field because of dehydration but he returned.
Finding themselves in a grinding game of defense, special teams and attrition in the second half of a game they trailed, 10-3, the Bengals seemed to turn the game with 5:23 left in third quarter on a fourth-and-three from their 34 when defensive coordinator Mike Zimmer called an all-out blitz that forced Flacco throw quickly to tight end Todd Heap and linebacker Brandon Johnson knocked the pass away.
But moments later the Bengals offense, in a mighty display of struggle, couldn't convert its own fourth-and-two from the Baltimore 36 when outside linebacker Jarret Johnson swarmed in from the left side of the line to stuff running back Kenny Watson for a one-yard gain.
Woeful Bengals offense gets first points
The difficulties of trying to get the Bengals passing game on the same page were painfully obvious Sunday in the first half when they didn't score until five seconds left in the half on Shayne Graham's 42-yard field goal that cut the Ravens lead to 10-3.
And that came at the end of a hurryup series of 1:37 that was aided by back-to-back pass interference penalties on cornerback Chris McAlister working against wide receiver Antonio Chatman and then Ocho Cinco.
Palmer, just 7-of-14 for 53 yards in the first half, didn't complete a pass to a wide receiver until 6:08 left in a half the Bengals would finish with just 84 yards and six first downs.
Houshmandzadeh did have a 13-yard catch over the middle in the scoring drive, but Ocho Cinco didn't have a catch in the first half, Perry could manage only 29 yards on 13 carries and a CBS graphic said Palmer had not only been sacked twice but hurried eight times and knocked down five.
The Bengals offense was so bad that it not only kept Flacco in the game even though he was operating a first-year scheme under a first-year head coach, it gave him all 10 his points with two huge turnovers.
The first one really backfired when the Ravens took the turnover and scored the first touchdown of the season on a double reverse that resulted in wide receiver Mark Clayton's 42-yard touchdown run with 2:12 left in the first quarter.
Flacco (15-of-29 for 129 yards on the game) looked cool in his debut with a game plan that had him getting out of the pocket and making quick throws. He was 3-of4 in the touchdown drive for 28 yards, but the backbreaker came when it looked like the Bengals had a reverse to their left side pinned for a loss. Yet Clayton took a handoff from wide receiver Derrick Mason the other way and nobody was home with Flacco out in front blocking.
On his first pass of the season to a wide receiver, Palmer went over the middle to Houshmandzadeh and he couldn't get his hands on it. Safety Ed Reed tipped the ball in the air it was picked off by McAlister.
"I should have had it," Houshmandzadeh said, who watched it go off his shoulder pad. (Linebacker) Bart Scott hit me coming out of my break and I stumbled. And the ball was there."
It was a battle of training camp rust. McAlister (knee) and fellow cornerback Samari Rolle virtually didn't work in the preseason and Palmer only worked last week with both Houshmandzadeh and fellow Ocho Cinco.
And it was the Bengals' rust that showed.
With 12:25 left in the half, neither of the Cincinnati starting receivers had a reception, Palmer was just 2-of-5 for 13 yards, and Ravens defensive coordinator Rex Ryan had forced the Bengals into calling two timeouts before third-down snaps.
On the last one, a third-and-two, it appeared Palmer checked into a run behind a three-receiver, one-back set, but linebacker Bart Scott came in unblocked and dumped Perry for a loss to force a punt.
The Bengals then got three great breaks.
On a Ravens third down Rice was wide open over the middle and dropped it. Then Ravens wide receiver Yamon Figurs broke a punt return for a touchdown, but cornerback Frank Walker was called for an illegal block and the ball went back to the Bengals 46. And Matt Stover, the NFL's second-most accurate kicker next to the Bengals' Shayne Graham, missed a 47-yarder wide left.
(Bengals cornerback David Jones took a hit in the head on the punt and didn't return as rookie cornerback Simeon Castille took his spot at the third corner.)
The Bengals offense was as bad as its preseason press clippings.
Palmer's lone long-ball attempt in the first 20 minutes got short-circuited when rookie safety Tom Zbikowski hit him as threw to Chatman.
A wide receiver finally caught a ball with 6:08 left in the half when Palmer hooked up with Houshmandzadeh. But by then the drive had already been blown up Ravens linebacker Terrell Suggs penetrating to drop Perry for a three-yard loss and a delay of game penalty.
The offense kept getting in the way of a defense that played well enough to go into halftime down, 7-0. But Perry allowed Ravens middle linebacker Ray Lewis to wrench the ball from him at the Bengals 29 with 2:37 left in the half, and a 15-yard facemask penalty on defensive tackle John Thornton put the Ravens on the doorstep. But Heap, chased by middle linebacker Dhani Jones, was open on third-and-goal from the 3 when he dropped what should have been Flacco's first NFL touchdown pass.
Stover's 21-yard field goal made it 10-0 with 1:47 left in the half.
The defense did what it was supposed to do. It made Flacco uncomfortable most of the time and take away Clayton's reverse, it held the Ravens to 59 yards rushing on 15 carries.
Bengals force early turnover
It took the Bengals defense two plays into the season Sunday to assert itself and it was right end Frostee Rucker forcing Heap to fumble at the Baltimore 33 that was recovered by left end Robert Geathers.
But the Bengals' usually clean pass protection against the Ravens faltered as the preseason trend continued on the first offensive series.
After Perry eked out a yard on first down, Palmer was sacked on two straight plays to force a punt.
Both appeared to be coverage sacks. Backup nose tackle Justin Bannan got the first one and outside linebacker Jarret Johnson got a freebie when Palmer slipped trying to get away from blitzing outside backer Antwan Barnes.
Bengals punter Kyle Larson then pinned the Ravens on their 3.
PREGAME NOTES: After returning him to practice Monday, the Bengals decided to replace right end Antwan Odom with Frostee Rucker in the starting lineup for Sunday's opener against the Ravens for Rucker's first NFL start.
In an effort to load up against the Ravens running game, the Bengals opted to dress seven defensive linemen and just eight defensive backs. Rookie safety Corey Lynch didn't dress and safety Chinedum Ndukwe is still nursing a knee injury.
Also down for the Bengals were injured rookies Andre Caldwell and Pat Sims, as well as newly-acquired offensive lineman Frank Davis. Rookie defensive tackle Jason Shirley also was shelved in favor of Orien Harris, picked up on waivers earlier in the week. Reagan Maui'a, the Bengals fullback picked up on Wednesday, was inactive.
Former Bengals right tackle Willie Anderson, who was not active, has been assigned No. 79 in a Deep Purple irony. That's the number of Stacy Andrews, the man that replaced him in Cincinnati. No. 71 wasn't available since it's being worn by the Ravens starting left tackle, Jared Gaither.
During warmups with the line, Anderson, wearing a Ravens gray T-shirt, spent some time with backup nose tackle Justin Bannan, apparently coaching him up on the Bengals blocking scheme.
In a bit of a surprise, Ravens safety Ed Reed (neck) was active and was starting. But Baltimore's best run-stuffer up front, nose tackle Kelly Gregg (knee), was down. Rookie Ray Rice got the nod at running back in place of running back Willis McGahee.
Bengals wide receiver Chad Ocho Cinco had a robust trash talking session with Ravens quarterbacks coach Hue Jackson about two hours before the game. Jackson, the former Bengals receivers coach while Johnson won three AFC yardage titles, ran some sprints while Ocho Cinco ran some routes with his shoulder harness.
"You're nervous, you're nervous," Ocho Cinco chortled.
"What did you say?" Jackson asked in mock anger and chased him for a few yards.
By the way, Ocho Cinco wore "C.Johnson" on his nameplate even though his legal name change has been recognized by the NFL and the Bengals. The Bengals said Sunday that league informed them, "certain issues remain to be resolved before Ocho Cinco will be permitted to wear his surname on his jersey." He'll also be C.Johnson on the play-by-play sheet.
Kevin Harlan, the harried CBS play-by-play man, conferred with Bengals public relations director Jack Brennan 15 minutes before the game and indicated he would call him "Johnson."
Under sunny skies at 78 degrees, the Bengals dodged both hurricanes as they gathered for the toss. Special teams ace Herana-Daze Jones was the designated captain and head coach Marvin Lewis used his right to defer for the first time when the Bengals won the toss and chose to kick to the Ravens to start the game and get the ball to start the second half.