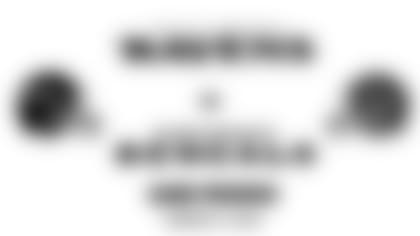 PLACE:  Paul Brown Stadium  (synthetic)
LOCAL RADIO:  Dan Hoard (play-by-play) and Dave Lapham (analyst) led by "triple cast," Cincinnati flagship stations WLW-AM (700), WCKY-AM (ESPN 1530) and WEBN-FM (102.7) on the 41-station Bengals radio network.
TV:  FOX broadcast crew of Thom Brennaman (play-by-play), Charles Davis (analyst), Tony Siragusa  (sideline) on Channel 19 in Cincinnati, Channel 45 in Dayton, Ohio, Channel 56 in Lexington, Ky.
OUT: *Starting QB Andy Dalton (thumb); TE Ryan Hewitt (knee) *
*PROBABLE: *Starting QB Andy Dalton (non-throwing wrist) went full the last two days after injuring his wrist on last play of Monday night's game. Starting TE Tyler Eifert (concussion) went full this week after missing the two previous games. Starting S George Iloka (groin) went full on Thursday for first time since re-aggravating injury since Dec. 13 vs. Steelers.  * *
QUESTIONABLE: Backup LB Albert McClellan (ankle) went limited last two days after not going Wednesday.
The 5-10 Ravens lead the 11-4 Bengals, 20-19; Bengals lead in Cincinnati, 12-7, 10-5 at PBS
»» With a victory the Bengals can tie the club record for most wins with 12, set in the Super Bowl seasons of 1981 and 1988.
»» The Bengals can secure the No. 2 seed in the AFC for a play-off bye and a home game for the divisional round if they win and Denver loses to San Diego at home. Or they can get it if Denver loses and Kansas City beats visiting Oakland no matter what happens against Baltimore.
»» For the fifth time in the last six years the Bengals close out the regular season against the Ravens. For the fourth time in the last five years the game is at PBS.
»» With two interceptions, Pro Bowl safety Reggie Nelson can tie Deltha O'Neal's Bengals record of 10 set in 2005. It would also give him 25 as a Bengal, tying him with Lemar Parrish for fifth place on the team's all-time list. He's trying to become the first Bengal to lead the league outright in picks. O'Neal shared the 2005 title with Ty Law.
»» Bengals QB Andy Dalton won't play, so he sets the team mark for best passer rating in a season at 106.3, breaking Carson Palmer's 2005 record of 101.1
»» Bengals WR A.J. Green, who had 227 yards in Baltimore earlier this season, needs 178 to break Chad Johnson's club record of 1,440 yards.
»» Bengals LE Carlos Dunlap has a Bengals' record 13.5 sacks, 1.5 behind Khalil Mack of Oakland, and one behind J.J. Watt of Houston. He's tied with Detroit's Ziggy Ansah for third in NFL.
»» RB Jeremy Hill (698) has a four-yard lead over RB Giovani Bernard as he tries to defend his team rushing title. In his two seasons, Bernard has been runner-up to Hill in '14 and BenJarvus Green-Ellis in '13.
»» It's the first time the Bengals have played the Ravens without Joe Flacco at QB for Baltimore since Nov. 11, 2007 in Baltimore, when they beat Steve McNair and Kyle Boller  on seven Shayne Graham field goals.
CIN: T-4th in scoring, 13th in offense (14th rushing, 13th       passing); 1st in scoring defense, 11th in defense (7th      rushing, 20th passing), 4th in turnover margin at plus-nine.
BAL: 23rd in scoring, 14th in offense (24th rushing, 8th passing); 22nd in scoring defense, 11th in defense (11th  rushing, T-17th passing), 30th in turnover margin at minus-13.
CIN: Marvin Lewis 111-100-2 in 13th season, 15-10 vs. Ravens.
BAL: John Harbaugh 87-55 in eighth season, 7-8 vs. Bengals and Lewis.
PHILIP RIVERS WEATHER UPDATE
The National Weather Service in Wilmington, Ohio is calling for sunny skies and a kick-off temperature of 37 degrees with winds out of the west eight miles per hour. No chance of precipitation.
.602 _ Bengals winning percentage at PBS under Lewis
7-1 _ Bengals record in PBS regular-season finale since 2007
.460 _ Ravens road percentage under Harbaugh
41-36 _ Lewis' record vs. AFC North
30-17 _ Harbaugh's record vs. AFC North
21-18 _ Lewis' PBS record vs. AFC North
9-3 _ Lewis' PBS record vs. Ravens
5-2 _ Lewis' PBS record vs. Harbaugh
8 _ Opening Day starters on IR for Ravens
0 _ Opening Day starters on IR for Bengals
868 _ Yards for Ravens leading receiver Kamar Aiken in 15 games
692 _ Yards for Bengals WR A.J. Green in seven games vs. Ravens
227 _ Yards for Green vs. Ravens in Sept. 27 Bengals victory
188 _ Average yards allowed passing by Ravens in last seven games
3 _ Bengals QB AJ McCarron's NFL start on Sunday
8 _ Ravens QB Ryan Mallett's NFL start on Sunday
8.4 _ McCarron's career yards per pass
5.5 _ Mallett's career yards per pass
8 _ Interceptions by Bengals S Reggie Nelson
6 _ Ravens interceptions this season