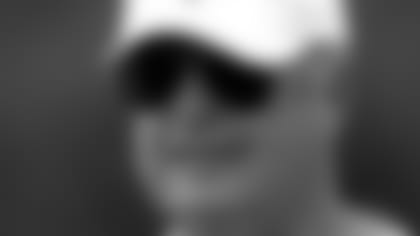 It looks like Bengals wide receiver Chris Henry is going to be one of the first players to feel the wrath of the NFL's new tough conduct policy that is expected to be in place Tuesday.
Bengals president Mike Brown is for also stiffening standards but hopes the new policy allows clubs more say in discipline.
Brown said Wednesday he won't know any specifics of the revised code until commissioner Roger Goodell briefs owners at the NFL's annual meeting next week in Arizona.
Goodell is scheduled Tuesday to unveil the league's new policy with wide-ranging support from the NFL Players Association, coaches, owners, and rank-and-file players. It's not up for a vote of the owners since Goodell has broad discretionary powers for discipline.
With Henry still waiting to hear from Goodell to rule on his final two of four arrests (reckless driving and allowing minors to drink alcohol in his Northern Kentucky hotel room), the indication Wednesday was that a matter not fully resolved would fall under what is supposed to be a much harsher code for repeat offenders.
No player has been suspended for more than four games under the old personal conduct policy. But with Goodell making conduct the flagship of his new administration, all bets are off on what could be facing Henry against the backdrop of discussions involving suspensions as long as a year for repeat offenders.
But NFL spokesman Greg Aiello said Wednesday each case would be treated specifically.
It's believed Goodell is going to make the call before the April 28-29 NFL Draft.
It's not only Goodell first annual meeting as commissioner, but the desert summit is also noteworthy because Brown ends up on the side of the NFLPA about once every solar eclipse. When it comes to toughening discipline both sides are for it, but they may disagree on how to do it.
Also Wednesday, Brown said he's for a rule change that would have an overtime kickoff from the 35 instead of the 30 so that the team that wins the OT coin toss isn't favored with field position. But he's not for changing the pass interference penalty to one close to the college rule and is for keeping the NFL spot foul rule intact.
He also said the Bengals are in the running for a Thanksgiving Day game "as well as 31 other teams," and he's hoping Paul Brown Stadium gets its first nationally-televised regular-season game since 2005. But he won't know if the club finds out the television schedule at the meetings.
Also on the agenda is revenue-sharing qualifiers, a concept with which Brown disagrees but one the league has adopted. Brown is anxiously waiting for the specific qualifiers to be unveiled next week and if it gets to a vote and passes three quarters of the ownership vote because that will decide if the Bengals receive any revenue sharing and if they do, how much.
Just how far the NFLPA plans to go on player conduct remains to be seen when executive director Gene Upshaw puts the players' proposals in front of the owners in Arizona. Upshaw has been floating the idea of year-long suspensions for players with multiple offenses from a constituency sick and tired of the conduct of their peers.
But Upshaw indicated last month after Goodell's conduct seminar in Indianapolis that he would not be for giving full disciplinary powers back to the clubs and Brown says that's what needed.
For instance, Brown favors more immediate and more severe punishments handed out by teams before a player is convicted if the team decides that's the right decision. He believes the current system of league guidelines determining punishment only after a case has been resolved in court doesn't have enough teeth.
"We think teams should have the right to fine and suspend players for misbehavior and we should be able to implement sanctions immediately," Brown said. "If we're aware of illicit behavior, I don't know that we should have to wait for the judicial process to play itself out. Some times our judicial system is slow and some times, in all honesty, not even dead on. Let us handle our own employees because we know them.
"The head coach on a football team who interfaces with them daily and is charged with maintaining the morale and discipline of the whole team ought to have the authority to say to a player, 'You've gone too far. This is the sanction,' " he said.
A club has the right to suspend a player up to four games for conduct detrimental, but everyone is seeking clarification in the wake of a virtual crime spree in which no team is immune.
The Bengals have had nine players charged criminally since the end of the 2005 season. But since their last arrest two months ago, 10 players and coaches on other teams have been charged with a crime.
"What we have been doing hasn't been enough," Brown said.
Goodell said last month that the Bengals have met with NFL official Mike Haynes to expand counseling. It's believed Goodell wants teams with persistent problems to be sanctioned, an idea Brown supports. To a point.
"If the league establishes certain prerequisites and we don't adhere to those, I can understand being sanctioned," he said. "I would have a problem being sanctioned for behavior of players we can't control and we ourselves can't sanction."