John Ross is trying to catch on.
A.J. Green caught the most yards (1,057) and Cris Collinsworth caught the most balls (67), but Isaac Curtis (18.7 yards per catch with nine TDs) had the best season a Bengals rookie wide receiver ever had.
John Ross? It's a week before Thanksgiving and he's still looking for his first catch.
But if he catches 27 balls over the last seven games, he'll end up with more than Carl Pickens did as a rookie. If he averages 47 yards the rest of the way, he'll finish with the same amount of yards as rookie Chad Johnson. If he averages a little more than 2.5 catches and 22 yards per game until New Year's Eve, he'll end up with more catches than Marvin Jones and more yards than Mohamed Sanu in their rookie seasons of 2012.
More rookie receivers struggle than don't. Just look at the two guys leading their respective conferences in receiving yards. As a rookie, Pittsburgh's Antonio Brown caught 16 balls for 167 yards in 2010 while Minnesota's Adam Thielen went eight for 137 during 2014.
"I see him every day working his butt off. I know how good he is," Green said of Ross after Thursday's practice. "I know a good receiver when I see one. I've seen a lot of them and he's going to a good one."
The young Ross, who'll remind you he won't turn 22 until the day after next week's game against the Browns, reminds Green of a great game-breaker.
"For me he's a quicker DeSean Jackson,"
 Green said. "DeSean has long, long speed. l feel John can run every route."
Ross's experience this season is on the dark side of the moon compared to Green's 2011, but that hasn't stopped Green from commiserating with him.
"I always tell him to keep his head up. Rookie year, there's a lot that comes with taking that next step," Green said. "He's going to be a great receiver for us.  Just give him time to get his body back healthy. He's fast. Just not fast, but he can get in and out of breaks very well to be that fast. He has great hands. All this stuff in the media about him not playing. But look at it. He didn't participate in OTAs. He came late to training camp. He's just getting his leg under him."
After Ross turned last Sunday's go route into a stop-and-go route, Green told him to never let it happen again.
"Not a big deal," Green said.  "I'm pretty sure my rookie year I had some hiccups and stuff like that. Dropped balls. At the end of the day it's just football. A lot of people read too much into it. At the end of the day, you just put on pads like in high school."
Even though there were no OTAs and he didn't work with new Bengals offensive coordinator Jay Gruden until the first day of training camp because of the 2011 lockout, Green thinks he had some advantages over Ross as a rookie.
Green, Gruden, and quarterback Andy Dalton were all new, while Ross came into an offense behind older players run by a vet quarterback in a more sophisticated edition of Gruden's system that has grown in complexity since the lockout. Not only that, Ross' offensive coordinator lasted four days into the season while Green had Gruden for three years.
  "Jay was a great coach. I love Jay," Green said. "Jay just kept everything simple for us. Man-to-man? Throw it up to A.J. I love that play. Goal line? Fade. Throw it up."
Ross doesn't have that luxury. But Green is telling him to keep the faith.
"Just keep him up," Green said. "The NFL has highs and lows no matter who you are. You have to ride it. Be confident in yourself and ability to make plays."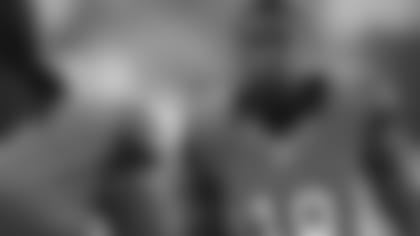 A.J. Green has made some plays in Denver, but he wants a win.
GREEN VS. TALIB: Speaking of highs and lows, Green has had them all in Denver. That was the scene of his first 100-yard career game in just his second NFL game, a monster 10-catch effort in a 24-22 loss.
In 2015, with the AFC's No. 1 seed on the line, Green gave the Bengals a 7-0 lead on a five-yard fade from back-up quarterback Andy Dalton on third down that Green swiped off the back of Pro Bowl cornerback Aqib Talib while somehow keeping both feet in the back of the end zone.
Talib is an emotional player who has been known to taunt, but Green is vowing he won't have any re-runs of his ejection in Jacksonville two weeks ago. He says he's got a lot of respect Talib, a four-time Pro Bowler during his ten seasons.
"He's a professional. That guy's been around the league a long time and plays at a high level," Green said. "I've played him a lot of times. He's one of the best … He's a big, fast guy that reads patterns very well. It will be a challenge for us."
INACTIVE GUESSES:  Starting cornerback Adam Jones (concussion) and starting nose tackle Pat Sims (calf) didn't practice Wednesday and Thursday and that usually means out for Sunday. They're the leading candidates to join guards Alex Redmond and Christian Westerman, but after that you're looking at a slew of game-time decisions. Rookie running back Brian Hill could be on the inactive list, but it depends on other spots. With Jones out, cornerback KeiVarae Russell figures to be up. Rookie safety Brandon Wilson could be down, but starting safety Shawn Williams (hamstring), who was inactive last Sunday, was also limited and that's evoving.
The big call is at wide receiver with Tyler Boyd (knee) going full at practice the last two days. Does that mean Ross goes back to the bench? It would be more than odd to dress seven receivers for a game. There is the first three of Green, Brandon LaFell, and Boyd, plus Alex Erickson is their kick/punt returner, Cody Core is a starting gunner, and rookie Josh Malone has the one receiving TD off the bench. One or two could be down depending on injuries.
William Jackson (toe) figures to get the start in place of Adam Jones. But he's iffy right now. After leaving last Sunday's game in the third quarter, Jackson sat out Wednesday before being limited Thursday. LaFell (knee) should be OK after being limited. Middle linebacker Kevin Minter (elbow) and defensive lineman Chris Smith (ankle) were also limited and those spots are evolving.
Cincinnati Bengals host practice at Paul Brown Stadium Practice Fields