No suspension for George Iloka.

George Iloka got the word that he had won his appeal just in time to dress for Wednesday's practice. Which made Bengals head coach Marvin Lewis happy since A) he was surprised Iloka got suspended a game in the first place for his hit on Steelers wide receiver Antonio Brown Monday night and B) that's one more starter he'll have on his decimated defense.


At the moment, Lewis may not have his two starting cornerbacks (Adam Jones and Dre Kirkpatrick), his two starting outside linebackers (Vontaze Burfict and Nick Vigil) and the other starting safety (Shawn Williams). There is some hope that linebacker Vincent Rey can play for the first time in a couple of weeks. He was on the field Wednesday in what amounted to a glorified walk-through since they played only 48 hours ago and was listed as limited.

A total of nine players sat out the Bengals' Wednesday practice, a final legacy of just how physical it was Monday night. But it's believed that some will play in Sunday's game (1 p.m.-Cincinnati's Channel 19) against the Bears at Paul Brown Stadium. Since the workout was a glorified walk-through just 48 hours, there'll be a better handle on available players at Thursday's more conventional practice.

But three starters in the concussion protocol (Burfict, Kirkpatrick, Mixon) don't figure to be ready in time and starting cornerback Adam Jones appears to have seriously injured his groin enough that there's some question if they'll have him for the rest of the season.

Starting slot cornerback Darqueze Dennard (knee) and rookie back-up safety Brandon Wilson (ankle) didn't work, but they were able to play Monday night with their injuries. Wide receiver John Ross (shoulder) didn't go either, but Lewis indicated he's playing this Sunday after three straight healthy scratches.

Before they got the word, Bengals defensive coordinator Paul Guenther and left end Carlos Dunlap could be heard talking about how surprised they were safety George Iloka got pinned with a one-game suspension for Monday night's helmet-to-helmet hit on Steelers wide receiver Antonio Brown that spawned an unnecessary roughness call as Iloka tried to pop a TD catch loose before Brown hit the ground.
"From what I know, the guy doesn't have any kind of a malicious history like that," said Guenther before Wednesday's practice and he's exactly right.
Iloka didn't get a penalty his first two years in the league, 2012 and 2013. The only year he has two unnecessary roughness penalties is 2014. He's got one in each of the last three years, along with a taunting in 2015. But playing one of the most physical positions in the league, Iloka went 26 games between the third and fourth roughing calls of his career with the fourth coming Monday.
"They suspended him because of the way the media portrayed the game. They felt that pressure," Dunlap said. "Back in the day (safety) Brian Dawkins was known for getting the ball off receivers' hands when they made great catches. It was acceptable."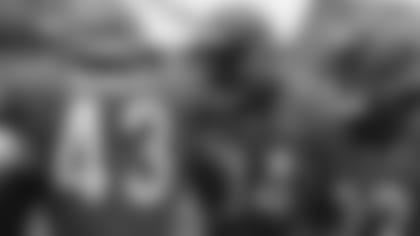 The NFL took George Iloka's name off the list.
Dunlap's point is the defensive player has an almost impossible task. The league can't even give him a specific target area. Somewhere between the head and the knees, but the problem is the target is always moving and changing because the game is so fast.
 "That's a bang-bang play every time. They have to catch the ball going to the ground," Iloka said. "You have an opportunity to get the ball out. You just have to make sure you hit him in the target area. That time he didn't. Normally he would. It's hard. There's nothing you can do about it."
So everyone was pleased he won't miss the game. But he still has to pay a $36,464.50 fine, still a big number for a guy that makes $235,000 a game.
_Lewis, a member of the NFL competition committee, said   Iloka had a strong appeal because he made the effort in the scope of the play.


"That was brought to George's defense, very appropriately I think," Lewis said. "There was a reference made that I thought was an overstatement on certain things. There were some plays that happened last season that were brought to the attention of the competition committee after the season. These weren't those types of plays — plays that happen within the scope of football. We've done a lot of changes and revisions in how the game is taught, but this is still, at the end of the day, football." ...

_ After Wednesday's walk-through Bengals special teams coordinator Darrin Simmons vehemently took issue with Steelers kicker Chris Boswell's assertion that Bengals safety Josh Shaw tried to injure him before Monday night's 38-yard winning field goal at the gun.

"You're not jumping offsides that bad without trying to run into the kicker," Boswell was quoted by the Pittsburgh media Wednesday. "It's not an accident at all … If you look in the NFL for the last two years, multiple teams have done it just to try to … either if it's running into, blocking the kick, doing something. But Seattle did it last year against the Bills, the Ravens did it against us last year—and now Cincinnati."

Simmons, who watched Steelers linebacker Terence Garvin break punter Kevin Huber's jaw three years ago on a controversial block that got him fined, called Boswell's comments "ridiculous." Shaw, coming off the same right edge where Bengals cornerback KeiVarae Russell blocked a field-goal try two weeks ago at the half-time gun, tried to time a blocked kick that would send the game into overtime. He was early, offsides, and picked up the Bengals' final penalty on a night they set a franchise-record 173 penalty yards.

"He's trying to block the kick and he jumped the gun," Simmons said. "We would never try to hurt somebody. That's ridiculous to say. The holder's hand was open. That's why he went.

"I have too much respect for what those guys do. We've been on the other side of that playing that team with Huber.  He tried to block the kick. He just jumped early."
...



Lewis said he has spoken on the phone to Steelers linebacker Ryan Shazier while he has been in the Cincinnati hospital caring for his injured back.


"Just told him to hang in there and keep moving ahead," Lewis said …


Lewis says he's happy former Bengals kicker Mike Nugent is getting a shot with the Bears. But he hopes he only sees him on the field once on Sunday: when he kicks off the second half.

Cincinnati Bengals host Pittsburgh Steelers at Paul Brown Stadium in week 13 of the regular season.