BALTIMORE - If this was Marvin Lewis' last game as Bengals head coach, no one could  tell in the wake of the stunning 31-27 victory over the Ravens secured on Andy Dalton's fourth-and-12 TD pass that that went for a 49-yard catch-and-run to wide receiver Tyler Boyd.
"Everybody was emotional after the kind of season we've had," said left end Carlos Dunlap.
"Yeah, he was emotional," saids wide receiver Brandon LaFell. "Especially after beating his old team."
Lewis, his contract up, said after the Bengals finished 7-9 with two straight wins that he wants to coach this team next year for a 16th season. But he also said some decisions have to be made when he meets with Bengals president Mike Brown Monday morning.
He indicated he would have to discuss some other issues besides just returning. Asked who makes the decisions Lewis said, "I would think it starts with ownership." But when asked if he'd accept if Brown offered a deal he paused.
"It's more complicated than that," he said.
 So there is going to be a discussion.
"He's the right guy for the right team," said LaFell and several of his teammates agreed.
"He's my coach," said cornerback Dre Kirkpatrick.
Boyd ran the Buffalo Bills out of the longest post-season drought in pro sports with Sunday's stunning fourth—down play. The Bengals sent four wide receivers long and Boyd split the seam and outran everybody after he caught it.
"We caught them in the wrong defense," said Boyd of what Dalton called a soft zone. "I saw the seam and Andy delivered the ball … It got so quiet. I thought there was a penalty."
The Ravens deployed a look they usually use in the red zone, where they are the ninth best defense at preventing touchdowns. But it has one flaw because they like to cheat up the safeties. If a receiver gets through the seam, he's gone and Boyd was.
"He got behind the defense and found a little window in the seam. Once he caught the ball, he broke some tackles, and we scored. We had to do something at that point. It was fourth-and-12, and we were just trying to get the first down. When I went over to the sideline before the play, Marvin and I both thought that this was a play that could work."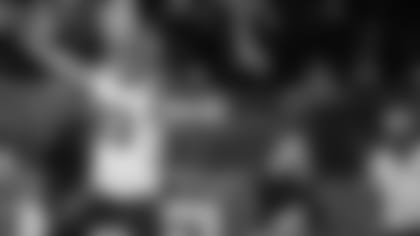 If you think Dalton to Boyd looked familiar, it did.
On Oct. 11, 2009, the Bengals trailed the Ravens in this building and with 22 seconds left quarterback Carson Palmer hit another slot receiver, Andre Caldwell, for a winning 20-yard TD pass on the same play.
Back in '09 they called it "Four Verts," which means four receivers running vertical routes straight down the field. That's what happened Sunday eight years later.
"They can't cover us all," Boyd said.
_On that last unbelievable snap, transplanted left guard Clint Boling was out at left tackle courageously fending off Ravens all-time sacker Terrell Suggs while at right tackle Eric Winston ran his guy by Dalton despite playing all but two snaps with an injured ankle that is getting examined Monday. Dalton stepped up in the pocket and Winston left the locker room in a boot with club director of operations Jeff Brickner carrying his bag.
Winston went down on the second snap of the game. He missed five plays getting his ankle taped before going back for Dalton's one-yard TD pass to tight end Tyler Kroft that gave the Bengals a 7-0 lead 4:05 into the game.
Winston, the 12-year vet, knew he was the only guy left with any significant NFL game tackle experience. He was replaced by Kent Perkins, an undrafted practice squadder three weeks ago.
"I promised Trey I wouldn't come out," said Winston of right guard Trey Hopkins, the guy that would have had to kick out to tackle if Winston was done for the day.
Winston, the NFL Players Association president, made a gutty policy statement. You play for your teammates if you can.
"I think we made up our minds a couple of weeks ago," Winston said. "It could have gone one of two ways and it went the right way."
 Darqueze Dennard had the Bengals' longest interception return for a TD in 15 years. 
Cornerback Darqueze Dennard made sure the Bengals had one guy with at least multiple interceptions in each season of their first 50 years. Boy, did he ever. They went into Sunday with ten different players with one pick. Dennard got his second early in the third quarter when safety Shawn Williams hit Ravens wide receiver Chris Moore and Dennard caught the rebound. Williams promptly buried a guy with a block and set sail from his ten with his first career pick-six, an 89-yard jaunt. Cornerback Dre Kirkpatrick, who had a 101-yard return last month, threw the last big block when he took out center Ryan Jensen.  
"Shawn made a good play, and the ball popped up. I was able to catch it, and when I turned around, I saw Dre in front, so I basically started weaving and tried to see it on the screen," Dennard said. "I was listening to Dre talk, and I ended up in the end zone. I've played a little offense in my day. I know you can just let your blockers pretty much set everything up, and you just need to make one move at the end. It was a great job by the defense running and just blocking. I got the interception, but it was a team thing. There were a lot of guys running out there, and we had talked about that all year, just turning the ball over and trying to score. It was big. I was at the right place at the right time."
It was the fifth longest return of a pick for a TD in Bengals' history and longest since cornerback Artrell Hawkins went for 102 in Houston.