A.J. Green rained on the Bills' parade Sunday with two huge plays that trumped three turnovers.
Ever since he arrived in 2011 A.J. Green has rescued more Bengals than the Cincinnati Zoo but during Sunday's 20-16 victory over the Bills at Paul Brown Stadium the roles were reversed. Despite a monster game with 189 yards and his longest touchdown in more than two years, Green had a hand in all three turnovers that turned into 10 Buffalo points.
Two went off his hands for interceptions. One was a fumble in the red zone that negated a 20-yard catch. But Andy Dalton converted 40 percent of his third downs on a gimpy ankle, rookie running back Joe Mixon ran in a three-yard TD for the winning score as well as the clock-killing final first down, and tight end Tyler Kroft converted a third-and-five with 6:45 left.  
"I had three turnovers, but the defense bailed us out. Andy bailed me out," Green said. "Joe and T.K. making runs and catches in this type of weather, they ended up saving my butt today. The whole team saved my butt today."
Green did a bit of his own CPR. His circus 47-yard catch on the last play of the third quarter set up Mixon's winner. Green, who had beaten rookie corner Tre'Davious White for a 77-yard touchdown in the game's first four minutes, did it again.
"We did a quick snap. The corner was still looking at the ref checking to be on line," Green said. "I was just trying to get ahead to try and get in.  I saw the ball, so I was like, 'Let me try to lay hand on this thing before he gets his head around."
No panic. Head coach Marvin Lewis told Green to go win the game after the third miscue and he did.
"Everybody knows me. Everybody knows how I am," Green said. "How chill I am. How I prepare. I trust how good I am and I trust my ability to go make the next play … It happens. It's behind me and I'm on to the next play."
Green and Dalton, always together. Green now has 30 100-yard games, one behind Chad Johnson's club record. After his 328 yards, Dalton has 22 300-yard passing games, one behind Boomer Esiason's Bengals record. The 77-yard TD is their 47th scoring connection, tied for second most in Bengals history with the 47 of Jeff Blake and Carl Pickens and four behind Ken Anderson and Isaac Curtis.
-Dalton isn't quite sure how or when he rolled his ankle.
 He said the roughing the quarterback call on old TCU teammate Jerry Hughes wasn't it.  But he did limp around after the next play and the Bengals had to call a timeout with 11:10 left in the first half and he eventually got it taped.
"I told Andy that's how you know you're good. They call a timeout to check on you," said left guard Clint Boling.
Dalton had just a 77.1 passer rating, but what mattered it was his 18th game winning drive and 15th fourth-quarter comeback, his first game winner since last year's opener against the Jets. He did have a fourth-quarter comeback in Wembley last year, but they ended up tying Washington in overtime.
"I wanted to keep trying to walk it off, and hopefully it would start feeling better. And it did. Obviously, I got it taped up and was good to go," said Dalton trying to shrug it off.
Head coach Marvin Lewis was dutifully impressed, but more so by the ability to win a game in the fourth quarter. After last year's opener against the Jets in New Jersey, the Bengals went into the fourth quarter of their nine losses and one tie within eight points nine times and had the lead twice. From 2011-2015, Dalton put up 11 fourth-quarter comebacks.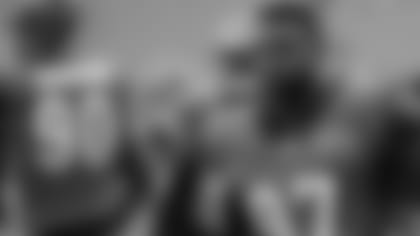 Geno Atkins had one of six sacks on Sunday.
"As I told them at halftime, we were ahead at Green Bay at half, this time we ended up being tied, and now we've got to go win a game in the third and fourth quarter," Lewis said. "And they did that today. The last two seasons, we haven't done that. We were very good at that for a long time, and we haven't done that. We took a step in the right direction today and we've got to keep building upon it."
These kinds of games just don't happen. it's the first time since Dalton threw three picks in Tampa in 2014 that they won a game with a minus-two turnover ratiop or worse. And only the fourth time under Lewis and just the 15th in franchise history.
-After limiting the Bills to 36 yards in the second half that tied for Buffalo's worst second half since 2001 , the Bengals have allowed their fewest yards in a season's first five games (1,314) since 1976 and are on pace to allow their fewest points ever in 16 games. A week after giving up 215 yards in Cleveland, they allowed just 221 against the Bills, the fourth fewest under defensive coordinator Paul Guenther. They also had six sacks for the second time this season and are on pace for 58, breaking the team mark of 51 in 2012.
Right end Michael Johnson, who had 11.5 that season, had two on Sunday, including the first one off the scrambling Tyrod Taylor. He appeared to be spying Taylor rather than rushing.
        "With a scrambling quarterback, we were just trying to contain him. He does a good job of getting out (of the pocket)," Johnson said. "(Tackle) Geno Atkins did a good job taking the attention, and I was able to fall into it. You hope for those chances, so when you get them, you have to make the most of them.
"Rushing and coverage go together. Any time we can get them at third-and-(long)-distance and they have to throw, we feel very confident in who we have up front and in the back end. We had guys making plays all over the field. We can still be better, but it's encouraging to see us like that today." -It took the Bengals four games and three quarters to get their first rushing touchdown when rookie running back Joe Mixon went around right end from five yards out on the first play of the fourth quarter to score what proved to be the winning points as the Bengals re-gained the lead at 17-16.
It turned out that may have not been the biggest run of the game. But the biggest run of the game came on the same play. On the first play after the two-minute warning and the Bills out of timeouts, Mixon went wide right on second-and-eight and that was it. Both runs appeared to start  as an inside power play that the Bills stuffed, but Mixon showed patience as well  as speed to the edge to improvise when he strung it out.
"Exact same play," said Mixon, holding the touchdown ball.  "They blitzed and the line did a great sealing it and I just set up the corner, (tight end) Cethan Carter blocked it, and I just tried to make a play."
Cincinnati Bengals host Buffalo Bills at Paul Brown Stadium in week 5 of the regular season.