Geno Atkins: questionable for Sunday.

_As expected the 5-7 Bengals defense is devastated by injuries for Sunday's game (1 p.m.-Cincinnati's Channel 19) at Paul Brown Stadium against the 3-9 Bears with five starters ruled out and two more listed as questionable.

Pro Bowl defensive tackle Geno Atkins (toe) didn't practice Friday for the second straight day, but head coach Marvin Lewis said after the walk-through he has a chance to play.


Lewis said Atkins woke up Thursday morning with inflammation in the toe and indicated it will be a week-end decision.


"He'll be fine," Lewis said. "He has an opportunity to be fine Sunday."

Slot cornerback Darqueze Dennard (knee) went limited Friday for his first work of the week after injuring the knee during Monday night's game but returning to finish it. He's also listed as questionable and they'll get a better idea in Saturday morning's mock game.

 They're already without their starting cornerbacks with Adam Jones (groin) and Dre Kirkpatrick (concussion) ruled out Friday for Sunday. They're down to three corners with William Jackson and KeiVarae Russell on the outside and Josh Shaw in the slot. They're also down to four linebackers with starting outside linebackers Vontaze Burfict (concussion) and Nick Vigil (ankle) out and backup Vincent Rey (hamstring) listed as questionable. There is a lot of hope on Rey since he's been limited all week after missing the last two games.

Earlier in the week special teams coach Darrin Simmons said Monday night was his first game in 15 years he's played with just four backers. It's hard to see them not making a roster move before Sunday in order to get through the game.

It's believed that Adam Jones and Vigil have serious enough injuries that they are candidates for season-ending injured reserve. Waiting on the practice squad for their first NFL snaps are first-year corner Tony McRae and rookie linebacker Brandon Bell.

Also ruled out were starting safety Shawn Williams (hamstring) and rookie running back Joe Mixon (concussion). Of all the players listed on Friday's injury report, only Rey and Williams missed Monday night's game.

"Everybody plays Monday night games. Everybody wants to play Monday night games," Lewis said of the short week. "Part of it is to come back from that."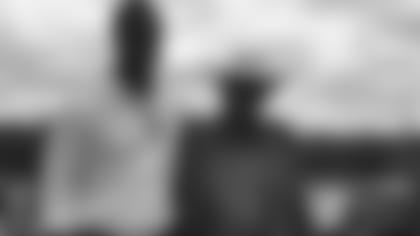 Michael Johnson with his dad, Samuel Johnson.


Right end Michael Johnson is the Bengals' nominee for the Walter Payton NFL Man of the Year Award for many reasons.


He's been a mentor to at-risk children in the Cincinnati Public Schools system and a benefactor to University of Cincinnati students. He's been such a benefactor in his hometown of Selma, Ala., that he was honored for his contributions to computer education in the community when he was named Alabama's lieutenant governor for a day.

But his latest effort, to bring children and the police together at various events, was inspired by the man that inspired him to volunteer to paint houses for the elderly when he was growing up.
Samuel Johnson. His father. A wounded Marine from Vietnam who survived stepping on a mine 50 years ago.

Last season, when 49ers quarterback Colin Kaepernick took a knee during the nation anthem to bring attention to the battle for social justice, Johnson turned to his father for advice.

"It opened my eyes to the problems around the country. I talked to my dad about it. What do you think?" Johnson recalled before heading out to Friday's walk-through. "He said we fought and died for his right to do it, but he's done that now. So now it's up to the rest of the fellas to put it into action to get the results we're all looking for what we need as a country no matter what ethnicity you are."

So Mike Johnson followed through on his mantra, "Be a part of the solution," and brought the police and kids together.


"So you know who the other person is," Johnson said. "At end of day what is going to be your action? What is your action going be if there's something you don't like? How are you going to make positive change? You have to start somewhere."

_Lewis is seen as the ultimate grinder and one of the reasons is because of games like this. Yes, they have a slide rule's chance in hell of making the playoffs at 9-7, but with the intensity so great for the 23-20 loss to the Steelers, the letdown, and the injuries piled up, well, a lot of clubs would be in danger of not showing up.
But Lewis' teams simply don't do that. In the last three seasons the Bengals haven't made the postseason (2008, 2010, 2016), they are 8-6 in December-January games, 6-2 at PBS. You can't tell if he's in the first year of a long-term deal or, like this year, if he's in his last year.
"We as coaches sometimes have to bring the energy behind it right away," Lewis said. "This is an opportunity for us to close the season in the correct way and see what happens with our opportunity. We're not out of things."