Rookie running back Joe Mixon left after the second series with an ankle injury, paving the way for Giovani Bernard's 30 touches, the second most of his career.
After one of the greatest and guttiest games of his career Bengals running back Giovani Bernard found himself apologizing after Sunday's clinching touchdown run, a 12-yarder with 1:54 left that made the final 26-17 for Cincy.
A few plays later Bernard, the star of the game with 30 touches for a career-high 168 of the Bengals' 364 yards, told defensive coordinator Paul Guenther he was sorry.
"Obviously it was little bit selfish on my part. I definitely should have gone down and just ended the game like that," Bernard said of kneeling before he got in the end zone. "It's not right to do that… The defense shouldn't have had to go back on the field."
But his teammates are glad he did.
"I'm glad he scored. We want to get as many rushing touchdowns we can," said left guard Alex Redmond after he and Christian Westerman rotated with each other in the first significant action of their careers and gave the running game some beef.
It's fitting that both Redmond and Westerman were on the field for Bernard's TD on third-and-five from the Lions 12. The Bengals went with a goal-line look, which meant Redmond came off the bench to play right guard, Westerman stayed at left and they went with three tight ends. It was a power play, meaning Westerman pulled.
"That was a hell of a read. He just bounced it outside," said tight end C.J. Uzomah, who scored their other touchdown. "I told him, 'Damn, I don't know where you're going to hit this thing.' They all crashed inside and he just bounced it. I saw the replay and said, 'Where's he going to go?' So he made a nice little bounce."
Bernard also bounced back early in the second half when he injured his ankle. He came out, but only briefly. The trainers wanted to tape him up but Bernard hates tape on his ankles and declined.
"It's football. You're going to get hurt, you're going to get banged up, so just get back out there kind of thing."
BOW FOR BOLING: Clint Boling's good friend, Rams left tackle Andrew Whitworth, may give him a hard time on how Dwight Freeney's Hall-of-Fame spin move buckled him once Sunday. The one that has made the Lions' situational pass rusher the most prolific sacker on the NFL active list next to only Julius Peppers.
But moving out from left guard to make his first NFL start at left tackle, Boling adhered to the Whit Principle. It doesn't matter what you look like, as long as your guy doesn't get to the QB. Boling made sure Feeney didn't get there and Ziggy Ansah, the Lions' leading sacker, only got there once against him in what was one of the most needed performances ever by a Bengals' offensive lineman.
"Clinton went out there and was a professional,"   said Eric Winston, who on Sunday became the Bengals' third starting right tackle this season. "Listen, going against Freeney and Ziggy and these guys when you haven't played left or right tackle and the angles are so different and so tough to play on this level, my hat's off to him. Just for the simple fact he went out there sucking it up for the team. I thought he did a heck of a job."
Boling got some occasional help from chipping backs and tight ends, but he says the biggest help of all was the season-high 34 rushes at 4.2 per.
"It's only one man over, but it's a different game out there at tackle," Boling said. "Yeah (felt a little awkward at first).  You're definitely feeling your way around out there. It's a big challenge. ..There are some things I need to clean up, but overall I was happy."
Not only did he have Freeney and Ansah across from him, but he had rotating guards next to him in Redmond and Westerman, guys playing their first significant amount of snaps in an NFL game.
"We were able to prepare for that throughout the week. We knew what it was going to be like," Boling said.  "I got to play with both of them throughout the week. Overall I thought it was fine."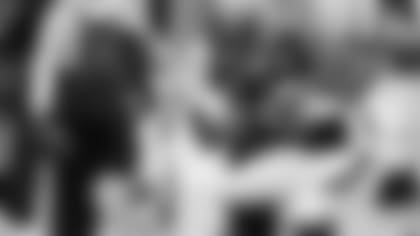 Vincent Rey had 12 stitches and an interception Sunday.
DEFENSE GRINDS ON: Sure, it makes no sense. The Bengals got toasted by the likes of a struggling rookie in Mitchell Trubisky and a journeyman in Case Keenum the last two weeks and on Sunday they hold the great Matthew Stafford to 30 points below his passer rating (69), hold his sixth-best pass offense to nearly 60 yards below average by holding Stafford to 203 yards, and hold the Lions to nearly 10 points below their average with 17.
And they did it after seeing two linebackers (Vontaze Burfict, shoulder, Jordan Evan concussion) exit for good on back-to-back snaps in the last 1:30 of the first half. "Hardy Nickerson should get the game ball," said linebacker Vincent Rey of the rookie middle linebacker who came off the bench.
It was guys like that. It was guys like cornerbacks Dre Kirkpatrick and Josh Shaw converging on Lions wide receiver Golden Tate. Trailing 19-17 with 3:49 left, Tate and Stafford apparently did the impossible and clicked on a third-and-28 at the Lions 40. But it was ruled Tate didn't control it as he went to the ground.
"There were a few of us. We were wrestling for it all the way to the ground, because he initially had it," Shaw said.
Starting safety George Iloka was talking about guys like Rey, a guy that played with a dozen stitches in his mouth from last week. But he could have been talking about himself, too. Iloka missed the second half of last week's game with a shoulder injury and went all the way on Sunday.
"There were more guys than that. More guys than that who were hurt," Iloka said. "But everybody played. Everybody gave it their all.
"That's what I'm really proud of. We didn't flinch no matter what circumstances were in the game. "
*Marvin Lewis, 11-4 in PBS finales, may have won his finale. *
UNFLINCHING MARV: Looks like Lewis is going to take it to the end. Asked if he had any emotions about what is reportedly his last game at PBS as Bengals head coach he said, "Emotional? Why? Do you know something I don't know?"
The players are taking the same approach.
"He didn't tell me it was his last game. I haven't heard that," said right end Michael Johnson. "All I've been hearing is speculation, and I don't listen to speculation. If it's true, then it's true. If not, we're going to rock out again next year. He's been great for me. I love him as a coach and as a person."