Darqueze Dennard had a huge pick in Tennessee last season.
If the password for the Bengals' revamped offense this spring is uptempo01, then the new-look defense's sign on is tamultiple18. And cornerback Darqueze Dennard is the face of the versatility new defensive coordinator Teryl Austin seeks.
Just ask cornerbacks coach Daronte Jones, the only new coach on defense besides Austin who is still getting over the fact he's lining up three first-round corners in the nickel package.
"It's hard to find a cover guy that can play physical enough to go inside and play the core," Jones says Monday. "I've got to have some physicality and some want-to. You're a linebacker in the run and a DB against the pass."
Jones suddenly snaps his fingers.
"He has the ability to make the adjustments. The coverage is going to change live and you have to go to the next one. He's good at that," Jones said.
Smart. Tough. Smooth. Last year you saw why they rated Dennard one of the ten best players coming out of the 2014 draft. As we sketched it out last week, ProFootballFocus.com rated him 22nd among all corners, ahead of guys like Xavier Rhodes, Stephon Gilmore, old friend Terence Newman and his old friend from Michigan State Trae Waynes. Not to mention T.J. Carrie, Cleveland's new $8M a year man. In the slot he was rated 12th, ahead of Patrick Chung (Bill Belichick's favorite player, it seems), and Tyrann Mathieu and Kenny Vaccaro, a couple of first-rounders.
How many snaps that gives him this year is anyone's guess. William Jackson is the next big thing at corner and Dre Kirkpatrick is the big money corner.
But he comes back with a friendly reminder. He knows how important the slot is, but  … "It's huge in today's game, but I don't want to limit myself," Dennard says. "If you go back and look at the games I played (on the outside), I think you'll see that's my normal position and I didn't give up too much."
Dennard studies and he ticks off those games on the outside easily.  The opener. Chicago, Minnesota, Detroit.  A little bit in Tennessee. He senses his style fits that multiplicity Austin is fostering and Jones is cultivating. Dennard's rookie year is the first year of two years Vance Joseph coached the Bengals secondary during his rapid rise that culminated last year when Kirkpatrick returned a pick 101 yards in Denver in front of Joseph during his first year as the Broncos head coach.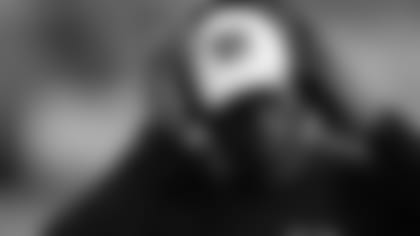 Vance Joseph coached Darqueze Dennard and hired Daronte Jones.
"I love him. He reminds me a lot of VJ," Dennard says of Jones. "Real intelligent. He breaks down both offense and defensive-wise and different ways of looking at it. That helps the overall group have the same optics where everybody is looking at the same thing."
Keeping his DBs on the same page is easier because Jones says Austin is keeping the basics of the Bengals defense Mike Zimmer and Paul Guenther ran for the previous decade. It's also similar to what Jones worked with during the previous two years in Miami, where Joseph was the defensive coordinator for a year after he left Cincy. When Joseph went to Denver after a year, Jones worked under Joseph's successor Matt Burke, the former Bengals linebackers coach he brought to Miami.
 "It's the same foundation, the same core, just tweaks," Jones said. "But TA is going to bring his flavor. It's easier for us new coaches to learn more so than a mass transition.  That will allow him to be more multiple and do more things. Each coordinator has his different take and spin on it and TA has his flavor."
It's not lost on Jones he's got three first-round cornerbacks that are going to get the bulk of the time. He can't wait to deploy them on the field.
"The organization definitely has its eye on corners, an eye for talent," Jones said. "They're all smart, they all bring something different to the table."
Jones checks a lot of the boxes when it comes to Dennard.
"What he brings is accountability. He's smart," Jones said. "You can't have too many of those guys with that type of versatility, that wherewithal."
After playing 16 games for the first time in his career, Dennard led the Bengals corners with 899 snaps last season, Kirkpatrick was second with 868 and Jackson was third with 698. Dennard likes the looks of that.
"I'm confident. That's the first time I've played every game, so I'm healthy. That's a lot of it," Dennard said. "I'm confident what we've got back there. We've got a lot of guys that have played a lot of ball."
The idea seems to be a lot of different ball.
Take a look at the 2018 Bengals regular season schedule in pictures.