Duke Tobin met the press Wednesday.
INDIANAPOLIS - For a team that is set at quarterback with Andy Dalton, Bengals director of player personnel Duke Tobin had a lot to say about the position during Wednesday's media availability at the NFL scouting combine.
First of all, Tobin basically said an arbitrator's decision two weeks ago that set free backup quarterback Andy Dalton stunk.
"What went wrong was we got the wrong opinion. We didn't agree with it, but it's the opinion we have," Tobin said. "Opinions are like armpits, we all have them and most of them stink. Present company included. That's the opinion we have and we'll go forward with it and adjust accordingly. "
His opinion of McCarron is much sweeter.
"He was the consummate pro for us. I consider him a close friend. He's got what it takes," Tobin said. "He desperately desires an opportunity to prove himself. If he finds that, we wish him well. I wish him well. I'm excited for him and his future. We'd lose a guy that plays a position that's extremely important, which is backup quarterback. And we'll have to go out and attack that spot and see who the next guy will be in that role."
Which is a lot more than Browns head coach Hue Jackson had to say about McCarron. Even though Jackson traded for him last season in a deal that stunk at the last minute and he's now officially a free agent come March 14. But when it came to talking about how he evaluates quarterbacks like McCarron that have just four NFL starts, Jackson sure sounded interested.
"You look at system; you look where they come from, who do they play for. I think there's a lot of different, other variables that you can look at and then obviously it's projecting," Jackson said. "Can a guy come in and play for you and do the things that you need him to do to help you win? I think you have to go through all of those different scenarios and play them all out to see what fits for you."
That sounds like McCarron, who had all four starts under Jackson and Browns quarterbacks coach Ken Zampese in Cincinnati in 2015 when Zampese had the same job and Jackson was the offensive coordinator. But maybe not considering the Browns are taking a QB with the No. 1 pick and are looking to team him with an experienced vet.
"You want a guy who's been a veteran player that's played in the National Football League that's had a chance to win," Jackson said. "You'd love to have a young player that you're developing, maybe two of those kinds of players in your room, and, again, normally the veteran is somebody that those players can learn from, to learn the National Football League, so they can understand what the rigors are. When they're ready to play, the veteran kind of moves on. That's what you hope to have. I justthink that's a really good room."
If McCarron doesn't get his deal, the Bengals would no doubt take him back for a year with the second-round restricted free agent tender of about $3 million. But the plan is to replace him with a veteran free agent, a rookie, or both if No. 3 Jeff Driskel's broken non-throwing arm doesn't heal as hoped. Because they do like Driskel's athleticism.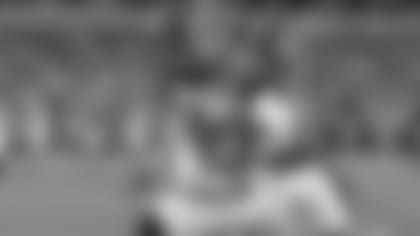 Jeff Driskel is big in the Bengals' plans if healthy.
"You are talking about a guy with tremendous physical talent," Tobin said. "We saw big growth from Year 1 to Year 2 with him in understanding the offense and making decisions and so on. I don't put any limits on Driskel at all."
Tobin calls the quarterback field in the draft "deep," but not deep enough to usurp Dalton at No. 12.  Tobin isn't ruling out anything and indicated if there was a slide at No. 12, it could be a quarterback. And anything else.
"We could trade, we could sit and pick, we could take any position there," Tobin said. "We do try to find value in the draft. If there is a player of what we determine tremendous ability we normally don't pass those guys up. We will throw in the needs later on in the draft, but we try to take the guy that really has the physical traits to be a really good pick."
And once and for all, Tobin made it clear just how much the Bengals feel about Dalton. They never entertained starting McCarron ahead of him. They felt great turning to him in a pinch. But …
"We've seen him play at the top of the league. We've got to support him better. He's got to do some things better. He knows that. But you don't have to look very far around the league to see teams that don't have a guy and what that does to them," Tobin said. "Do we feel good about Andy Dalton? Yeah, he's in the prime of his career and we feel good about him."
Speaking of quarterbacks, Tobin weighed in for the first time on the Bengals' controversial decision to bring back the top play caller with head coach Marvin Lewis returning for a 16th season.
"Marvin is a proven coach. He knows what it takes to win. He can get a lot out of players. Players play hard for him. We feel good. He knows our team. He knows our players," Tobin said. "He knows our division. We feel he gives us the best chance to bounce back and have a good season. I know a lot of times around the league there is a quick trigger on coaches, we don't believe that. We believe coaches don't forget how to coach. Coach Lewis has done wonderful things in Cincinnati and we all have a lot of regard and respect for him. I have a great working relationship with him. We all believe he can take us back to the playoffs and get beyond that."