Bengals running backs coach Kyle Caskey is looking for style and not specifications.
MOBILE, Ala. - Whether it's at wide receiver or running back, it's no secret the Bengals seek to supplement an offense looking to  put more juice around Pro Bowl wide receiver A.J. Green and seam-buster Tyler Eifert at tight end.
Saturday's Senior Bowl (2:30 p.m.-NFL Network) is a pretty good place to look. Five years ago the Bengals emerged with a running mate for Green in California's Marvin Jones and when they coached against the South in the 2009 Senior Bowl they took enough good notes on Virginia running back Cedric Peerman to give him a second chance off the waiver wire.
With Giovani Bernard expected to miss the first few weeks of training camp as he comes off ACL surgery, Rex Burkhead in free agency, and Jeremy Hill headed to free agency next year, the Bengals could use any kind of a back that ranges from big to nifty.
And they'll take one out of any mold as long as he hits some certain specifications, which is why they'll keep a careful eye on the North with Wisconsin's Corey Clement (5-10, 221 pounds)  and Toledo's Kareem Hunt (5-10, 208).
Clement, projected early in the process for the fourth or fifth round by nfldraftscout.com, has the size but not the blinding speed. Hunt, projected to go a little earlier, doesn't have the great size but is one of those productive Ohio kids (Willoughby) who had a great career for the Rockets.
The dimensions are a good place to start since the practice week starts with a weigh-in for a reason. The Senior Bowl roster at the beginning of the week had Hunt listed at 6-1, 225 pounds. But he lost a few inches and pounds when the measuring sticks had him at 5-10, 208. Clement, who averaged 4.4 yards on a punishing 315 carries in the Big Ten, stayed at about his listed 5-11, 227 pounds.
That sounds like an every-down back, but those numbers alone won't tell them what niche a guy can fill. Duke Tobin, the Bengals director of player personnel, has already sent his scouts to monitor these guys but this is the first week the coaches get to see them live.
 "We're not looking for a specific body type," said running backs coach Kyle Caskey during one of the workouts this week. "When they run the ball do they keep their feet moving on contact? Are they running through to the other and not just stopping when somebody hits them?  Low pads and feet running through contact against guys who are trying to make a name for themselves as well."
Of course, there are numbers everywhere now, especially since profootballfocus.com is working with the Senior Bowl. PFF had Clement for four fumbles this year, most among the Senior Bowl backs. He didn't play much in the pass game with just 12 catches and 40 pass blocks, where he gave up four pressures. His 2.8 yards after contact weren't far off the FBS average of 3.1.
But they won't be looking at those numbers, either. They're just looking because the numbers don't always compute to actual play.
"We're looking for guys, especially in these type of games, that can pass protect because a lot of them aren't asked to pas protect," Caskey said. "I want to see how tough they are when guys are coming full seed blitzing and how they handle the leverage and attack the situation."
Not even a bad number like a 40-yard dash time can eliminate a wide receiver at this point in the process. Tobin has often pointed to the 2010 draft example of Steelers wide receiver Antonio Brown and his 4.5ish time that put him in the sixth round.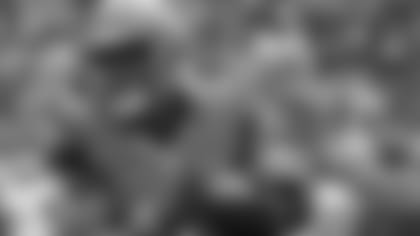 Rookie Cody Core's 11-inch hands were among the biggest in last year's draft.
Case closed. These guys are watching for how fast they play the game.
"Traits," is how wide receivers coach James Urban sees it.
A lot of times at these practices Urban doesn't even look to see if it's a catch. That happens when quarterbacks and receivers are thrown together for a week and it's not very smooth.
"It may not be the best throw or the best catch, but I'm just interested in the physical traits right now," Urban said. "Route running.  Catching is part of it and how they catch it. Do they extend? We're looking for vertical explosion. Can they separate?"
That's what the Bengals need opposite Green. Game-breaking speed. Take-the-top-off-a-defense speed. Western Kentucky's Taywan Taylor has that. He said he ran 4.33 seconds in the 40-yard dash back during the summer and he's looking to go faster at next month's NFL scouting combine.
He also averaged 3.8 yards per route run, best among the FBS receivers at the Senior Bowl and his 6.8 yards average yards after contact with 14 forced missed tackles is more than the 5.3 FBS average.
Taylor, projected as a third or fourth round pick by nfldraftscout.com, plays for a South team that has an intriguing receiver roster including LSU's Travin Dural. Dural had just 30 catches and one TD this past season and is projected as a late-round pick. But he didn't have a drop.
The North has East Carolina wide receiver Zay Jones with his record number of career FBS catches after a 160-catch season. Nearly half of them (42 percent) accounted for a first down or a TD.
Jones, who is the son of former Cowboys linebacker Robert Jones, goes 6-1, 200 pounds and is projected by nfldraftscout.com as a third-rounder. He's not a burner in the 40 like Taylor and he's not a hidden gem like that other Jones of five years ago.
But they're still looking.
"I think the thing about Marv is that he was on a team with another NFL receiver (Keenan Allen) and was kind of in the shadows," Urban said. "But he came (to the Senior Bowl) and he was able to show what he had. He caught your eye with his speed and his ability to separate."
There is one number for a receiver that can be daunting. Size of hands. The bigger, of course, the better. Green's hands are 10.5 inches. Cody Core, the Ole Miss receiver the Bengals took in the sixth round last year, had one of the draft's biggest hands at 11 inches.
The Bengals believe 10 is ideal, but it's not a deal breaker. Still the size of the hands of Jones (9.0) and Taylor (8.78) is going to be part of the process.
"This is just one piece of the puzzle," Urban cautioned. "There's game tape, the combine, pro day. It all goes together."
Andy Dalton, Geno Atkins, Carlos Dunlap and Andrew Whitworth participate in 2017 Pro Bowl in Orlando FL.