Jon Hayes: call him head coach for today's game.
Jon Hayes, the Bengals tight ends coach, says he has to get off the phone because the van is going to leave. And he really has to get off the phone because he's the head coach. In fact, he's the guy that probably made sure the van is there.
"It's been an eye-opener for me because I realize I can do this," says Hayes from St. Petersburg, Fla., home of Saturday's East-West Shrine Game (3 p.m.-NFL Network).
Like Hayes, three other Bengals assistant coaches also had their eyes opened this week when they expanded their roles at a college all-star game that develops more than just NFL prospects. Hayes coaches the East and is joined by a trio of guys you don't know but soon will. Dan Pitcher is coaching wide receivers for Hayes while Robert Couch is coaching the tight ends and Marcus Lewis is coaching the defensive line for the West.
During the season those three labor in obscurity on the coaches' version of the practice squad known as quality control. Like the PS, it's a valued but overlooked position, charting snaps and formations while hunched over computers, preparing the scout team, drawing practice cards, holding bags, and only occasionally able to actually coach.
"It's great to be able to have your own room, have your  guys, set your own individual meeting times, running your drills during practice," says Lewis, whose title in Bengaldom is defensive quality control/defensive line. "And to be able to network with other young coaches around the league."
Lewis has been searching for a number this week. The team record for sacks in the 93-year-old game, but he can't find it after scouring the internet.
"That's OK," says Lewis, easily able to track down an incentive. "I'd like to see everybody get at least one. They're here to impress the scouts."
That would be eight, including Poona Ford, an undersized nose tackle that went to Texas after Lewis tried to recruit him  when he coached at the University of Cincinnati. Small world? The game is viewed by some as a cut below next week's Senior Bowl with many projected for the late rounds or free agency, but the week is all about development for everybody. Next week in Mobile, Ala., the North and South are each coached by an NFL staff with old friend Vance Joseph's Broncos working the North and the Texans working the South.
"This is fantastic. I think NFL assistant coaches should coach all the all-star games," says Couch of the Senior Bowl and NFL Players Association games. "When you go to the Senior Bowl next week those guys look miserable. It's almost like a penalty to coach that game. They haven't had any time off and that's a week they don't get back.  But if you ask the assistants like us that never get to coach, it's an opportunity for us to refine our skills. We'd coach them all."
Couch, 44, who is the Bengals' offensive quality control/offensive line coach, is one of the league's new breed of coaches with a varied, unconventional background. He played at Vanderbilt in the early '90s and had a cup of coffee on the Falcons' practice squad before becoming a success in the digital business world while coaching high school ball in Texas and Florida.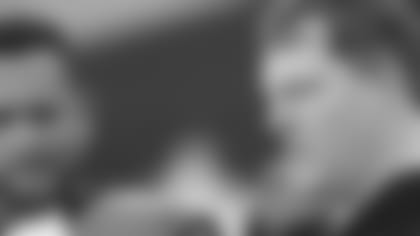 Robert Couch, who works with the Bengals offensive line, has the West tight ends this week.
"This week you're actually coaching a position instead of being in a support role," Couch says. "For me you're reminded why you got in the business. Because you like to teach, you like to test different theories and refine your philosophies."
It's a good primer for all three because when they return to Paul Brown Stadium in two weeks with head coach Marvin Lewis' overhauled coaching staff it's a brand new world.
Marcus Lewis, Marvin's 27-year-old son heading into his fifth season with the club, moves from assisting the line to assisting the linebackers, replacing David Lippincott after his departure to Oakland with coordinator Paul Guenther. So he'll be working for a new big boss in coordinator Teryl Austin.
Couch and Pitcher come back to new immediate bosses. Pitcher, 31, is a former Cortland State quarterback who was a finalist for Division III Player of the Year and then got his master's degree in management. He shares an office with Couch that may be the most efficient and smartest boiler room at PBS, where he's an offensive assistant crunching a vast array of numbers and helping prepare practice while working with a wide receivers position headed up by the just hired Bob Bicknell.
Couch does the same thing for the line, but the adjustment to new coach Frank Pollack should be a breeze. One of the reasons Couch loved working for former Bengals offensive line coach Paul Alexander is it exposed him to another successful school of line pay, but he probably is more closely aligned to the Bill Callahan school and that's where Pollack matriculated.
"If you can't get Bill Callahan, the next best thing is getting a guy that worked for him," Couch said of Pollack.
But this week it is The Couch School. Even if it is tight ends and not the line.
"Being able to work with the passing philosophy which I don't usually get to work on is great," he says, "and being able to use the pass-blocking philosophies I like to try and believe in and the run-blocking techniques as well."
They love because it because they can see their future. Coaching kids and not crunching numbers. Couch only has to look at the other side of the ball and see Lewis.
"Marcus is walking around here like he's on Cloud Nine," Couch says. "He's going to be an unbelievable defensive line coach. Mark my words, one day his line is going to lead the NFL in sacks. He's so into the foot work and the hands. He's sending me clips of guys getting off scot-free using his techniques."
Lewis is going to remain with the pass rushers in his new job with the backers. It's his specialty, one that he's honed with pass rush guru Chuck Smith in a relationship that began with Smith's annual weekly visits to Bengals training camp.  He relishes the chance to add linebacker to his resume, but there's no question his passion is getting to the passer and that what he's emphasizing this week.
"The rewarding thing is you can see the improvement," Lewis says. "These are young guys. They're eager. They listen to you."
Lewis brought the spin move with him and he knows that's always a little bit controversial. "You know what some coaches say about the spin?" Lewis asks. "You spin yourself back to the bench." But Lewis is a devout believer in it, especially since the head man himself, a guy he knows pretty well, stood up in a defensive meeting at PBS and said not to forget the spin move.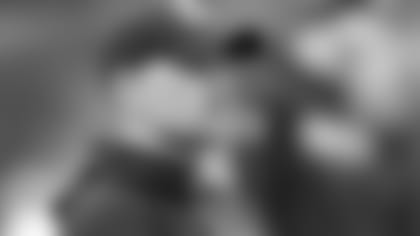 Dan Pitcher gets his own room of receivers this week.
"That's the great thing about this week," Marcus Lewis says. "You get to teach it all week and guys are telling you they're getting the hang of it."
 But maybe the best teaching came on the first day of the week, Sunday, when the West visited a Shriner's Hospital for Children. It's what the week is all about and Lewis made sure his players soaked it up.
"The cool thing about this game is the slogan. 'It's more than just a game.' It's about giving back to the kids, the kids that really need help," Lewis says. "A girl who had a problem with her voice sang a beautiful song. We played basketball with them. It was just a great experience. For everybody. I think it helped the players realize what kind of an opportunity they have."
 Hayes, 55, who has been Marvin Lewis' only tight ends coach in 16 seasons, knows exactly what the visits meant.
"It puts life in perspective," Hayes says. "We're blessed. It's a two-fold week. There are those kids and there's the game and you're trying to get these guys to progress as fast as they can."
Hayes now has a better idea what Marvin Lewis puts up with every day as a head coach. And this is just for a week with the best players around. Logistics. Injury. Schedules.
And Hayes knows he can do the job.
"You're responsible for everything. Everything," Hayes says. "There have been all kinds of injuries. Three offensive linemen, a running back, a linebacker.
"The big thing is you have to put it all together for everybody and make sure everybody is on the same page. There are a lot of voices. You hear them. But, in the end, it has to be your voice and then you begin to see that trust people have in your calls."
One of the decisions he had to make?
"Who talks to the press," Hayes says.
Put it on Page 1. These guys are ready. Not just the players.