Frank Pollack had a nice run in Dallas.
Bengals right tackle Eric Winston, who spent five seasons with Frank Pollack as his assistant offensive line coach in Houston, gave the new Bengals line coach a thumbs-up Thursday.
"He's a very capable guy. A smart guy. He's a steady hand. He brings a great blend as a player and a coach," Winston said. "He knows what it's supposed to look like. I think he's got all the pre-requisites to be successful in Cincinnati and he can bring kind of a new perspective with fresh eyes."
Pollack becomes the Bengals' third line coach since 1980 and replaces Paul Alexander after 24 seasons. It's been reported Alexander has interviewed in Dallas as Pollack leaves the Cowboys.
After their worst rushing season in history, the Bengals tapped Pollack's resume of three straight seasons in the NFL's top ten in rushing as the Dallas offensive line coach. Pollack is one of six changes on the Cowboys coaching staff despite the success on the ground as head coach Jason Garrett looks to revive quarterback Dak Prescott and the passing game.
But in Pollack, 50, the Bengals feel they are getting an experienced NFL hand with roots in successful and varied offensive line trees that can give them multiple looks in the run game ranging from zones to power. He didn't shake  loose until late in the process, but when he did the Bengals leaped. Of the names potentially available on the O-line, both the Bengals coaching wing and scouting wing felt Pollack topped the list. 
Pollack played guard and tackle for the Super Bowl champion 49ers during an eight-year career in the '90s for highly-regarded O-line coach Bobb McKittrick, a guy that coached in all five 49ers Super Bowls.
Pollack broke into coaching with Winston and the Gary Kubiak-Rick Dennison Texans of 2007-11 that specialized in wide zone runs. When he re-united with his college coach, Bill Callahan, as his assistant with the Cowboys from 2013-14, Pollack added the widely–respected Callahan's menu of tight zones and perimeter runs, and misdirections that gave the Bengals fits whenever they met. Pollack has a rep in Dallas as a technician and a stickler for technique.
"We did a little bit of everything," Pollack said of his years in Dallas. "We ran wide zone. We ran tight zone. We ran perimeter schemes to gaps. We kind of did it all. Misdirection."
When Callahan left the Cowboys to coach the Washington line in 2015, Pollack got the nod and in the last three seasons the Cowboys finished No. 9, No. 2, and No. 2 in NFL rushing during his three seasons.
He pointed out that his lineage stretches from Callahan to Jim McNally, the Bengals line coach that started the run from 1980-94 and is now a Bengals consultant at age 74. McNally was a Jets consultant when Callahan coached their line from 2008-2011 and Pollack says he'll reach out to McNally but he indicated it's too early to say if that includes field work.
"Bill Callahan comes from the McNally tree and he's a legendary line coach here as well," Pollack said. "I worked under Bill and Bill learned things from (McNally). I know him. He's absolutely a great resource."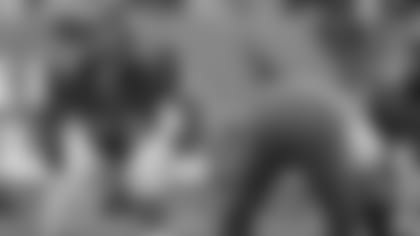 Eric Winston played under Pollack for five seasons.
Pollack says after sitting down with Bengals offensive coordinator Bill Lazor he called it "a great fit." He is coming from a system where Prescott uses a lot of those run-pass options that Lazor knows Bengals quarterback Andy Dalton like, as well as a mix of traditional stuff and zone reads.
"It's a legendary franchise run by a legendary football family," said Pollack of draws to the Bengals. "It was neat to meet Mr. (Mike) Brown and the head coach (Marvin Lewis) is a class act. Every person you talk to around the league says that.
"I'm really excited to see the players and the talent they have here."
Pollack, who grew up in Phoenix, has got some Ohio blood flowing through him. His father is from Cleveland and graduated from Benedictine High School in the early '60s and, yes, he was a fan of Paul Brown's teams.
And the Bengals are quite familiar with Pollack and the schemes he's coached, or at least been schooled in.  When Callahan was with the Jets, they beat the Bengals in the 2009 Wild Card Game at Paul Brown Stadium on 171 yards rushing. The next year on Thanksgiving night in New York they rolled the Bengals on 170 rushing yards. In 2011 when Pollack was the Texans line assistant, they smashed the Bengals twice on the ground within a month, first with 144 yards in a Houston regular-season win at  PBS and then in a Houston Wild Card win at home behind running back Arian Foster's 153 yards.
Then in 2016 Cowboys running back Zeke Elliott went for 134 yards on just 15 carries in Dallas' 28-14 win over the Bengals.
"He's been exposed to good players. He knows what good players look like," McNally said of Pollack. "He's been taught by Bill Callahan and I've worked a lot with him and have got a lot of respect for Bill Callahan."
The Cowboys have four first-rounders on their offensive line and while some wonder if Pollack was handed a bunch of talent, there's no question he got a high level of play out of it. The Bengals have yet to get that level out of their first-round tackle, Cedric Ogbuehi, and second-rounder Jake Fisher.
"I though what he was doing in Dallas was a hybrid of what we had in Houston and they had success with it," Winston said. "When I saw it come across I was really surprised he was leaving Dallas. But that's the way this league is."