Geno Atkins is one of Michael Irvin's co-captains in Sunday's Pro Bowl.
KAHUKU, HI - They call Hall-of-Fame wide receiver Michael Irvin "Playmaker," so he ought to know.
He thinks the Bengals' contingent of seven Pro Bowl players, second most in their history, has at least two playmakers worthy of Canton if they keep doing the things that got them into Sunday's game (7 p.m.-ESPN) at Honolulu's Aloha Stadium.
And one of them, four-time Pro Bowl defensive tackle Geno Atkins, is co-captaining the team Irvin leads into the always embattled game against the team led by Hall of Fame wide receiver Jerry Rice. They'll draft their teams Wednesday (7:30 p.m.-ESPN) with Irvin picking first after he lost Tuesday's coin flip.
Rice chose to take, instead, the captain duo of Giants wide receiver Odell Beckham, Jr., and Rams defensive tackle Aaron Donald. Irvin may not take Bengals cornerback Adam Jones first, but when he found out Jones had been named to the team replacing Arizona's Patrick Peterson, he said, "I will strategically go get Adam."
Although Irvin didn't choose Atkins and Falcons running back Devonta Freeman as his co-captains, he embraced them as fellow Greater Miami players and says Atkins is the best three technique in the game.
"Bar none," Irvin said after Tuesday's news conference announcing the co-captains and their teams. "Geno is a bad man. Look at him right here. See that right here?"
Atkins, wearing the uniform of the week, T-Shirt and shorts, was showing off his famously deceptive legs, and Irvin was pointing at them.
"See that?" Irvin asked. "Stallion's kind of legs right there. Skinny little ankles. Muscles a little up the leg.  All power. It's an incredible get for us. Great guy, great dude. And I know the people that helped put the great things in him going back to high school. He's outrageous and he's a Florida boy."
The always taciturn Atkins looked a little out of place in the news conference setting, but he admitted being one of four Pro Bowl captains has made it more special.
"It's an honor," Atkins said. "Being up here with Devonta Freeman and Michael Irvin, it's an honor. It's always a great honor to be chosen to play with the best from all over the league."
If Atkins is headed to Canton on his current pace, Irvin also has his eyes on Bengals wide receiver A.J. Green, a guy that has done something not even Rice or Irvin has done. Green has made the Pro Bowl in his first five seasons.
"Are you sure Jerry didn't do that? I mean, he just said he came here to 13 Pro Bowls. Can you believe that?" Irvin asked.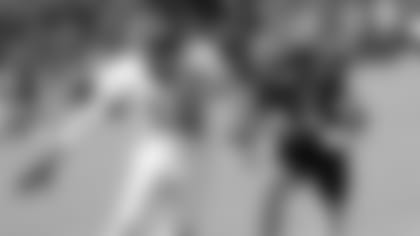 Two of Irvin's favorite Bengals, A.J. Green (18) and Adam Jones, duel last training camp.
Believe that Green made it his rookie year when Rice didn't.  At 6-2, 207 pounds, Irvin, the prototypical big receiver in the 1990s era of transition from smash-mouth to wide-open mouth, appreciates how smooth the 6-4, 215-pound Green moves.
"For a guy his size, he takes small strides," Irvin said. "He doesn't take long strides. Small strides mean more ground contact. More ground contact means what? More ability to cut and his ability to transition in and out of cuts, no one in the league is better."
Irvin says if Green continues on this path, he'll "absolutely," join him in the Hall, and it sounds like he'll try to draft him.
Would he take him ahead of Adam Jones? Probably, but not by much. For an all-star game that is dying for players to care enough to play, never mind play hard, what better choice than Jones?
"You know why I'd love to have a guy like Adam Jones?" Irvin asked. "He always plays hard. Period. There is no not play hard in him."
Jones was the seventh alternate and while this game is now being ripped for being the "Replacement Pro Bowl," you can also take the view that the selection process is so flawed that the guys who really deserve to be here are now making it.
Take Bengals special teams ace Cedric Peerman. He was a first alternate and got the nod at the last minute Tuesday when Matthew Slater joined his fellow Patriots on the Lexington Green and mustered out of the Pro Bowl.
But Peerman should have been here anyway, according to Bengals special teams coordinator Darrin Simmons after he talked to a gaggle of his peers around the league that thought Peerman got robbed.
The Bengals also felt Jones should been elected after a season profootballfocus.com said he allowed just one touchdown pass and held quarterbacks to a passer rating of 60 when they threw at him.
At 32 and heading into his tenth season, Jones didn't seem to care he got the call late as he texted while headed to the airport to catch the flight Tuesday afternoon:
"It's just a blessing to be with the elite!!  Work hard for this and got a lot more to go."
Irvin spent some time with Jones at dinner two weeks ago when Jones flew to New York to appear on "Inside the NFL," a few days after his controversial 15-yard unsportsmanlike conduct penalty on the last play of the Wild Card defeat to the Steelers. Since then the league has virtually admitted they blew the call because they didn't penalize Steelers assistant coach Joey Porter for being on the field on the same play.
"People are going to talk about what happened at the end of the game and all of that, but he had a great year," Irvin said. "A great year. Adam has done a wonderful job. And I told him that. He took that loss hard. He's a free-agent. I hope they bring him back. I think he's found a place he can call home."
Irvin may just well bring Jones home when he drafts Wednesday.