Shawn Williams: "Just let us play."
Bengals safety Shawn Williams and linebacker Nick Vigil, who play the game's most physical positions, join that long list of players, coaches, and fans that don't quite know what to make of the NFL's new helmet rule.
The one that bans lowering the head to initiate contact with the helmet, which had Williams and Vigil still flummoxed on Monday, six days after it became law.
Vigil, who was fourth on last year's team with 77 tackles despite missing the last five games with an ankle injury:  "It kind of took everybody by surprise. You have to change the way you play the game. I guess they have to clarify what is an illegal hit and what's not. But it's going to take some time for people to adjust. You might see a lot of penalties early in the year, I guess, I don't know. Your head makes contact most of the time first before anything else."
Williams, who has 161 career tackles in five seasons: "From the way it sounds it's going to be hard because you kind of use your helmet to tackle almost every single play, regardless of the way you use it. You really don't think about it. It's just all reaction and action."
The first clue that everyone is taking a wait-and-see approach until the NFL gives specifics with videos and potential penalties is that Williams has yet to hear from Bengals head coach Marvin Lewis.
"Normally when something like this comes out, Coach Marvin texts me or George," said Williams of fellow starting safety George Iloka. "I'm sure he probably texted (linebacker) Vontaze (Burfict) and some of the other guys. We haven't really heard from him. I don't know if they have a clear understanding or definition right now. Because I sure don't."
Let it be known that Lewis likes the intent of the rule (as do Vigil and Williams) and it backs up how he teaches his team to tackle. Helmet up. Tackle with the eyes. Ducking of the head not only can cause serious neck injuries but also missed tackles.
Yet Lewis senses there are going to be problems if there aren't guidelines
"It becomes a judgment thing. It's going to be a thing that's debated all the time on television. It already is," Lewis said last week. "They're acting like it's a thing bigger than it is. So it's already gotten out of control. It's the same education piece. Any time there's any kind of revision, I think the people that spend the time talking about it need to be educated and understand it. Not only that, you have to educate the players."
And it's not just defensive players. The league is saying the rule encompasses all players and all plays. That means tackles blocking edge rushers, cornerbacks taking down ball carriers on receiver screens, and the play that has Vigil and Williams wondering.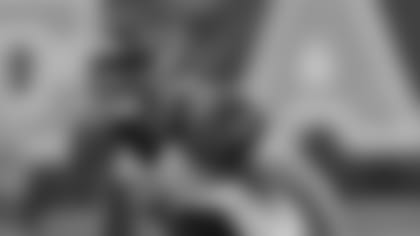 What can Nick Vigil do on fourth-and-one?
"Fourth-and-one on the goal line," Vigil said. "The running back is going to lower his head. You're going to have to lower yours. There's going to be a collision. That's football … It's going to be interesting to see how they officiate it … I don't think they can replay every tackle."
It seems like the league simply left out a word.
The year Williams came into the NFL, 2013, running backs were restricted in lowering the crowns of their helmets. According to profootballtalk.com, the league told officials to penalize only the most flagrant plays where players use their helmets as weapons. Maybe that's where this is headed when the owners meet in May because that's a play that's rarely called.
"They've said you can't lower your head, but running backs do it all the time," Williams said. "I haven't seen that called. Have you? I don't remember it being called.  Just let us play. We'll try to keep it safe the best we can, but at the end of the day you still have to make tackles."
If anyone knows what a textbook tackle is, it's Williams. He's an old school guy who had just two penalties last season and not until two weeks were left in the season. One was a face-mask penalty and one was unnecessary roughness. The year before that he had two unnecessary roughness penalties.
That's out of 1,491 snaps. If he's not reminding himself how to make a proper tackle, the older school Lewis is.
"I get what they're trying to do as far as to make the game safe. But it's still the game of football and we know what we signed up for," Williams said. "You're kind of taking the game out of our hands with this. We want to keep the game safe and clean, but it's still my job. I get paid to make tackles. Regardless how I make them. And don't get me wrong. I'm going to try and make a tackle the right way and always will. There are just some cases it just happens."
It looks like the players are calling for a heads-up.