Tyler Eifert led all tight ends in 2015 with 13 TDs.
With game-breaking Pro Bowl tight end Tyler Eifert scheduled for an ankle surgery Wednesday that puts his availability for the Sept. 11 regular-season opener in murky waters, quarterback Andy Dalton is looking at the biggest challenge of his career as they scramble to replace three of their top five receivers from last year.
After Tyler Kroft and C.J. Uzomah took the bulk of the reps at tight end in Tuesday's first spring practice, Dalton emerged upbeat about what was available in the passing game at Eifert's spot. Dalton, who has a 12-5 September record, has shown he's been able to adjust to off-season shuffles.
But never one like this if Eifert isn't ready for the Jets in New Jersey.
Still, the 6-6, 250-pound Kroft and the 6-6, 270-pound Uzomah came bolting out of the 2015 draft as two of the more athletic tight ends in the crop. While Kroft rapidly became their Rookie of the Year taking 32 percent of the snaps, the raw Uzomah picked up some experience playing in the last six games. Both showed up Tuesday in the passing game, Kroft with solid all-around NFL skills and Uzomah with still unfinished but intriguing ones.
"They can play. For them it's just being comfortable doing it," Dalton said. "Tyler played quite a bit last year and C.J. didn't play as much, but I feel like he's got a good understanding. They are big bodies that run well. Both those guys are smart guys and understand it."
But that still doesn't dampen the daunting assignment. Gone is No. 2 receiver Marvin Jones and slot receiver Mohamed Sanu to free agency and now Eifert is dealing with another injury, a severely sprained left ankle received in the fourth quarter of the Jan. 31 Pro Bowl.
And very few tight ends in the league, never mind here, can do what Eifert can do when it comes to lining up outside as a receiver and going deep. ProFootballFocus.com rated Eifert as the best tight end in the NFL in the deep passing game in 2015.
The Bengals are releasing nothing about the injury. But various media reports suggest they don't view Eifert as a candidate for the physically unable to perform (PUP) list, which would take him out of the first six weeks of the regular season. It has also been reported that Dr. Robert Anderson, the world renowned foot and ankle specialist, is set to do the surgery in Charlotte, N.C. It's believed that Anderson has consulted on the case from the get-go, starting when Eifert returned from Hawaii for a battery of tests.
Initial reports said a three-month time frame to return, so whether it means one game, two games, the first month, or none, the Bengals now have to prepare to replace Eifert's defense-busting 13 touchdown catches from last season against stingy defenses in the early part of their schedule.
They open with the fourth-rated Jets and host the No. 1 Broncos in the Paul Brown Stadium opener Sept. 25. That's the fifth anniversary of Dalton's only home September loss. In between on Sept. 18, the Bengals are in Pittsburgh, a defense that held them to 17 points per game last season.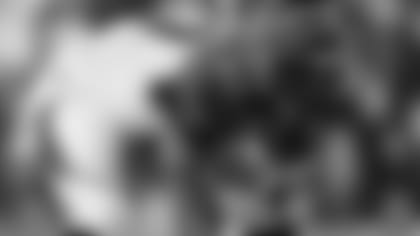 One more year for C.J. Uzomah with his hand on the ground.
Adding in H-Back Ryan Hewitt behind Eifert at tight end makes it a trio of youngsters that has impressed in limited appearances but are inexperienced with a combined 30 catches and one touchdown. Throw into the mix a wide receiving corps that has three NFL catches from 2015 behind starters A.J. Green and Brandon LaFell and Dalton knows the score.
"We've got some new additions and they're going to have to step it up," Dalton said. "Part of the game."
The one obvious answer to the loss of Eifert is fewer two tight-end sets and more formations with both running backs Jeremy Hill and Giovani Bernard (or Rex Burkhead) on the field together in the same type of matchup hell induced by Eifert.
And, obviously, more multi-receiver sets with just one tight end or none. But with so many young wide receivers, don't look for the extinction of the two tight-end set while Eifert is shelved.
Hewitt and Kroft have more experience than the receivers behind Green and LaFell. There are those with the Bengals that see Hewitt as the best blocking fullback in the league, but he has also worked as a tight end on many of his 850 NFL snaps with 18 catches for 185 yards and no touchdowns.
Unfortunately, the Bengals are accustomed to playing without Eifert. He missed all but nine snaps with elbow and shoulder injuries in 2014 when the Bengals went 10-5-1 and last year he missed three games and most of another with a stinger and concussion when the Bengals went 2-2.
In the three games Eifert missed in the December run, Kroft responded. With an AFC post-season bye on the line in Denver he had a career-high 46 yards on four catches that included a 15-yarder on third-and-eight on backup quarterback Andy Dalton's tying drive in the fourth quarter. And in San Francisco he caught his TD pass in McCarron's first NFL start from 20 yards out to give the Bengals a 21-0 half-time lead in the last minute on a one-play drive set up by Vontaze Burfict's interception.
Although Kroft showed he can be a weapon in the pass game, what really impressed them last year was his blocking and so the double tight end sets live. PFF rated him the league's fifth most efficient pass-blocking tight end out of those that played at least 25 percent of the snaps.
"I think he's really fit what we expected. I had expectations of him, how he's grown and continued to develop and have things not get too big for him," said head coach Marvin Lewis after the 49ers game. "That's what we saw from him during his time at Rutgers. That Rutgers 2014 schedule was against some very good teams and very good players, and he did a great job against all those guys, a lot who were taken early in the draft or have started at DE for teams.
"It was impressive. He had a handful . . . with those (San Francisco) guys. Those four edge guys do good job; they're here, then not here, they jump around, jump under. They're not conventional in what they do, so it's a good experience for him."
The wild card is Uzomah. He's an unfinished product who played in a spread offense at Auburn and didn't put his hand on the ground until he got here last season in the fifth round. They're not looking for him to blow up people as a blocker, but they would like to see if he'll be able to draw Eifert-like matchups with his head-turning speed, a 270-pound brisk 4.62 seconds in the 40 at his Pro Day.
And they're not going to know that until the pads come on. But on Tuesday he looked smoother and more comfortable than he did as a rookie.
"In the meetings the coaches are telling us as veteran players we know the plays," Uzomah said after practice. "It's up to us to figure out the concepts and why we run the plays and what defense we want to run the play into. I felt like we did that today."
Now that he's been in it for a year (in those six games he had one catch), Uzomah feels so much better than he did a year ago at this time. "I've been able to watch guys like Eif, guys like Ryan, guys like TK do whatever in game situations and I think that's definitely helped," Uzomah said. "I think now being in a true pro-style offense after coming from a spread offense has helped."