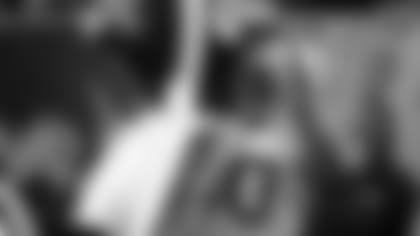 Johnson hauled in 189 receiving yards and a score in last season's 45-37 loss to the Colts.
If Colts wide receiver Marvin Harrison is a first-ballot Hall of Famer, then Bengals wide receiver Chad Johnson is matching him vote for vote when the two meet for the third time in the regular season Monday night.
It will be Johnson's 90th NFL game and after his first 89 he has caught 6,803 yards, nearly more than 100 yards than Harrison had in his first 89 games from 1996-2001 and can it really be three years ago that Johnson hung Harrison's picture in his locker for motivation?
"The best receiver in the game. I wanted to be in that class of wide receiver," Johnson said Thursday. "Now I'm looking to set the standard on what a great receiver is."
Consider that 2003 goal done.
MARVIN-CHAD FIRST 89 GAMES: Chad Johnson: 456 catches, 6,803 yards, 41 TDs, 14.9 yards per catch Marvin Harrison: 496 catches, 6,727 yards, 59 TDs, 13.6
Johnson cut out a magazine story detailing why Harrison was the NFL's No. 1 receiver back then. With Johnson on the verge of becoming the first player ever to win four straight conference receiving yardage titles, the story needs revisions. Harrison won the last two AFC crowns before Johnson began his reign.
Now projecting his numbers for the last three games of this season, Johnson stands to have the second most yards of all-time among six-year receivers, moving past Harrison and behind Randy Moss.
TOP NFL RECEIVERS IN FIRST SIX SEASONS: Randy Moss: 8,375 yards, 525 catches, 16.0 avg., 77 TDs **Chad Johnson (projected): 7,090 yards, 474 catches, 15.0 avg., 43 TDs Marvin Harrison: 7,078 yards, 522 catches, 13.6 avg., 62 TDs** Sterling Sharpe: 7,015 yards, 522 catches, 14.0 avg., 47 TDs Keyshawn Johnson: 6,258 yards, 501 catches, 13.0 avg., 40 TDs Andre Rison: 6,453 yards, 475 catches 13.6 average, 60 TDs
But while the New Chad won't say he has replaced Harrison at the top and even insists that teammate T.J. Houshmandzadeh is a better receiver than him, the Old Chad says he hopes there aren't any young receivers out there with a hanging Chad in their lockers.
"They shouldn't," Johnson said. "Everyone is an individual. I play the game differently. My style of play is completely different. No one plays receiver like I do. I'm like (Muhammad) Ali. The only thing all of us have in common is we catch the damn ball."
Harrison, 34, is 6-0, 185 pounds. Johnson, 28, is 6-1, 190. Johnson is a little taller, a little bigger, a little faster. But Harrison can still run by guys. He came into this season averaging 13.3 yards per catch in his career and has 14.8 this season. If Harrison has the smooth moves of a slinky, Johnson contorts his like Gumby.
Still, they say the same things in Indianapolis about Harrison that they say in Cincinnati about Johnson.
"Marvin works extremely hard in the offseason. He still runs like he did as a rookie. He loves to play," said Bill Brooks, himself an 11-year NFL wide receiver who now serves as the Colts executive director of administration. "He just keeps himself in great shape."
Harrison might have had more touchdowns (59-41) and catches (496-456) in their first 89 games, but Johnson has more than a yard per catch. Harrison caught the 1,000th and 1,001th pass of his career last week in his 167th game. Johnson is on pace to catch No. 1,000 in his 196th game.
"I'm going to do it. Of course I'm going to catch 1,000. I'm a receiver," Johnson said.
It's always a good time to reflect on all things Chad whenever the Indy game rolls around. It's his first regular-season game in the building where it technically all began after he dropped Jon Kitna's fourth-down pass at the Colts 20 in the final minute of the 28-21 loss back on Oct. 6, 2002. [**Read more about Johnson's take on that game**.]
"That's when I decided I was going to be the best," Johnson said. "I just didn't like the feeling. I lost us the game and I didn't like it. I turned it around after that."
Another Indy game two years later became a milestone when Johnson and quarterback Carson Palmer went on their midnight ride to a Monday night game in the RCA Dome to watch how Harrison and quarterback Peyton Manning worked so well together. Now, since Palmer has been his quarterback, Johnson has a lead for a fourth conference yardage title, the same number Harrison has with Manning.
"Of course you pay attention to the numbers," Johnson said. "That's how you get paid. No one has ever done it (winning four straight yardage titles). You can't overlook it. It's a great feat."
There was a time when Johnson would pick Harrison's brain incessantly about playing wideout. Not any more.
"I'm coming into my own," he said.
Look back at the numbers on Oct. 6, 2002. It was his best game in his 17th NFL appearance with a career-high six catches for 72 yards. Certainly not the supersonic numbers he's averaged the last five games with 7.4 balls and 153 yards, but he would take six for 72 on Monday night.
"I just want to play a good, consistent game," Johnson said. "Get the 'W' first. As long as we win."