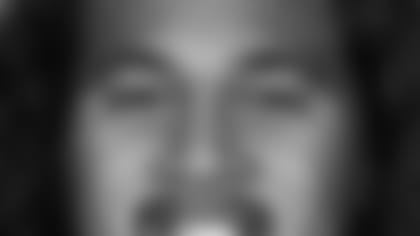 GEORGETOWN, Ky. - Domata Peko always leads with his heart.
Whether he's strumming his guitar in his father's church or staking his claim as one of the Bengals' most exciting new defensive starters in the Marvin Lewis era, Peko is all about his 6-3, 320-pound heart.
"No, didn't bring it to camp," says Peko of his six-string acoustical guitar. "I didn't want to wake anybody up."
But he stirred camp masses with an eye-opening scrimmage on Friday that he put on top of a solid rookie year, so far validating his promotion next to tackle John Thornton and end Bryan Robinson at left tackle on the starting defensive line.
And we're talking about a guy who won't be 23 until the Bengals play the 12th game of the season.
"His coaches at Michigan State wished they had him for one more year," says defensive line coach Jay Hayes. "But that year was with me and he really stepped up his game. That's why I really thought it was a steal to get him where we did. He's got so much upside that I thought he was a first-day player."
He went in the fourth round to the Bengals in 2006, and he hasn't stopped watching since. He watches Thornton watching tape, Robinson addressing the media, Justin Smith careening through another practice and Robert Geathers sizing up a left tackle. Last year in a rotational role it added up to 49 tackles and 2.5 sacks as well as a monster day in Denver when the Bengals needed it most with two sacks and a forced fumble.
"His older brother (the Packers' offensive lineman Tupe) has been in and out of the league and I think he's learned from that, too, and that he's going to make the most out of the opportunity," Hayes says.
Peko has been watching and learning since he could see. He became a Christian literally from day one, watching his pastor father Siitupe lead his church. Earlier this spring when Domata crawled underneath a car in Northern Kentucky to pull out an elderly man pinned inside, it was Sunday morning and he was on his way to church at the Fellowship of Believers in Florence., Ky.
"My favorite scripture is Proverbs 3 verses 5 and 6," he says. "Trust in the Lord with all your heart. Lead not in your own understanding, but acknowledge Him in all your ways and He shall direct your path."
If you want to understand Peko's game, he says that's the passage.
"That's what I'm trying to do out here," he says.
What he has learned from his linemates has just supplemented it:
Thornton: "If you want to know what a true pro is on and off the field, it's John Thornton. Always respectful. Always on time."
Robinson: "B. Rob is a class act. Both he and John have helped me on the field with formations and tendencies and what to expect. I want to learn more from them this year watching tape. In the past, they've shown me how to break down opponents."
Smith: "Relentless. Always gives 100 percent every play no matter the situation. That's what I learned from him. Having the motor every down."
Geathers: "He's been helping me out in the pass rush. He knows how to get to the quarterback. Using your hands in the right position. Just working half of a guy instead of the whole 300-pounder."
Peko has done his share of helping others. Just ask 74-year-old Dean Gregg, the man he pulled from the wreck.
Better yet, ask his father, the man who often asks him to play on his guitar Eric Clapton's "Tears In Heaven." When Peko was about 10, his oldest brother, 26-year-old Matt, was killed in a car accident, and that was the song they played in church at his funeral.
"My dad loves that song so much, so I play it for him when I can," Peko says. "I just played it for him at a family reunion a few months ago. (His death) is something that I've used to motivate myself. I play for my family, my wife, my son."
Peko and Anna have a two-year-old son, Domata Jr., and Thornton and his mates can't miss the devotion he has for them because it spills over into his game.
If he stays healthy, he can be a good player for a long time," Thornton says. "He's athletic and flexible. He could get a little stronger, and he will. He's naturally strong and his body will grow into it as he gets older."
Asked if Peko is the kind of guy that can get six sacks or so a year from the inside, something that has been missing here on a consistent level, Thornton thinks he can.
"He has the shakes and moves in practice, he could do that," Thornton says. "If you play smart, you can play a long time. The thing that is going to happen this year is that teams are going to block him differently because they know him and he's not a situational player any more."
Peko shrugs. He's not as carefree as his favorite don't-worry-be-happy Reggae song, Bob Marley's "Three Little Birds," but there is a quiet confidence.
Except for his singing. He says he mainly just likes playing the guitar, and if he sings it will be to himself or Anna. You might be able to get him to sing in church, where the favorite song he likes to play is, "Lord, I Give You My Heart."
Of that, the Bengals are finding out, is no doubt.