A.J. Green: In the tradition of Isaac Curtis.
The gathering of legends to kick off the Bengals 50th season Sunday (1 p.m.-Cincinnati's Channel 12) at Paul Brown Stadium guarantees that there'll be a summit of suave with two of the Bengals' smoothest playmakers ever in the building.
A.J. Green has never met Isaac Curtis, his Astroturf ancestor, and that may finally happen. "It would be great. I hope so," Curtis said Friday, just in from California late Thursday. "I'd like to meet him. I've heard a lot about him," Green said before a practice this week.
The schedules may not work out, but it's the thought that counts. Now, you can't get on Green that he doesn't know much about Curtis. After all, Curtis' last season in 1984 was four years before Green was born. And you don't want to say that too loudly, either.
"Don't make me feel old," said Curtis, suddenly 66.
But Green knows one thing about Curtis.
"He's got the best average, right?" which means he's right and, yes, numbers do interest Adriel Jeremiah Green, who is at 14.8 for his career. Those 17.1 yards per catch, by the way, are not only the best in Bengaldom but are longer by a yard than the two Hall-of-Fame wide receivers from Pittsburgh who played in Curtis' era, Lynn Swann and John Stallworth.
"Yeah, I look at numbers," Green said.
When he's told that Curtis averaged 20 yards per catch in his first four seasons (19.85), Green's eyes get a little wide. Told that a sportswriter hijacked Curtis' nickname, the "Commissioner of Cool,' and gave it to him earlier this year, Green thought that was well, cool.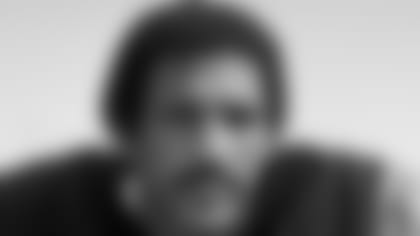 Isaac Curtis: Green knows all about 17.1 per.
Curtis didn't seem to mind. He watches the Bengals out on the Left Coast and he won't argue that Green plays with his similar glacial qualities.
"He goes about his business and doesn't say very much," Curtis said.
Since Green likes numbers, he's interested to know that he and Andy Dalton need to hook up eight more times to break one of the franchise's most iconic records, the 51 touchdown connections that made Curtis and Ken Anderson the 19th most prolific passing duo of all-time even 34 years after their last one. Curtis and Anderson weighed in on that feat back in the spring and Green suppled the same gentle needling this week.
"That's easy. I've got seven more years. That's easy," Green said. "I didn't know we were that close."
According to Elias their next touchdown connection puts them into third place with 45, breaking the tie with Chad Johnson-Carson Palmer and pulling within two of the 47 of Carl Pickens-Jeff Blake.  That gets wide eyes from Green, too. It seems to him like Palmer and The Ocho were here for ten years. But it was just seven. And Green and Dalton are starting that seventh season Sunday.
"That's crazy. It doesn't seem that long," Green said. "Maybe because we (Green and Dalton) came in together."
It's nice that Curtis and Anderson are here for Green and Dalton's big weekend. It's their first home opener of their career and they're the offensive captains on Sunday as the torch is officially passed from the Whitworth-Peko Era. And it was also announced they'll officially cross the threshold into Cincinnati popular culture history when together they lead the world's largest Chicken Dance downtown at next weekend's Oktoberfest Zinzinnati.
"I wasn't too sure about that," Dalton said. "But he said, 'Let's do it,' and I said, "OK, let's go."
That's kind of how this offensive captain thing is working out.
"This is our offense," Green said. "The offense doesn't run unless Andy and I get it going."
A visual look at the 2017 Bengals roster.