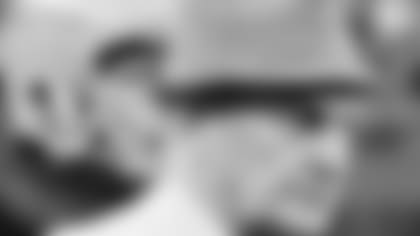 There is the NFL Network, but there is also the Paul Brown Channel.
The Bengals are on the national display table Thursday night in their NFL Network debut and along with Carson Palmer and Chad Johnson are the Bengals of old who donned the network blazer after they shed the stripes.
Super Bowl safety Solomon Wilcots, breezing through the Bengals locker room on assignment this week, thinks it makes perfect sense that a franchise whose owner offered pregame formation tips would give rise to this announcing army that mans both the national TV and radio booths for Thursday night's prime time shot against the Ravens.
Paul Brown had to be close to 80 when Wilcots remembers the old man approaching him before a game a week after Chargers running back Ronnie Harmon beat him on a big play.
"I got picked off and couldn't get to him," says Wilcots, who works for NFL Network and CBS. "Paul told me not only how to beat the pick play, but what formation it was going to come out of. I'll never forget that. He knew his stuff. And we had a great coaching staff. Guys that were on the cutting edge and we had smart players. I'll tell you, I was involved in some interesting locker room conversations on that team."
On Thursday, Super Bowl wide receiver Cris Collinsworth analyzes the TV side on the NFL Network (Channel 5 in Cincinnati) in a Celebrity A-list booth that includes Bryant Gumbel. Meanwhile, his former head coach who used the media as well as Xs and Os, Sam Wyche, continues his own Carson Comeback as Dick Enberg's analyst on Westwood One's national radio gig.
Dave Lapham, yet another Super Bowl Bengal, lines up in the local radio booth as he has for the last 21 seasons, and MVP quarterback Boomer Esiason is ready to pounce on the highlights Sunday in the CBS studio.
"I think Paul was the inspiration for me," Lapham says of his broadcasting career that followed his 10-year run on the Bengals offensive line that began when Brown was the coach. "He taught me to see the entire game, to understand the big picture and how it all related. It was going to be coaching or broadcasting and I chose broadcasting so I could raise my kids in one place."
Wyche's brains, humor and outrageousness made him a 21st century studio host even while he was still coaching in the '80s. His media stunts ranging from the "You Don't Live In Cleveland" sound bites to the crusade to rid the NFL of postgame co-ed locker rooms have died but the tape lives.
If it was coaches like Brown who paved the way for the pro game's popularity, it was telegenic and quotable - albeit at times zany - figures like Wyche that helped mushroom it all into entities like the NFL Network.
Lapham covered Wyche but didn't play for him. Collinsworth, the NBC and HBO titan who has more Emmys than Pro Bowls, did. So did Esiason and Wilcots. So did David Fulcher and Eric Thomas, Wilcots' secondary teammates who are local media voices on the Bengals. All played for the '88 AFC champions.
"Pure coincidence," Wyche says. "That's all you can say about it. A guy like Cris, he's so intelligent I think he's eventually going to become an executive once he gets tired of being on the air."
Wyche says they weren't hard to coach and it wasn't an obnoxious know-it-all group.
"You mean everybody but Boomer?" he says with a laugh. "They were all students of the game. They bring some perspective because they played at a high level."
Wilcots says it's more than that. He says it has helped him immensely that he played for two coaches he believes are geniuses in Wyche and former Bengals defensive coordinator Dick LeBeau, and that daily exposure has helped him and his mates translate the game for the masses.
"Look at what the NFL is now. It's all West Coast offense," Wilcots says. "Who knows it better than Sam? He was there at the beginning and taught it."
The same could be said for LeBeau and his zone blitz. Both offensive and defensive schemes are on display Thursday night in various packages and isolated plays near the same patch of ground it reached near perfection in '88.
"I think the common denominator is PB," Lapham says. "He was an innovative guy and he wanted to surround himself with innovative people. I played under Bill Walsh, the pass game coordinator and an innovator, and Tiger Johnson, my offensive line coach, was the run guy and he was another guy who wanted you to not only understand something, but why we were doing it. And he hired Sam and LeBeau, guys who weren't afraid to think out of the box."
While Brown passed on his penchant for innovations to Wyche, Wyche passed on his media savvy to players that eventually became the media.
"He had some tiffs, but Sam knew how to use the media. He knew it was better for them to be for you than against you," Lapham says. "And I don't think you can discount the experience of going to the Super Bowl. Cris went to two, Sam went to one with San Francisco and one with the Bengals, and in a setting like that you get a better understanding of it and you become more familiar with how it works."
Wyche gets to comment on one of his innovations Thursday, and he is admiring the way Palmer is running his No Huddle.
"The way he goes to the line with his mannerisms reminds me a lot of Boomer," Wyche says. "Even the way he stands with his hands on his hips."
Wyche's comeback to the radio booth has been just as grueling as Palmer's rehab from reconstructive knee surgery. After three operations on his severed vocal cord and countless hours of breathing exercises and basically learning how to project his voice all over again, Wyche is back doing what he does best.
During surgery to remove a lymph node about six years ago, the nerve of Wyche's left vocal cord was sliced, ending a television career that put him at the zenith in the studio. In the final procedure four years ago, a stint was placed in his larynx that pushed the good vocal cord closer to the damaged one and it worked well enough that he survived the past two seasons as quarterbacks coach of the Bills.
But he and his coaching staff couldn't survive Buffalo's 5-11 record, and he went back to Pickens, S.C., as a substitute teacher and volunteer football coach at the high school.
And he went back to trying his hand at announcing. There was a lot to be thankful for last Thursday night in Kansas City in his debut with Enberg.
Amid the notorious din of Arrowhead Stadium during the Chiefs' victory over the Broncos, his voice held up.
"That's always a concern because of projecting above the crowd noise," Wyche says. "It doesn't really matter if the booth is closed or not. The technicians can do things with microphones. What matters is if it's cold because that dries you out. December 21st in Green Bay should be interesting."
If he can get through that, he hopes to get another announcing shot, or maybe even another NFL coaching gig.
"I'd be open for anything," Wyche says.
The Paul Brown Channel already is.