Updated: 10-2-07, 1:30 a.m.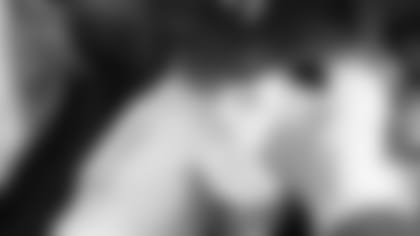 Carson Palmer and the Bengals were bottled up by the New England defense. (AP photo)
The Bengals ended the first half and what turned out to be their chance at an upset Monday night with a mistake the bullet-proof Patriots never seem to make when Chad Johnson went one way and Carson Palmer threw the other.
The result was New England cornerback Asante Samuel's interception at the goal line with 1:14 left. And as Palmer and Johnson left the field at the half exchanging words, the Patriots were on their way to a commanding 34-13 victory before the biggest Bengals crowd in history of 66,113 at Paul Brown Stadium and the Bengals' season was teetering on implosion.
Head coach Marvin Lewis lambasted his team loud enough for the media to hear through the locker room door, emphasizing that coaches coach and players play. After Lewis emerged and called his team selfish, Palmer apologized for getting on Johnson.
According to the Associated Press, Lewis told his team, "If you don't want to be on this team, please don't show up! You don't call the offense, you don't call the plays. You just play. Nowhere in the NFL do guys act like this. We've got to figure this out."
Later in the media room Lewis said, "I'm obviously as upset as you can be," and right tackle Willie Anderson reiterated what he said after the Pats manhandled the Bengals by almost the same score 365 days to the day, 38-13.
"I'm worried about the maturity of this team," Anderson said. "We can't play like kids when the other team has grown men."
Another casualty of the sixth loss in the last seven games was Tuesday's off day. Some players said that Lewis had called a meeting to continue the effort to turn around the 1-3 start heading into the bye week.
When the Bengals travel to Kansas City for the Oct. 14 game, they go knowing only eight teams since 2000 have made the playoffs with such a start after four games.
"I made a mistake and threw a ball I shouldn't have thrown," Palmer said of what appeared to be a post pattern. "I should have taken a checkdown there. But I got on Chad and I shouldn't have."
The inability of the Bengals offense to muster anything on a night they whiffed on all seven third-down tries took the crowd out of it, and after losing two of their healthy four linebackers in the first half the Bengals were no match for the unbeaten Patriots offensive juggernaut.
Patriots quarterback Tom Brady pitched and caught for 231 yards on 25-of-32 passing and tossed two touchdowns to wide receiver Randy Moss. The last one was the last score of the night with less than four minutes left, a 14-yard throw to Moss racing past rookie cornerback Leon Hall.
For the second week in a row the defense gave up a big run on a fourth-and-one, and this one was a seven-yarder as backup running back Sammy Morris followed tight end Benjamin Watson's take-down block of left end Robert Geathers with 7:55 left in the third quarter to make it 24-7.
The Bengals followed up a no-penalty first half with five in the first 11 minutes of the second half (eight total), but Palmer and running back Kenny Watson (55 yards on 13 carries) still managed to threaten the red zone. Yet linebacker Tedy Bruschi barged over the midde to bat down Palmer's lateral pass on third-and-two before the Bengals opted for Shayne Graham's 40-yard field goal with 4:10 left in the third quarter that cut the lead to 24-10.
Palmer struggled in front of a revamped offensive line, throwing two interceptions and finishing 21-of-35 passing for 234 yards and a season-low 65.7 passer rating. Chad Johnson, who left with a sprained ankle late in the game, had a season-low 53 yards on three catches. With Moss racking up his fourth straight 100-yard game on nine catches for 102 yards, he overtook Johnson in the NFL receiving yardage race, 505-495.
Wide receiver T.J. Houshmandzadeh had 10 catches for 100 yards to pad his NFL receiving lead.
But the big play came in the first half and had the tempers flaring. Houshmandzadeh also had an animated conversation with Lewis on the sideline after a third-and-11 pass went incomplete to rookie tight end Daniel Coats early in the third quarter. "I'm an emotional player, and I am going to voice my opinion," Houshmandzadeh said. "That's what I do. In my opinion, I don't think that it's a bad thing. I just voice my opinion. I'm not disrespectful at all."
Facing a second-and-nine from the Pats 20 in a 17-7 game, Palmer and Johnson failed to get on the same page a series after the Patriots turned the page with Brady's seven-yard touchdown pass to Moss on third down with 4:11 left in the half.
Working against cornerback Johnathan Joseph, Moss won a jump ball on the side of the end zone, capping a bruising drive. Morris, subbing for the injured Laurence Maroney, gashed the Bengals defense for 41 yards in the drive and ended the half with 98 yards on 13 carries and finished with 117 on 21 carries.
And, why not? Coming into the game with four healthy linebackers, the Bengals lost starting strong side backer Lemar Marshall for the season on the second play of the game with a ruptured Achilles' tendon injury and starting weak-side backer Landon Johnson went out late in the half with an eye injury.
"When Landon went out, they saw where we were," said defensive tackle John Thornton. "They changed it up and started running some misdirection."
Down 17-7 at that point, the Bengals and Palmer put together their best drive of the night, hitting Johnson on a sliding reach-back catch for 18 yards that put the ball on the 21. Wide receiver Antonio Chatman made two of his first three catches of the season and Houshmandzadeh added an 11-yarder over the middle before Johnson appeared to round off a post pattern deeper than Palmer intended.
The Bengals opened the second half with a new offensive line as Anderson stayed on the sidelines and left tackle Levi Jones, nicked in the first half, came out and Andrew Whitworth went to left tackle while Stacy Andrews went to left guard. While Jones did return, Anderson did not and there is concern because he only played three snaps and his foot and knee are giving him severe problems.
The Bengals defense threw some cold water on the Monday night script early in the second quarter when Hall's interception of a rare Brady mistake set up a touchdown that cut New England's lead to 10-7.
Hall's pick, a few snaps after rookie safety Chinedum Ndukwe ruffled Brady's feathers with a shot at the end of a pass, came at the New England 35 and resulted in Palmer's one-yard touchdown pass to Houshmandzadeh with 12 minutes left in the first half.
Brady uncorked just his second interception of the season (against 13 touchdowns) when he badly underthrew a ball over the middle on third-and-long.
The Bengals finally got their first first down of the game with 12:50 left in the second quarter. Moments later Chad Johnson touched the ball for the first time on a quick throw that he stretched to near the goal line with a stiff arm of cornerback Ellis Hobbs. Then Houshmandzadeh touched it for the first time for his fifth touchdown catch of the season.
It didn't take long for things to unravel.
On the second play of the game, the Bengals lost another linebacker when Marshall left for the season with his Achilles' injury.
Then Brady led an 11-play opening drive that ended in Stephen Gostkowski's 31-yard field goal less than five minutes into the game to give New England a 3-0 lead that the Pats stretched to 10-0 in the final minute of the first quarter.
With Marshall and then Johnson out, Ndukwe was active as a linebacker-like defensive back in the nickel package, and made the stop on third down of receiver Wes Welker to set up the field goal.
Then with PBS roaring on New England's next series, Ndukwe forced a punt when Brady was harassed and had to throw to running back Kevin Faulk out of the backfield and Ndukwe cut him down with an open-field tackle. The Pats flinched twice in the crowd noise with false starts on that second series.
But the Bengals went nowhere on offense in the first quarter, when they didn't get a first down and had just 17 yards. Palmer ended the first drive when he had to take a coverage sack, he got hurried out of the pocket on third down on the second drive that resulted in a dump pass, and the third drive ended when linebacker Mike Vrabel took out Palmer's feet as he threw the ball.
Vrabel then scored the game's first touchdown on a one-yard flip from Brady off play-action on third-and-one from the goal line. Morris continued to haunt the Bengals defense with big breakdowns. Morris got isolated on the edge with cornerback Deltha O'Neal and when O'Neal got blown up on a block, no one was near Morris on a 49-yard run that wasn't a touchdown only because he stumbled and fell at the two-yard line. Lewis challenged that Morris stepped out of bounds at the 11-yard line, but the replay booth denied the challenge and the Pats had a first-and-goal from the 2.
It was the 15th play of at least 20 yards against the Bengals this season.
PREGAME NOTES: Both starting running backs didn't dress with New England putting down Laurence Maroney and Cincinnati icing Rudi Johnson. The Bengals also deactivated middle linebackers Ahmad Brooks and Caleb Miller.
Anthony Schlegel, a second-year player with the club for a month, became the Bengals' eighth starting middle linebacker under head coach Marvin Lewis in his eighth NFL game and first NFL start.
Andrew Whitworth got the start at left guard for the Bengals, giving Levi Jones his first start of the season at left tackle. Alex Stepanovich made his third straight start in place of Eric Ghiaciuc at center, but Ghiaciuc was active.
The Bengals caught a break when the Pats sat down Maroney with a groin problem. Maroney had his career game here against the Bengals as a rookie last season when he rolled up 125 yards on 15 carries in New England's 38-13 victory.
But no one has a corner on injuries like the Bengals linebackers. Cincinnati dressed only four with Brooks and Miller down and three of them weren't at Georgetown College at training camp. Two of them, Schlegel, who arrived Sept. 2, and Marshall, who checked in Aug. 23, started.
But then 53 seconds into the game, Marshall left with a foot injury that may end his season since it was described as an Achilles tendon that would not let him come back in the game.
Former Bengals wide receiver Kelley Washington, fighting injuries most of the preseason, was also inactive for New England. So was starting right guard Stephen Neal.
Even though Pro Bowl defensive tackle Richard Seymour was out for New England, it was still going to be tough sledding for the Bengals with the 300-pound Stepanovich working against 325-pound nose tackle Vince Wilfork. Ghiaciuc has been trying to snap with his left hand because of his thumb injury, which would also make it tough working against Wilfork, an extremely physical and strong nose man.
Lewis has been talking about rotating Whitworth with Stacy Andrews at left guard, but with Andrews battling a shoulder problem the move looked to be on hold.
Unbeaten in their specialty orange jerseys, the Bengals took the field announcing their defensive starters as a unit. Joining quarterback Carson Palmer and defensive tackle John Thornton as captains were wide receiver Chad Johnson for the offense, linebacker Landon Johnson for the defense and linebacker Dhani Jones for the special teams. Jones is one of those new-found backers, arriving here last week.
In his Bengals debut, cornerback Blue Adams rocked Ellis Hobbs and his NFL-leading kick return average on the opening kickoff, dropping him at the Pats 22.