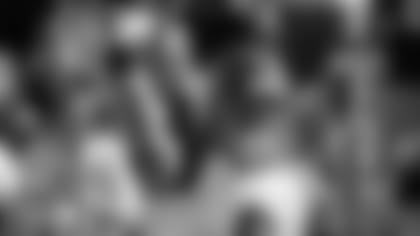 Palmer was nearly flawless in completing 27 of his 33 pass attempts. (AP Photo/John Russell)
NASHVILLE - Besides death and taxes, the next surest thing may be Bengals quarterback Carson Palmer's deadly pay-the-piper command of the two-minute drill. For the fourth time in their five wins Sunday at a hushed Coliseum, Palmer engineered a touchdown drive with less than 69 seconds on the clock in the first half as he continues to emerge as one of the NFL's most complete passers.
It was an utterly necessary event against the Titans since Tennessee had a 10-0 lead that looked twice as big with running back Chris Brown beginning to assert himself. But Palmer shredded the Titans on 9-for-9 passing for 79 yards when he got the ball with 2:03 left in the half, finishing it off with a one-yard pass to running back Chris Perry to pull the Bengals within 10-7 with 33 seconds left in what became a 31-23 victory.
"It was a complete stadium change," Palmer said. "It was loud and then we went down there and scored and it started getting quieter. We came out after halftime and it was dead silent. The momentum completey shifted our way."
Along with the momentum, the two-minute drill helped the Bengals get the upper hand in strategy after halftime with some adjustments in their running game that Palmer helped facilitate with his checks at the line of scrimmage.
"He's like a surgeon out there dissecting defenses," said wide receiver Kevin Walter who claimed three of the balls for 50 yards in the drill. "He has command of the whole offense and that makes you a better player."
The good doctor has done the procedure before. In the four end-of-half drives, his numbers from at or about the two-minute warning are staggering. Try 21-of-23 for 218 yards and four touchdown passes.
So what else is new? We are watching the first bona fide Bengals NFL MVP candidate since Norman Julius Esiason and next week he'll try to break Colts quarterback Peyton Manning's NFL record of nine straight games with a 100-plus passer rating after he went for 121.2 against the Titans.
"He's the reason we had a chance to win,'' said backup quarterback Jon Kitna. "He's been like this for the last eight or nine games. If he hadn't been playing like this, we'd be sitting at something like 3-3."
Palmer's day included a stretch of hitting 14 of 15 passes in the first half, and 20 of his first 22 on the way to 27-of-33 for 272 yards. His completion percentage is now 72.6 and shows no signs of dipping with 148 straight passes without an interception.
"He's a good player," deadpanned Bengals head coach Marvin Lewis, his ultimate compliment. "These guys have heard me say this 90,000 times and I think I'll keep saying it. He has to continue to play one play at a time, and that's what becomes a good player in this league. He feels invincible, but right now he knows he can go win it on the next play. He doesn't have to win it on every play. I think that says a lot for him and how important he is to this team."
Palmer's biggest value may be in the hub-bub of the two-minute drill, where he has calmly used all his weapons. On Sunday, he went to five different receivers and Pro Bowler Chad Johnson caught only one of them for seven yards. It's been a showcase for his newest weapon, Perry, and Walter, usually the No. 4 receiver, has shined in two of the drills. He caught the last 35 yards in Cleveland for his first NFL score, and on Sunday he caught the 50 out of the slot in the last two minutes that included the drive's longest plays of 21 and 18 yards.
"It's timing routes. He knows where the defense is going to be, and gives it to you," Walter said.
Naturally, Palmer kept passing after the game. He handed out compliments to his coaches, line, and receivers.
"We have a really good scheme in two minutes," Palmer said. "We do a great job in protection. There's not a blitz that gets you with our protection. Our guys are comfortable with it and the (route) combinations are good, and the other guys do a good job when they take Chad away."
Offensive coordinator Bob Bratkowski chalks up the two-minute success to changing up the protections and the versatility of the personnel, the same reasons for most of the offensive success.
The Bengals don't confine the brisk tempo of the no-huddle to the two-minute drill, but that's when it's the most obvious. It also allows Palmer to display his burgeoning skills at the line of scrimmage in checking into different plays, as well as freelancing with Johnson.
"He could do that last year," said left guard Eric Steinbach. "He's just better at it this year."
Palmer felt the up-tempo was a good weapon against Tennessee.
"It's tough for a young defense to communicate when we're checking in and out plays and they've got blitzes called. We took advantage of it," Palmer said.
Offensive line coach Paul Alexander had counseled his guys on the Titans feast-or-famine mindset on defense. All or nothing. It happened on the last two throws of the go-ahead touchdown drive when the Titans decided they had to gamble to get to Palmer and stop the running game. So they left Chad Johnson one-on-one with rookie cornerback "Pacman" Jones and two balls thrown over the Titans defender's head later, the Bengals had the win.
"We knew we needed more than a field goal," said Palmer, who exchanged a glance and wave with Johnson to get the winning 15-yard touchdown.
"We came in here saying the great teams, the good teams answer after losses," Palmer said. "We had a tough loss last week and we came out and answered."