Carson Palmer left the field with a bloody nose and cut lip at the end of the first half and his team left the field at the end of the game hemorrhaging after one of its worst preseason performances in history.
The Saints took a stunningly easy 13-0 victory over the lethargic Bengals before a stunned crowd at Paul Brown Stadium that saw the offense stumble through its first home shutout in preseason history with the punctuation of 10 punts and no red-zone snaps.
If this was the dress rehearsal, it was the Bengals' protection of Palmer that got undressed.
Palmer left the building after the game to get his nose evaluated with the speculation his nose is broken, but offensive coordinator Bob Bratkowski said he's under the impression Palmer can play in the preseason finale in Indianapolis.
Six possessions in the first half under the direction of Palmer. Six punts. Three sacks. Two knockdowns. 94 total yards. 11-of-16 passing for 105 yards. And Palmer didn't come back for the second half.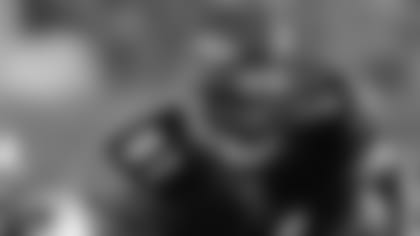 Ben Utecht heads upfield with one of his four catches. (Bengals photo)
That left the scorecard for Palmer's 14 preseason drives at 11 punts, an interception, a blocked field goal, one touchdown, and one big panic button 15 days before the regular-season opener.
It was the first time they've been blanked in the preseason this decade and since a 16-0 loss in Detroit during the holdouts of Akili Smith and Carl Pickens on Aug. 20, 1999.
There was little passion on either side of the ball and that had the crowd of 65,043 surly. The first defense mixed and matched for the first three quarters and while it allowed only 13 points, it gave up a slew of yards (458) and first downs (24).
Saints backup running back Pierre Thomas shredded the Bengals defense on the first series of the second half (46 yards on five carries), but he lost a fumble at the end of a 14-yard run that Cincinnati cornerback Johnathan Joseph picked off the four-yard line and rookie safety Corey Lynch picked off No. 3 quarterback Tyler Palko in the first minute of the fourth quarter.
But it is the state of the offense, or lack of it, that is sending a shiver through Bengaldom after a night the Bengals amassed just 165 yards.
Ryan Fitzpatrick wasn't supposed to play Saturday, but with Palmer not coming back he got the call to start the second half.
Trying to cope with a new stable of wide receivers and shaky pass protection, Palmer was a sitting duck. Like on the last series of the half when, as they did all night, the Bengals failed to pick up the blitz and former Bengals safety Kevin Kaesviharn, along with the left end, bloodied Palmer's nose on the sack.
When left tackle Levi Jones was then called for a false start, the debacle was complete.
"I don't think you can put most of that on the offensive line," Bratkowski said of the protection. "Our backs missed a bunch of protections. The quarterback(s) missed a bunch of hot throws. The tight end missed protection a couple of times. That's not on the offensive line. That goes on the backs, the quarterback, the tight ends."
Tight end Ben Utecht took the blame for that last sack and if you thought the Bengals came out flat then they were certainly emotional after they saw what happened to their quarterback.
"What makes me angry is seeing my quarterback getting up off the ground," Jones said. "That would infuriate me at any point in time. Especially seeing blood coming from him. I'm highly (upset) about that."
Asked about the frustration he vented following his false start, Jones had no comment except to say it's a team game and his team isn't on the same page.
"We 've got our work cut out for us," said head coach Marvin Lewis. "We've got some time ahead of us, time to get it done. We've got to take a crticial look and make sure we've got the right people doing the right things all the time. We weren't very sharp and clear at times tonight."
If you were looking for any improvement off Sunday's 27-10 loss to the Lions, the first 9:57 was no place to look.
By then, the Bengals trailed the Saints, 10-0, by giving up a 54-yard pass for one of quarterback Drew Brees' 10 completions on the first two defensive series and on offense they suffered a three-and-out that included a fumble and a false start on right tackle Stacy Andrews.
"It wasn't a good feeling tonight," said defensive tackle John Thornton. "It hasn't been a good last two weeks, so we have to find out why we're not performing."
Just how out of sync is this offense? With 2:43 left in the first quarter, the Bengals had just one first down in two series and that came on Palmer's third-and-long 16-yard completion to Utecht.
There was absolutely no running room. Running back Chris Perry had just six yards on his first four carries, finished the half with 17 yards on seven carries, and just 36 yards on 12 carries for the game.
The Bengals failed to pick up a blitz on third-and-eight as linebacker Scott Shanle shot through center Eric Ghiaciuc and left guard Andrew Whitworth
The third series wasn't much better. Palmer was able to get an eight-yard gain with a pass to wide receiver Antonio Chatman and an 11-yarder to Utecht, both to the perimeter.
But same old story. Chatman, just one of five healthy receivers, got his head dinged blocking for Utecht. He returned, but while he was being checked Palmer also got racked up himself.
Another old friend, Kaesviharn, blew in from Palmer's blindside and Palmer never saw him until it was too late. That set up another third-and-forever (this one 10 yards), and with no one getting open downfield, Palmer dumped a short incompletion to Perry over the middle.
One of the questions came out looming in the fourth series with 7:33 left in the first half when Willie Anderson replaced Andrews at right tackle in the first group. Anderson wasn't expected to play because he didn't practice this week. But he said his appearance was planned.
Also appearing in the drive was fullback Jeremi Johnson for his first appearance of '08.
But they couldn't stop the carnage. Perry could only grind out two yards, wide receiver Glenn Holt dropped a sideline pass and Palmer was again forced to throw underneath to Perry short of the first down.
That left the horror at two first downs in four series and a 10-0 deficit with 6:12 left in the first half.
The Bengals stirred in the fifth drive even though it began with a sack from leakage on the left side with Antwan Lake getting the sack. But Palmer hooked up with Chatman running up the sideline on a 19-yard gain facing another third-and-eight.
But the Bengals just haven't been able to protect Palmer with any consistency during the last six days. With the Bengals moving at the Cincinnati 47, they again failed to pick up Shanle on the blitz, this one from the right edge.
Palmer had to hurry a bomb to rookie receiver Jerome Simpson and Simpson had no separation with cornerback Tracy Porter. In fact, he committed his second offensive pass interference penalty of the preseason to make sure Porter didn't pick it off.
The guys behind Palmer didn't do much better even though Lewis hung with the first offensive line for much of the third quarter, when Jones picked up another false start and Andrews went back to right tackle.
And all they got out of it was three more punts in the third quarter.
Anderson returned with the backups in the fourth quarter.
The Bengals still let Brees score on the first drive of a preseason game, but this time they held him to Martin Gramatica's 42-yard field goal 3:26 into the game.
Remember last year in the second preseason game? Brees opened with a ridiculously easy 5-for-5 series for 55 yards and Saturday's first series was almost as seamless until it reached a first down at the Bengals 24.
From there, Brees overthrew wide receiver David Patten open in the end zone working against safety Marvin White and on the next two passes the secondary showed its new chippiness. Cornerback Leon Hall knocked the ball away from Marques Colston on a pass over the middle.
Then Colston got behind Hall on third down, but Hall delivered him a shot from the front while White got him from behind for the incompletion to set up the field goal.
That stopped Brees on a march that began when Bengals left end Robert Geathers whiffed on a wide-open sack on the first snap that Brees converted for an eight-yard shovel pass to fullback Mike Karney and then with no pressure he jammed in a 14-yard completion to Colston over the middle and an 18-yader to tight end Billy Miller.
The secondary took another shot on the next series when wide receiver Robert Meachem got matched up on White and while he had good coverage, Meachem outplayed him on the ball for the 54-yard catch much like Detroit's Calvin Johnson got the best of Hall on a 40-yarder Sunday.
Then the Bengals couldn't stop the run in close as backup Aaron Stecker almost went in standing up from the 5. Then they got beat by old friend Ronnie Ghent when Brees worked play-action from the 1 and found the much-traveled tight end all alone in the corner of the end zone as rookie linebacker Keith Rivers tried to scramble back into coverage.
Other than Palmer, linebacker Darryl Blackstock (leg cramps) appeared to be the only Bengal who didn't return after injury.
PREGAME NOTES: In the third preseason game the Bengals started their third different set of wide receivers Saturday night against the Saints at Paul Brown Stadium.
Glenn Holt got the nod in place of Chad Johnson (shoulder) and Antonio Chatman went in place of T.J. Houshmandzadeh (hamstring) with rookie Jerome Simpson expected to be the first receiver off the bench.
Other than that, the starting lineup was pretty much intact from Sunday night's 27-10 loss to the Lions except that first-round pick Keith Rivers made his first start at WILL linebacker. After a review, it was determined Rivers didn't come on the field until the second snap of the Lions game.
Chris Perry drew his second straight start at running back. Darryl Blackstock, off an active game Sunday, got another start at SAM backer.
Wide receiver Chris Henry, signed Tuesday, wasn't listed to play after spending the week trying to get into football shape.
With Marcus Maxwell on season-ending injured reserve and rookie Andre Caldwell (foot) also not playing Saturday, the Bengals are down to five receivers with rookie free agents Maurice Purify and Clyde Logan backing up the first three.
Also not scheduled to play Saturday were running back Rudi Johnson, safety Chinedum Ndukwe, defensive end Eric Henderson, linebacker Dan Howell, center Dan Santucci, defensive linemen Pat Sims and Antwan Odom, linebacker Rashad Jeanty, and rookie tight end Matt Sherry.
Sherry, a sixth-round pick out of Villanova, seems to be suffering from a shoulder ailment.
Don't look for backup quarterback Ryan Fitzpatrick to play. The Bengals already know he's the No. 2. After Carson Palmer works, all the snaps figure to go to Jeff Rowe and Jordan Palmer as the club presumably tries to sort out who stays on the 53-man roster and who goes to the practice squad.
NFL teams have to be at 75 players by Tuesday, a number the Bengals already have. They could be in a one-for-one mode as players get put on the waiver wire, particularly at wide receiver.
The Saints were without two defensive tackles, rookie Sedrick Ellis and Hollis Thomas on a night head coach Marvin Lewis looked to his sputtering offense. He had them announced as a unit before the game, and his offensive game captains were off the line in right guard Bobbie Williams and center Eric Ghiaciuc.
They joined defensive tackle Domata Peko, cornerback Johnathan Joseph, and middle linebacker Corey Mays.
Before the Saints won the toss and received, the PBS crowd observed a moment of silence for Gene Upshaw, the late executive director for the NFL Players Association.