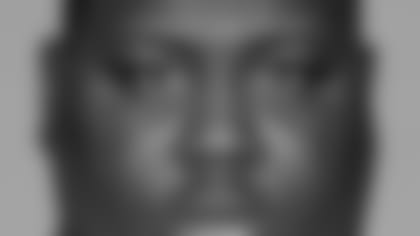 Shaun Smith, as ebullient as ever, says he can't wait for the first Browns game against the Bengals this season because he's going to pull a Chad Johnson and send his receiver buddies a present.
"It won't be Pepto-Bismol, but there will be a special delivery for my guys," Smith said Friday after hearing he's officially a Brown. "That is going to be a great media week. You've got to love the media in Cincinnati."
And everybody loves Smith in Cincinnati, from teammates, and coaches, and writers, and all the people who have been congratulating the backup defensive tackle for signing an offer sheet with Cleveland last week that reportedly pays him more than $8 million over four years.
"We wish Shaun well with his new opportunity," said Bengals head coach Marvin Lewis in a news release. "For our offseason and future planning, we have chosen to allocate our cap resources in a different direction."

But the Cleveland coaches must like him a little more because the Bengals chose not to match the offer and look ready to replace him with a veteran such as Jonathan Fanene and a draft pick.
Smith played in 13 games last season. Although he was active enough when he was in there with 14 tackles and a pass defensed in limited snaps, the coaches decided not to play him in the last three games of his second full season with the Bengals.
"In my exit interview Marvin said he felt it was best for the team if we played some other guys," said Smith, who sat while Fanene played those last three games. "They've got a lot of great players there. Fanene. (Defensive end) Eric Henderson is the next Adalius Thomas. I'm going to miss Paul Brown Stadium. But the Browns are a team on the rise."
The Browns got Smith to do what they haven't been able to do against the Bengals and that's stop the run. In the four games Cincinnati has played against head coach Romeo Crennel's teams, running back Rudi Johnson has rushed for 126, 169, 145, and 64 yards in compiling a 4-0 record.
The 6-2, 325-pound Smith agrees with others that think he's a better fit in the Browns 3-4 defense as a nose tackle, where he has been told he'll compete with 16-year veteran Ted Washington.
"That's what I do. I'm a run-stopper. I can get some push on the pass, but my game is stopping the run," he said. "I like the 3-4. I played it in practice when we wanted to get a look. I like playing on top of the center. It's just you and him. Sometimes you have to worry about the guard, but not much."
Smith, 25, believes the Browns are going off his fine year in '05, when he started five games in place of the injured Bryan Robinson and had 38 tackles. He played in the last three games of 2004 after the Bengals picked him up off waivers from the Saints. Cleveland is his fourth and most lucrative stop.
"It means a lot. I'm still going to be the same guy even though I've got the money. Joking around, all that," Smith said. "All it means is I won't have to hear you guys say, 'Oh, there's Smitty. He's on the bubble.' And it was true, you had to do your job, but now I can take care of my wife and three kids."
The move means the Bengals are sticking with their high-priced starting tackles in Sam Adams ($1.5 million salary cap count) and John Thornton ($3.7 million) as well as emerging second-year player Domata Peko, off a good enough rookie year that he'll press to start.
The oft-injured Fanene, a third-year player hampered by injury who had five tackles in the last three games, can swing between end and tackle, as can Robinson.
The move also indicates the Bengals will be looking at a tackle at any point in the draft.
"Anytime you're playing behind a guy who's played for 15 years, you can learn a lot," Smith said. "Just like I learned a lot from Sam, John Thornton, Bryan Robinson. I thank the Bengals, Coach Lewis, for the opportunity."
There are absolutely no hard feelings. While the offer sat in the Bengals offices all week, Smith chatted with Thornton and Robinson every day.
Of course, wide receiver T.J. Houshmandzadeh was a different story. The gag was that Smith wanted to be a receiver because he spent so much time hanging with them at their lockers trading trash talk.
Smith has taken notes from the Pepto incident, when Johnson sent each member of the Browns secondary a bottle of Pepto-Bismol because he was going to make them sick.
"T.J.'s my guy. I've talked to him two, three times a day," said Smith, who was revealing nothing about what is going to be in the package.
"A little something," he said on a day he got a big deal.