Ken Zampese's offense makes its debut Tuesday when OTAs start.
The first of nine Bengals' voluntary practices takes place Tuesday morning at Paul Brown Stadium, otherwise known as organized team activities (aka OTAs), but by any other name it simply doesn't add up to MUCH when compared to training camp.
Still, these OTAs can give us some clues, ranging from the style employed by new offensive coordinator Ken Zampese,  the status of his even newer receiving corps, how defensive coordinator Paul Guenther's new-look linebacker corps reacts to the scheme, and how much defensive line coach Jacob Burney plans to rotate the defensive linemen. 
It's also the first time they've practiced since the final 1:23 of last season's notorious loss to the Steelers in the Wild Card Game as they begin the climb back.
Unlike training camp practices, the OTAs (and the June 14-16 mandatory minicamp) are closed to the public.
But here's where the Bengals and everyone else is training an eye:
ZAMPESE'S DEBUT: Two years ago after Hue Jackson had his first OTA practice as offensive coordinator, there was much buzz about the fast-paced tempo and multiple shifts, departures from predecessor Jay Gruden. Zampese and Jackson worked closely together and as the only NFL quarterbacks coach Andy Dalton has ever had, it doesn't expect to be that drastic of a change.
But as Dalton says, "It's not like we're changing everything, but we're going to have a different personality because we've got a new guy calling it."
Even though Zampese and Dalton have been joined at the hip for five years and Zampese gives him what he likes, Dalton is looking forward to seeing it all unfold.
"I've been fortunate that there's been a lot of give and take with every coordinator I've had," Dalton says. "And since I've been with Zamp for a long time I feel like we understand each other. We'll see. It's kind of going to evolve as time goes."
Tuesday is day one of the evolution.
THE NEW PIECES: It's the unveiling of life without No. 2 wide receiver Marvin Jones and slot receiver Mohamed Sanu and the look with veteran free agent Brandon LaFell opposite A.J. Green. It's the first time since 2010 when Terrell Owns joined the fray in the wake of Antonio Bryant's frayed knee that they're relying on a receiver from another team to start. And so far it looks like they made a good choice.
"Ever since he walked in it feels like he's been here the whole time," Dalton says of LaFell. "When we're calling plays it's not like he's second guessing himself. He knows what he's doing. He's going to help us a lot this year."
Dalton has done his share to make his new receivers feel a part of it. He keeps in his locker on a sheet of paper a running tabulation of the scores from the shooting contests that take place on the basketball court after workouts.
The game is basically a form of H-O-R-S-E, but these guys aren't horsing around. It's serious business.  Naturally Green and Dalton lead the parade and they are in a massive battle with Dalton holding an 18-17 lead over his prized target, although there is much debate from the top ten who has won what. Down in the middle of the sheet is "JoJo," which turns out to be LaFell's nickname from his middle name of Josiah.
LaFell, 29, a Super Bowl winner with New England and one of Cam Newton's first go-to guys in Carolina, looks and sounds comfortable in his latest stop.
"It feels more like college," LaFell says. "After practice, after workouts, everybody stays around to eat together, talk, shoot hoops, joke around. It feels more like college. I kind of like it. It feels like a family. Carolina was like this, a real tight-knit family. It was in New England somewhat. But it was still family up there. But this right here feels like I'm back in college."
LaFell also feels like he fits with Dalton, as well as the Bengals offense. He says he'll use the OTAs to work on playing fast and try not to think so he slows down while learning his new scheme as he looks to play instead of react.
"It's having faith in myself to know what I'm doing," LaFell says. "Getting used to hearing the plays from Andy. And there's a defense out there now, get back to football stuff. They make it easy for me. Andy's been helping me out. If something new comes up, he always pulls me aside. Coaches have been there every day piling up new stuff and always questioning us."
There is another reason why LaFell wants to get in the playbook and this is a big factor why they went and got him in free agency. He's got a solid veteran's bed-side manner that can mentor. 
"I have to make sure I know the offense and know what I'm doing because the young guys are looking up to a lot of older guys," LaFell said. "As long as I'm doing it right, these guys are going to do it right and we have to make sure the young guys know their stuff because if they don't know it, that means A.J. and I and the older guys are going to get more snaps."
That sums up the challenge at receiver this year. Green and LaFell are virtually it for older guys. There are going to be three NFL catches from last season by Bengals wide receivers behind Green and LaFell on the depth chart.
Second-round pick Tyler Boyd figures to be working in the slot right away between Green and LaFell, but everybody else is also going to get their shots over the next three months to figure it out. Such as 2015 seventh-rounder Mario Alford, 2016 sixth-rounder Cody Core, and last year's practice squadder Jake Kumerow. It's not known if 2014 seventh-round wide receiver James Wright (knee) has been cleared.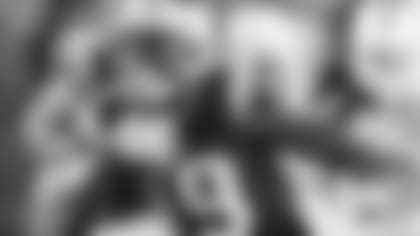 Brandon LaFell sheds Patriot blue for Bengals black.
TEZ's BACKERS: A very excited Vontaze Burfict has been looking forward to Tuesday even though it doesn't count much in the grand scheme of his season. But just the fact he's able to work has him revving. Last year at this time his career hung in the balance on his rehab from micro fracture knee surgery before he bounced back, helping the Bengals hold teams to an average of 14.4 points per game once he got back into the lineup for the final 11 games.
"Competing. That's the thing now," Burfict says. "Just going out there to compete, make plays, and be a leader . . . I feel good . . . I'm healthy. . . I feel like I have to lose a little bit of weight, but other than that I feel good. I'm just trying to get down to my playing weight. I have, what? Two to three months to get down there. I have to lose like five pounds. Other than that I'm ready to go. I'll be ready when training camp comes around. OTAs is like, you work out, (but) the month we're off, that's go time."
The 13-year veteran, Karlos Dansby, figures to move into SAM backer with Burfict at WILL and Rey Maualuga in the middle. The other newcomer, third-rounder Nick Vigil, has been getting a lot of love in the middle from the coaches and Burfict can see why.
So much so that he calls him by the name of a Pro Bowl linebacker he admires with Cincinnati ties.
"I love both of them," Burfict says of Dansby and Vigil. "Vigil is a great dude. He doesn't talk too much. I like to mess with him. I call him 'Luke Kuechly.' He's very instinctive, he's got great feet. Yeah, (he's got a little Kuechly in him), just have to see him with the pads on."
And this is not a throwaway compliment. Burfict, who is a texting pal of Kuechly's, holds him in high regard: "He's a good dude . I respect his game. I watch his film. He's very smart."
Burfict is willing to pass it all on, but he knows there are some things that can't be had.
"You can't have these brains," Burfict says with a smile. "It's what I get paid for."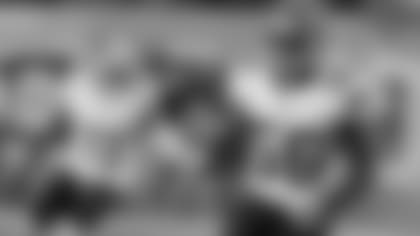 Karlos Dansby figures to be Bengals' new SAM backer.
KEEPING UP WITH JONES' SECONDARY: No question, says cornerback Adam Jones. The Bengals are going to miss the cool experience of Pro Bowler Reggie Nelson at safety. But he also says there are guys around like George Iloka and Shawn Williams that he expects to make plays.
It's a big year for some young defensive players to take a major leap, such as Williams, ends Margus Hunt and Will Clarke, linebacker Marquis Flowers, and cornerbacks Darqueze Dennard and Josh Shaw.
Dennard (shoulder) doesn't figure to be cleared until training camp, so look for Shaw to be in the slot between Jones and Dre Kirkpatrick. Shaw, the 2015 fourth-rounder, figures to have busy OTAs playing three different spots, including safety in some packages.
For a starter like Jones coming off a Pro Bowl season and a $22 million, three-year contract, the spring is all about the little things.
"Stay down in my back pedal. Work on the intermediate routes. Timing," Jones says. "So we can all be on the same page. Camaraderie. Get the younger guys going in the defense. Just freshen up the little things. I think we'll be all right. We just have to stay healthy. Marvin (Lewis) does a good job making sure everybody understands the tempo."
THE ROTATION:  The defensive linemen have indicated that Burney, in his 21st season, is going to use more of a rotation than the Bengals used last season. That would suggest more of the kids, Hunt, Clarke, 2015 practice squadder Marcus Hardison, and 2016 fourth-rounder Andrew Billings.
Since there are no pads in OTAs, no judgments can really be made on line play. But for an 11-year nose tackle like Domata Peko, OTAs are a necessity.
"We just work out technique," Peko says. "There won't be real contact, but in the trenches in OTAs you're still battling.  You have to maintain your gap integrity and stuff like that. I say it's a great time to sharpen up your technique and work on pass rush because you're not really bull-rushing people. So it's a good time to get your hands right and your hips right and to get back to football."
POUNDING THE ROCK: That's head coach Marvin Lewis' mantra in response to the media mushroom cloud hanging over last year's finish. Two guys who were major players in the final 1:23, Burfict and Adam Jones, are on Lewis' page when it comes to moving on.
"I don't care about Pittsburgh," Jones says. Asked if he has a point to prove, Burfict says, "I don't have to show the world anything. You're always going to have your haters and you're always going to have your lovers. Either you do well or badly, you're always going to have your haters. Other than that I just want to go out there and help us make plays and win games."