Jermaine Gresham makes the nice grab over rookie Shawn Williams on the first day of Bengals OTAs.
Bengals quarterback Andy Dalton made sure Tuesday on the first rep of the wide receivers vs. the cornerbacks in the first voluntary practice of the spring that he set the tone.
With two-time Pro Bowl wide receiver A.J. Green lined up against Terence Newman, wide receivers coach James Urban said, "You know what the route is."
In this offseason of emphasizing the deep ball, that meant the "Go Route," and Green raced past Newman and had to come back only slightly before hauling it in in a pretty smooth execution.
» Earlier in team work Dalton hit wide receiver Marvin Jones deep running past cornerback Adam Jones and safety Taylor Mays. Jones left the field soon after, apparently tweaking his calf. 
» Dalton raved about how much the Bengals installed in their offense for the first practice, reflecting the experience of a group heading into the third season under offensive coordinator Jay Gruden. Green said he had never lined up in so many different spots during a practice and tight end Orson Charles looked to be playing some offset fullback.
» The Bengals offensive line came up short with several linemen nursing injuries and rehab that aren't expected to delay their training camp. But compounded with the absence of right tackle Andre Smith, it made for some scrambling.
Smith, Cincinnati's highest-paying move of the offseason with a three-year, $18 million deal if he hits all the play-time milestones, isn't suffering from conditioning issues, according to head coach Marvin Lewis. All Lewis would say is Smith is going to be here at some point.
"He's got to deal with some stuff that he has to take care of and when he gets it taken care of he will be back up here," Lewis said.
With left tackle Andrew Whitworth, left guard Clint Boling, and backups Travelle Wharton, Trevor Robinson and Dennis Roland not working, offensive line coach Paul Alexander had a chance to experiment. For his first group he trotted out veteran backup Anthony Collins at right tackle and second-year man Kevin Zeitler at right guard while veteran center Kyle Cook anchored a new look left side with fifth-rounder Tanner Hawkinson at tackle and veteran free-agent pickup Mike Pollak at guard.
» Cornerback Leon Hall (thumb) worked in individual drills, but not in the one-on-ones or team work.
PHOTO GALLERY: OTA DAY 1
[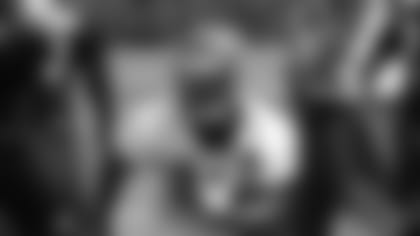 PHOTOS: A close-up look at the first day of Bengals organized team activities.](/media-lounge/photo-gallery/Photo-Gallery-OTA-Day-1-52113/30b7e00c-7e06-4484-8a3c-8c3eac8317db)
» When Adam Jones went off the field, special teams coach Darrin Simmons dropped back wide receivers Brandon Tate, Andrew Hawkins and Marvin Jones to catch punts.
» James Harrison made his debut in a black Bengals No. 92 at SAM linebacker. The coaches know he can rush the passer, so he spent his time on the field in the base defense. When the Bengals went nickel, they used the rookie WILL backers they used at the end of last season, Vontaze Burfict and Emmanuel Lamur. When Harrison gets comfortable with the base, the Bengals figure then to get him involoved up front in nickel.
» Watch out for Lamur. He looks like he's headed to a breakout year. Lamur, a free-agent out of Kansas State, played his rookie year at 230 pounds. This year's he's up to the 242-pound range and his teammates are raving about how he maintained his speed.
"He's swole," marvelled Green. 
» Here's what Lewis said he's trying to get out of the OTAs:
"I think the thing is to really be able to spend time on the concepts of football that are important to us and breaking things down – offense, defense, special teams. It might be 5-on-5, 4-on-4 type things. Really for the coaches to emphasize those and break down the gray area. Without pads you are unable to be physical and those things so it is more of the mental stuff. It's important to do that and work on some of the things that we think were important after the season last year for guys to work on and improve. It gets the young guys incorporated in better and some of the new guys like James (Harrison) on defense."