---
---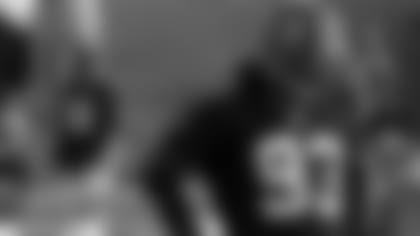 Jeanty: Making an impact (Bengals photo)
GEORGETOWN, Ky. - When Rashad Jeanty's mother lost her home, her son found the motivation. Now he's on the brink of a roster, proof that all NFL players aren't pre-packaged, freeze-dried and ordained.
Rashad Jeanty? He had about as much chance of making the NFL as an Eskimo coming of age in a heat wave, right?
Don't look now, but if Cutdown Day were today, it would be very hard to keep Jeanty, he of the 13 sacks in the last two Canadian Football League seasons for the Edmonton Eskimos, off the Bengals. Particularly if they keep seven linebackers like they did last Cutdown Day. And maybe even if they don't.
"He's tough as nails. He's physical. He's very smart, he picks up everything quick," says David Pollack. "I think he's going to be a good player."
High praise from a guy who knows exactly what the 6-2, 245-pound Jeanty is enduring in making the switch from not only defensive end to linebacker but also doing it on a higher level.
"You have to totally change the way you think," Pollack says. "It's not like I didn't know what I was doing every time I broke the huddle, it's just everything that I saw was different."
But what has got Jeanty here is that he has never changed his way of thinking since he knocked on the door of that Miami motel room four years ago.
This is why he keeps jamming his blistered foot into a cleat and comes out here every sweltering Delta day after sweltering Delta day:
Ever since he arrived at Orlando's Central Florida as The Miami Herald's 14th best player in the nation in 2001, Jeanty had an idea his family could lose its home back in Miami. His dad passed when he was a kid and his single mother's job just didn't generate enough money and there were now two nieces to support as well as his own three older siblings.
"My mother's the kind of person that doesn't say anything. She wants to fight through it quietly," says Jeanty, who is his mother's son.
He has to pause as he leaves the practice field Tuesday afternoon and gets down on one knee to tell the story to tame the emotion.
"But being her son, I had an idea," says Jeanty, who could sense at school that something back home was wrong. "My sister told me on a Wednesday that we were getting evicted and had to be out on Friday. It was the last day before spring break and when I got home Saturday, there was really no home to go to. It was a hotel, but it wasn't really a hotel.
"I knocked on the door and I walked into a one bedroom motel where they were staying. Six of them. When I saw that, just to see my family in that situation, that shook me. It took everything out of me. Nothing mattered. School. Football. I just wanted to help my family."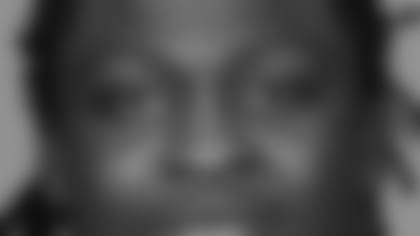 By the end of his sophomore year at Central, Jeanty no longer had the grades to stay in school and his only option was to play in the NAIA or go make money in Canada because he wasn't eligible to play in the NFL. One of his old coaches had surfaced up north in some far away frozen tundra called Edmonton, literally a polar opposite from Miami.
It was cold, but so was the cash. A three-year deal at about $60,000 a year meant he could help his family get an apartment.
"The big thing is now we've got a home of our own. We've got an apartment," Jeanty says. "It's not just because of me. Everyone helped. The family stuck together."
Jeanty says those were three of the best years of his life. Edmonton is known as one of the CFL's classier operations and its fans are as faithful and committed as any in Bengaldom. The bent for the pass suited Jeanty's considerable rush abilities and even though he hurt his hamstring and couldn't play in last year's Grey Cup game, the Eskimos put an attractive offer on the table to keep him out of the NFL this past offseason.
"They really stepped up," says David Canter, his agent. "It was a generous offer, with about $25,000 in a bonus. But you have to remember. That's in Canadian money. Maybe that's about $16-17,000 American money. So much went into the decision. He's incredibly motivated by his family. That's the one thing he kept telling me. 'I've got to do what is right for my people.' When you see a guy like this make it, it's why you get into the business."
Sure. Growing up tough in Liberty City on the hard outskirts of Miami (not far from Chad Johnson), Jeanty lived the NFL dream. And he played so well at Carol City High School that The Herald named him the sixth best prep player in all of athlete rich Florida.
There was the dream. But, let's face it. There is also the money. Canter figures with the adjustment for the rookie salary under the new cap, the minimum is $275,000. Even a spot on the practice squad nets more than $5,000 a week.
Throw in the $10,000 signing bonus and there is the dream and there is the reality.
"I loved it in Edmonton. It wasn't easy to leave," Jeanty says. "I was with a bunch of veterans in a locker room that knew how to win and that's what it's all about."
But there was also that motel room driving him.
Jeanty worked out for four other teams besides the Bengals, but they were the only one that had coaches work him out. When he flew back home from Cincinnati, he realized that head coach Marvin Lewis and defensive line coach Jay Hayes were the only coaches that worked him out. He liked that. The other clubs used scouts to test him.
"All the other (Bengals) coaches were on vacation," Lewis says with a smile. "We saw enough. He was athletic, quick on his feet. The big thing is that he had the experience of being a pass rusher and he had the attributes. You can worry about the rest later."
The Bengals started to get calls right away that they had a player. Secondary coach Kevin Coyle heard from one of his old Syracuse players and CFL veteran that Jeanty would help them. And he was recommended heartily to the club by a fellow CFL player of the 1960s with Bengals scout Bill Tobin, Bob O'Billovich, director of player personnel for the B.C. Lions.
O'Billovich surfaced this week here at training camp doing some scouting and after looking at tape, he's enthused. In Canada, they're all "our guys."
"Something that he's demonstrated here that I didn't notice when he was with Edmonton is that he's a lot more physical," O'Billovich says. "He's showing a lot more toughness than I saw up there. I thought he was a very good athlete and can rush the passer well enough to be a good linebacker down here. He's looking pretty good. He's taking people on and he can rush off the edge. Which makes it kind of nice when you get a linebacker that can do all that stuff. Edmonton's defensive front isn't as good this year, and one of the reasons is this guy isn't there.
"He's the kind of guy that the NFL doesn't look for initially. He's not a big guy, but the way we pass the ball, a guy that can rush the passer like that is something we really look for. And you figure that he's not a rookie. This is a guy that's already played three professional seasons."
Yet, as Canter says, the failure rate from the CFL to the NFL is about 70 percent.
But not here. Not so far. Jeanty's experience of 37 CFL games before he turned 23 this past April is showing up in a young backers corps.
"I think he's going to be a good player for us. A good pickup," says tight end Reggie Kelly, the estimable veteran blocker who has been pounding heads with Jeanty all camp. "Upside. Upside. I could tell back in the spring that he was a player because he's got an instinct for it. He's a physical guy with good speed. He hits you and keeps coming at you, and he does a good job dropping into coverage. I think he can really help us on special teams."
As Pollack can attest, learning how to drop into pass coverage is the toughest thing about the transition from end to linebacker.
"It's the total opposite of what you've done your whole life," Pollack says and Jeanty agrees.
"That's the biggest thing; playing out there in space," Jeanty says. "You've got to cover this whole entire area against guys that can move instead of playing inside that little space."
The biggest difference between Canada and the NFL?
"The intensity," Jeanty says. "In Canada, we're only on the field for about an hour and a half for practice. Sometimes here we're on the field for an hour longer than that."
And he's going to see that field a lot Sunday night in the preseason opener at Paul Brown Stadium against Washington. Now that Pollack is down with a hamstring problem.
"How can you not like Rashad Jeanty?" asks linebackers coach Ricky Hunley. "He just shows up and plays hard and never says a word. He's what every coach wants."
Pollack shakes his head when he thinks about Jeanty's foot.
"You should see that big old blister," Pollack says, "and he's going out there."
But then, it's not hard to see why.
There is that knock on the motel door.
"I'm the kind of person that has always loved to be challenged," Jeanty says, and one of the reasons he wants to make the NFL is to get a bigger forum to tell his story to kids.
"Oh yeah, I've got a lot to say," says Jeanty, who can't be heard amid the screams for "Carson!" and "Chad!" as he comes off the practice field. "I encourage anyone who thinks only football is the ticket to anywhere, not to do that. You've got to get the education, and you've got to keep on fighting and learn from your mistakes. That's the biggest mistake of my life. I had an opportunity to get a free education and I turned it down and I'm very much ashamed of it."
Of course, he has nothing to be ashamed of. It's only those who think that NFL players are born and not made that should be ashamed.
"I've got a shot. That's all I really know," Jeanty says. "All I want to do is make sure I give the coaches a hard decision."