Last season, defensive end Wallace Gilberry was on the field for 669 of the Bengals' 1,156 defensive snaps (58%). Now that Gilberry has signed with Detroit as a free agent, Margus Hunt and Will Clarke are the most obvious candidates to get a bump in playing time.
"What we're looking for them to do as players is break through to be productive guys – game changing players," said head coach Marvin Lewis. "We're going to put it out there and let them go that way. It's a good situation to be in – hopefully for them and for us."
"I don't want that workload to go to Carlos (Dunlap) and Mike (Johnson) – they already are in for enough plays as is," said Clarke. "There's definitely an opportunity for myself and Margus to get those reps and get out there and help the first team guys – whether it's playing inside or outside."
Clarke, a third round draft pick in 2014, was on the field for 139 defensive snaps (12%) last season and is eager to earn more.
"It's not how I planned for it to be," Will told me. "I definitely would have liked to be more of a help to the team and played more of a pivotal role. The best way to do that is to keep your head down, keep working, and keep moving forward. Don't try to do anything crazy or different, just keep listening to the coaches, follow the older guys, and stay on the path."
Hunt was only on the field for 57 defensive snaps (5%) last season. The second round pick in 2013 was coming off of back surgery and did not see action in the first seven games. 
"It's good now," said Hunt. "I've been able to do power lifting and that puts a lot of pressure on your back and it's been feeling awesome. It was really bad last year. In the beginning when I was able to start doing football drills, my back felt weak and it took a while to get the strength back. After that I needed to get the flexibility and the movement back and a lot of different things went into it."
In addition to a more rigorous weightlifting routine this offseason, Hunt worked privately with one of the NFL's all-time leaders in sacks Kevin Greene. The 5-time Pro Bowler will be inducted into the Pro Football Hall of Fame in August.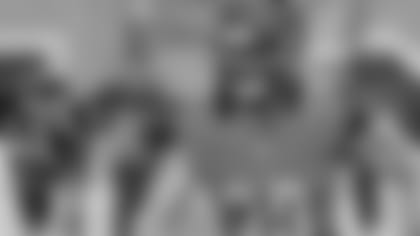 "Marvin put us together," said Hunt. "He wanted me to work with him last year but the back issue came up. This offseason Marvin called me up and said, 'Can you get three days out of your schedule to go work with him?' I said, "Absolutely. I'd be happy to.' Thankfully Kevin had enough time in his busy schedule with the Hall of Fame and everything going on to work with me.
"We worked out in his front yard. He had sleds and cones and everything set up and he walked me through what he did for 16 years and why he was so successful. It was a really great trip."
Greene was undersized at 6'2", 245 pounds but managed to have 10 years with double-digit sacks, including 12 in his final season at age 37.
"Little things end up being big things," said Hunt when asked what he learned from Greene. "He taught me how he did the pass rush for 16 years and how he got 160 sacks. Then we watched film of it. We put him on and he taught me and showed me how he did it. Marvin sent him film of me and we had a similar look but I wasn't able to utilize the rush."
Hunt is entering the final year of his rookie contract while Clarke has two years remaining. Do they view 2016 as a critical season?
"Every year is critical in this line of business," said Hunt. "I'm just trying to keep it simple. I'm not worrying about whether it's a big year or a small year, I'm trying to have fun and the rest of it will take care of itself. If I take care of the small things day after day, they'll add up to bigger ones."
"I think that every year is important, but I believe that taking another step forward is the important part," said Clarke. "Stepping up to a more pivotal role and being able to help this team out more on defense, special teams, and the team as a whole."
The Bengals brought 36-year-old free agent Dwight Freeney in for a workout in May and could still sign the seven-time Pro Bowler. But regardless of that possibility, Clarke, Hunt, and other young defensive lineman like Brandon Thompson, Marcus Hardison, DeShawn Williams, and Andrew Billings will look to grab some of snaps that Gilberry received last season.
"In the decade-and-a-half that Marvin Lewis has been here as a head coach, he just wants to see you perform," said my broadcast partner Dave Lapham. "There's no prejudice to when you were drafted, how you were drafted, or even if you were drafted. When you get here, what are you going to do? It doesn't matter that Margus Hunt was a second round pick and Will Clarke was a third round pick, they have to step up and perform. I know that if I were in their situation that I would feel pressure to take full advantage of every opportunity I get. When you're in competitive situations like that, it raises the level of performance. Competition breeds excellence."    
"There's always a battle between us, but at the end of the day it's all of us working together," said Clarke. "It doesn't really matter if you're a first team guy or a second team guy because we're rotating. There could be a game where it's Carlos and Margus out there. It could be Domata (Peko), myself, Andrew Billings, and Mike (Johnson). There's always a battle to make ourselves better, but at the end of the day we're all helping each other."