John Ross makes his debut.
It was as if Bengals offensive coordinator Ken Zampese were firing a warning shot to the rest of the league in the second quarter of Sunday's pre-season game in Washington.
He lined up first-round pick John Ross wide left and sent him long as fast as he can down the sideline and that's fast as the fastest player to emerge from the NFL scouting combine in recorded history.
Andy Dalton fired it up there and Ross, in his first NFL game, looked tentative against veteran cornerback Bashaud Breeland and he never really went after it as the ball was overthrown.
 But maybe the message had been sent. The Bengals are fast and dangerous and you can't double A.J. Green every snap.
Dalton smiled and played it straight.
"I think the best thing for him right now is for him to keep playing. This is his first game action," Dalton said. "You know, he's only had about a week of practice really and so the more that he is out doing things, getting the reps, the better he will be and the better feel and timing that we will have with him."
So clearly there are things to work on when you overthrow 4.22 seconds in the 40-yard dash. Dalton and backup Andy Dalton each took a shot at Ross in his debut and couldn't connect. McCarron appeared to surprise him on a side-line route when he threw it quickly to the outside. To be expected from Ross considering he's been practicing for less than three weeks as he comes back from shoulder surgery.
"I have to do a better job knowing what I have to do. Playing with confidence," Ross said. "I was out there thinking too much."
Ross has got excitement scrawled all over him. Before the game the Washington players wondered which guy he was before the game jerseys came on. The Bengals let it be known they'll get Ross the ball any old way and Zampese had a creative start when he sent Ross on a jet sweep to the right for his first NFL touch, taking the ball from Dalton as he came in motion on that monstrous opening 15-play march.
"It was a good start today," Dalton said. "I think he touched the ball maybe one time and (eight)  yards around the edge and got to kind of show his speed there … The more that he is playing, the more the reps that he gets, the better we will be."
Ross is smart enough to know what he has to do with those reps to become a legitimate option to Green. He blamed himself for the overthrow.   
 "I think Andy threw a great ball. I think I have to give him a better release (off the line)," Ross said. "I have to play at my speed and not let my mind control things. That was definitely my fault. I think he threw it in the right place. I have to give him a better release at the line. The more I help him, the easier it will be."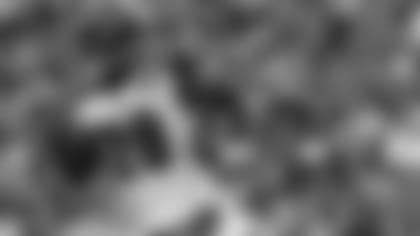 Joe Mixon had one eye-popping run in the first drive.
Those 15 plays were all the first offense did Sunday and that was enough. Besides the old stand-bys of Green and slot man Tyler Boyd, there was the introduction of the infusion of speedy play-making of the first-rounder Ross at receiver and the second-rounder Joe Mixon at running back. Mixon had 31 yards on eight carries, but that included a scintillating six-yard run that showed just what he can do for this offense. He absolutely screwed cornerback Josh Norman into the ground on a shake-and-bake at the line of scrimmage as broke the run to the outside.
"It was actually a three-way go," Mixon said. "I could have went through him. I could have went around him. I could have gone over him. I was just trying to make him miss in space. Trying for the touchdown. It's going to come."  
Like Ross, Mixon is already pretty self-aware for a rookie after losing the Bengals' only fumble of the preseason on a handoff from Dalton. He said he knows he has to secure it and the replay shows he didn't look it in. He knows what could be with execution.  
"We can be electrifying. We've got a lot of home-run threats," Mixon said. "We just have to able to execute. It was exciting to see our offense moving like that."
After participating in that multi-dimensional first drive, Ross seemed senses he's now the member of an exclusive club.
 "We've got a chance to be really special," Ross said. "There are a lot of guys on this roster that can make a lot of big plays. I think we've got a lot of talent. I'm grateful to even be a part of it."
Cincinnati Bengals take on the Washington Redskins in week 3 of the preseason.