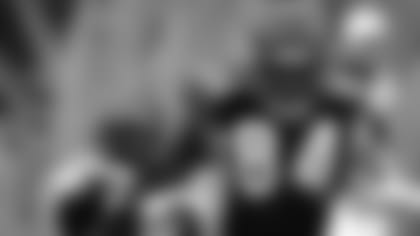 Houshmandzadeh: "I'll take the hit for the catch" (Bengals photo)
The man they call the "The Football Scientist" has proven what Bengals wide receiver T.J. Houshmandzadeh already believed.
Houshmandzadeh, Cincinnati's No. 2 receiver opposite three-time Pro Bowler Chad Johnson, has the best hands in the NFL after dropping just three passes in 2005.
It certainly wouldn't surprise two quarterbacks named Jon Kitna and Carson Palmer.
"I told Kit and then I told Carson," Houshmandzadeh said, "I'll take the hit for the catch."
The observation comes from ESPN.com insider KC Joyner, who submits that Houshmandzadeh had the lowest dropped pass percentage in the NFL last season with 2.6 percent, leading a top five that includes the Pro Bowl trio of Marvin Harrison at No. 2 (3.2 percent), Jason Witten at No. 4 (4.5) and Steve Smith at No. 5 (4.7).
For a guy who has always felt his worth has been determined more by his seventh-round selection than his production, Houshmandzadeh appreciates the research.
"Drops and catches are cut and dried," Houshmandzadeh said. "Saying who is the best receiver and all that is subjective. It's not surprising to me. Everyone is going to know me after this season, but it means nothing for the new year."
In his column, Joyner said that he divided the number of drops by the number of catchable passes to come up with the dropped pass percentage. Although Johnson wasn't ranked in the top 20 in that group, the good scientist ranked him tied for No. 5 in the NFL with total yards per catchable attempt at 9.6. Johnson finished third in the NFL with 1,432 yards and fifth with 97 catches and he wasn't the only leading receiver not on Joyner's list.
Anquan Boldin of Arizona and the Rams' Torry Holt (each with 102 catches), Washington's Santana Moss (an NFL-runner-up 1,483 yards), and San Diego's Antonio Gates (who led all tight ends with 89 catches) also weren't ranked in the top 20 of lowest dropped pass percentage.
Which makes Houshmandzadeh's season of 78 catches for 956 yards and seven touchdowns even more remarkable. According to Joyner, only Detroit's Scottie Vines dropped as few as three passes. But Vines caught the minimum 40 catches to qualify, working out to a 4.8 dropped pass percentage.
"It was no surprise to see Marvin Harrison near the top of this list," Joyner wrote, " but I was somewhat surprised to see T.J. Houshmandzadeh rank No. 1 in this category. Houshmandzadeh is known as a very good possession receiver, but this chart shows he may be one of the best."
Houshmandzadeh and Bengals wide receivers coach Hue Jackson have been talking like that for a couple of years. At 6-1, 200 pounds, Houshmandzadeh has a best-of-both-worlds physical grittiness and soft hands.
"T.J. is one of the best players in this league; Chad would be a guy that wouldn't be surprised by this," Jackson said. "He knows how good T.J. is day in and day out. This shows you that not many guys can do what he does, which is make the catches in close quarters and go up and get the ball and take it away from people. He's a very smart receiver. I've seen a couple of scouting reports that say he's not a smart player, and I don't know where they get that."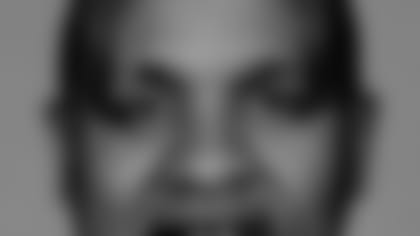 Jackson, who can motivate with a needle longer than the Steelers' winning streak, hasn't hesitated showing Houshmandzadeh the reports.
"I don't know who's writing it, where it's coming from, or whatever, but that guy needs to get fired. They shouldn't be getting paid writing like that," Houshmandzadeh said. "Being smart is one of my strengths. I laugh at these guys who look at film and say I'm not that fast. Any time you see a guy who's running every route as fast as he can, I'll show you a guy who's having trouble getting open.
"It's about changing direction. It's about knowing when to settle, knowing when to run by, knowing where the hole is going to be. Put it this way; If I had an arm, I'd be a quarterback. I've been lucky. Even when I was in school and I was interested in a subject, I picked it up fast. It's strange, because I didn't always play football. But whenever I did watch it, I paid attention."
The man with the best hands in football came to the game late and the scouts have been even later coming to him. He played just one season of high school before the junior college route translated into him getting drafted in the last round of 2001.
"I always had pretty good hands," Houshmandzadeh said. "I think a lot of it is being in shape. When you get tired, you lose your concentration. Fatigue has a lot to do with it, I think. The more tired you get, I think the more drops you'll have."
Joyner puts dropped passes into three categories: off an accurate pass, off an inaccurate pass (outside of the receiver's frame but still deemed catchable) and off a ball stripped by a defender.
Houshmandzadeh said he dropped two off accurate passes, and one was stripped.
"See, I remember them all," he said. "I dropped two five-yard routes. One was at home against Cleveland. I turned and it just went through my hands. The other one was in the playoffs against Pittsburgh, going toward our locker room, and I think it was on the same drive I scored a touchdown.
"I had one stripped in Kansas City. I thought they were going to call it a fumble because I thought I took two steps after the guy came from behind. I considered it a drop because I should have (protected the ball)."
Third-down receptions didn't necessarily translate to the drops percentage. Houshmandzadeh tied Carolina's Smith and Arizona's Larry Fitzgerald with five third-down touchdowns. Smith, who led the NFL in catches and yards, had seven drops for a 4.7 percentage that was good for fifth. Fitzgerald finished 16th with 10 drops for a 6.4 dropped pass percentage.
But the AFC's top five third-down receptions leaders - Derrick Mason, Todd Heap, Laveranues Coles, Jerry Porter and Jimmy Smith - aren't on Joyner's list.
"It surprises me that Steve Smith had so few drops because I know how many chances he does get," Houshmandzadeh said.
A look at Joyner's top 10 for dropped pass percentage:
1. T.J. Houshmandzadeh, Bengals: 78 catches, three drops, 2.6 percent
Marvin Harrison, Colts: 82 catches, four drops, 3.2 percent
Bobby Engram, Seahawks: 67 catches, four drops, 4.3 percent
Jason Witten, Cowboys: 66 catches, four drops, 4.5 percent
Steve Smith, Panthers: 103 catches, seven drops, 4.7 percent
Scottie Vines, Lions: 40 catches, three drops, 4.8 percent
Tony Gonzalez, Chiefs: 78 catches, six drops, 4.9 percent
Eric Parker, Chargers: 57 catches, four drops, 4.9 percent
Keyshawn Johnson, Cowboys: 71 catches, six drops, 5.1 percent
Joe Jurevicius, Seahawks: 55 catches, four drops, 5.1 percent