Leon Hall, seen at a practice last season, says he's recovering his techniques.
Cornerbacks Leon Hall and Darqueze Dennard, who are both having good springs, were putting on a bad vaudeville act in the locker room the other day. You know, one of those forced bits where The Veteran (Hall) grabs a TV microphone and sticks it in front of The Kid (Dennard) hoping to make him melt.
Deep down Hall, a rugged, competitive cornerback out of the old Big Ten, must have known he wouldn't do much damage to Dennard, a rugged competitive cornerback out of the new Big Ten. Except when he moved the mike back and forth under the scruff of his chin.
"He's mad because he's a Michigan guy and they haven't beaten us since then," said Dennard, who proudly wears his Michigan State colors. "It's been a while."
"I know I've never lost to them," Hall shot back.
"I don't think you guys scored when I was there, " Dennard said.
OK, Penn and Teller they're not but there's no better example of the good things the Bengals have going on at cornerback than the mix between youth and experience.
"If Darqueze can acquire a little bit of what Leon has between his ears with his physical tools," says cornerbacks coach Vance Joseph, "he can be a great one and do it for long time."
 At 23, Dennard is looking like the first-rounder he is these days with plays all over the field. Joseph calls his physical prowess exploding in the box near the line of scrimmage "special." Hall, 30, feels the best he has in several springs and isn't abdicating his starting job opposite Adam Jones to Dennard or 2012 first-rounder Dre Kirkpatrick.
When Dennard miraculously slalomed down the board to the Bengals at No. 24 in last year's draft, Vikings head coach Mike Zimmer immediately texted his former colleagues in Cincinnati congratulations and called Dennard a carbon copy of Hall.
"No," Hall said this week with a straight face. "I went to a better school. I look a lot better. Outside of that nothing really matters."
"Can't say that," Dennard said. "Leon has played nine years at a high level. He's got the big contract. I haven't reached that. Hopefully I will. Those are big shoes to fill. I'm honored to learn from him and watch him every day."
But at the end of the day, they have to agree.
"As far as football, I see a lot of similarities," Hall said. "The fact he could excel where ever you put him."
"He's very savvy. He watches a lot of things the receivers do off film study," Dennard said. "My eyes may not be as polished as his because he's been breaking down film longer. But I do see similarities by just him watching the receivers and telling me different formations, like I used to do in college. Personalities are kind of similar."
Joseph can vouch for that. Both are quiet, but like to keep the guys loose. They love to compete against anybody. Receivers. DBs. You name it. They tackle fiercely and selflessly.
"I think Leon is what you want as a coach. He's always going to be in the right position to make the play. That's half the battle," Joseph said. "They're different body types. Leon is more of lean athlete. He's smart with good long speed. Quez is more compact with a powerful body. Very explosive. Great ball skills. They're playing like we expect first-rounders to play."
Hall is in the last year of that big deal, but if he's not ready to give up his starting job, he's also not beyond helping Dennard along. He also knows at some point they may ask the kids to play outside on the corner while they use Hall only as the nickel in the slot.
"I could see that day," Hall said. "When, I don't know. But I take it day after day, year after year. We'll see how it goes."
That's the steel-belted mindset he has used to become one of the best Bengals cornerbacks ever, in that tier below Lemar Parrish and Kenny Riley and sharing a rung with Louis Breeden.
He took a lot of heat last season in what was probably his worst year, but now this is the first time in a handful of offseasons he's been able to be full go all winter. He's heard the whispers that the Achilles' tear in each foot has eaten away his speed, but he disagrees because speed has never been his calling card.
"I think speed is relative. I think technique certainly solves some of that, but to me if you don't have the right technique, I don't care how fast you are," Hall said. "I don't think it's a factor. I'm going into my ninth year in the league and I don't think one person would tell you my speed is what got me here. I've never been a guy that uses his speed and runs around and just outruns everybody. You start with technique and go from there."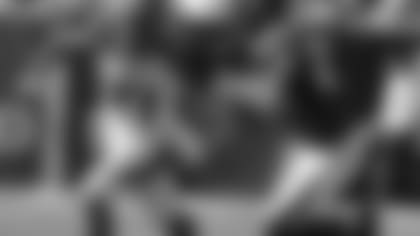 Darqueze Dennard is in better shape this year.
Both Hall and Dennard have improved their conditioning. Hall thought he lost some mental toughness last year and some of it, he thought, is because he was tired. Joseph felt last year that Dennard wasn't in NFL shape. But now he says he's ready to play many more than the 61 snaps he played as a rookie.
Now what impresses Joseph about Dennard this spring is that he's making plays (two picks in front of the media this week) even though there is no press coverage allowed.
"When you're playing off that's tough to do every day and make plays," Joseph said. "He's got better technique. He's transitioning better his backpedal to his break."
Hall has also been impressed with Dennard, in part, because he sees that same type of versatility he's used on the edge and in the slot.
"He had a great day today and he had a good day yesterday," Hall said on Media Day. "He's been pretty consistent. He's had some lows the last couple of weeks, but even his lows are good. When he first got here, he picked up the play book pretty fast.  He made plays and he's kind of been doing that since he got here.  I think you can put him anywhere. If they wanted they could put him (at safety) in dime. I think he would do well. I think he's a hybrid. He'll be pretty good wherever we need him or where ever he wants to excel."
But for The Veteran or The Kid, it all comes down to technique. Dennard says the big difference between this spring and last spring is his comfort in the defense.
"I'm not as grabby with my hands," he said. "I understand the total defense…I wasn't using my help as much as I should. Now I understand what to give up. What the strengths of the defense are, what is it supposed to do, what is it trying to do? I'm more understanding of the game…I'm having fun like I did back at Michigan State."
He can tell Hall anything but that.
"I went to a better school,'  said The Veteran, who doesn't mind helping The Kid in class.