New dad Andy Dalton came out sifting Tuesday.
AJ McCarron can never, ever, remember being away from a football team for a day, never mind a week. So when he came back Tuesday dropping enough dimes to send Raymond Anthony McCarron III all the way through the University of Alabama, he was surprised as anyone.I felt (what) was going to be the hardest part for me, not the throwing,  (but) the checks," McCarron said after the Bengals' fourth practice of the spring. "Even last week I was so busy I didn't look back at what we were putting in, so I just wanted to go on the fly and remember what we did all of last year and our checks and protections. It felt good." 
In his first outing since he came within 90 seconds of becoming the first Bengals quarterback to win a post-season game since Boomer Esiason, the impact of that skin on the wall could be seen in confidence and crispness.
Still, he admitted when the practice began he felt as rusty as that day two years ago when he returned after spending four months on the various injured lists with shoulder tendinitis.
en he  hooked up with rookie wide receiver Tyler Boyd on a crossing route on their first day ever going against defenders, it was as if they'd been together as long as Andy Dalton and A.J. Green.
"He's good. He makes me look good and makes it look easy," McCarron said of Boyd. "I threw to him a couple times, routes on air. Not live action. He's great. What I really love about him, he's quiet and works hard. He's been awesome every time we've worked together. He comes back and we communicate.  Today was fun."
He zipped a slant over the middle to another new target, veteran wide receiver Brandon LaFell. He also lofted a nice lead bomb to wide receiver Mario Alford, but Alford couldn't hang on. He whipped a come-back route to Green near the sideline.
"Once the first couple of plays started going," McCarron said, "I think we completed almost every pass in the first period, I felt fine."
It's also another sign the offense is being processed smoothly through new coordinator Ken Zampese, McCarron's position coach for his first two seasons. Even with some of the new install blurry he was able to operate.
"It's a good thing about Zamp and what he brings to the table," McCarron said. "We are always thinking about new ideas and new plays."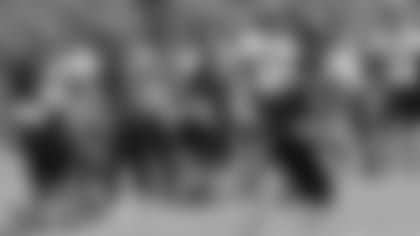 McCarron found Tyler Boyd (above) pretty quickly.
McCarron, of course, had a good excuse not to be around last week. He was back home in Mobile, Ala., as wife Katherine gave birth to their first child a week ago Tuesday.  
Here is his key to what the doctor called the easiest delivery he's ever been around: laughter. At a key point in the delivery, McCarron made Katherine laugh. It seems they have a standing joke after watching the movie "World War Z," starring Brad Pitt about a world-wide zombie attack.
"Brad Pitt cuts off the arm of a soldier after she gets bit (by a zombie)," McCarron said. "He tells her to 'gut up.' Since then (we've joked) about it. If something hurts, I'll say 'Gut up,' and mess with her and tell her to be tough. She was breathing hard and the doctor said, 'You'll be fine,' and I said, 'Gut up.' She laughed hard twice and he was out. It was awesome." 
Just short of handing out cigars, McCarron had all the earmarks of a new dad on Tuesday.
"I'm debating if I should go back this weekend because it changes every day. Now he has facial expressions all the time, laugh when he's sleeping and dream a lot. It's hard to come back," he said. "I love it. Literally. I love it. Such a good baby. Sleeps a long time, never cries, pretty like his mama. He's good." 
Long before the arrival there was speculation McCarron wouldn't be back. That the Bengals would trade him in a quarterback-starved league. The talk of McCarron going to Cleveland and old offensive coordinator Hue Jackson never got traction simply because if  there is one thing Bengals president Mike Brown likes more than quarterbacks it is not giving them to Cleveland.
But there was the Jets and Philly. And it's believed the Bengals turned down an offer from another club during last season before the trade deadline. Yet Brown and head coach Marvin Lewis were adamant McCarron was going nowhere this year in year three of his four-year deal.
"I just let my agent deal with it.  If it did happen, then it happened and move on to the next chapter. But I was planning on being here and working," said McCarron, who knows there are plenty of chances to start out there. "It's hard some times. Patience is a virtue. I'm patient. I count my blessings to be in the league."
Word broke earlier this month that the Bengals had tried to claim Zach Mettenberger before San Diego after the Titans cut him.  Tennessee took him in the sixth round in 2014, a round later than the Bengals took McCarron.
It's believed the Bengals were looking to simply kick the tires on a possible No. 3 quarterback with McCarron viewed as the unquestioned backup to Dalton. McCarron, as usual, didn't blink.
"The way I look at it, they still have to beat me out. It's still going to be a competition no matter what it is," McCarron said. "I love this organization. I love the people here. Now I've got a little man who's another little Bengal."
Cincinnati Bengals host OTAs at Paul Brown Stadium practice fields 5/31/2016