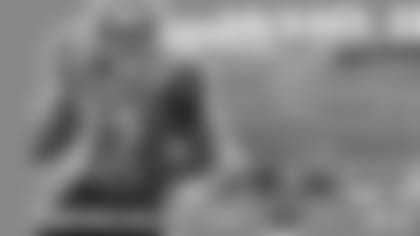 This Rudi billboard campaign will be seen throughout Cincinnati this season.
As he ends the most productive offseason of his career this week in an effort to regain his big-play touch, the new and improved and streamlined Rudi Johnson has a message for a team that may begin the season without Pro Bowl quarterback Carson Palmer.
Thirty-plus carries to get through the salad days is just fine with him.
"I have to make sure I'm in tip-top shape just in case that doesn't happen," says Johnson, who is eating more salad and no desserts these days. "We have to find ways to win ballgames and we've won ballgames a lot on these legs right here. I know I have to raise my game and I think everybody else knows they have to. I've got to make sure these legs are ready to go if my quarterback's not here."
The sweat bubbling on his shaved head (another new feature) is from going the extra yard Wednesday when he added a 30-minute stint on the treadmill on top of his hour routine in the weight room. It's been an offseason of extra sessions on Friday and overtimes on Wednesday in a bid to be quicker and more dangerous on Sunday in reconfiguring his 218 pounds with a sleeker, slimmer model.
"I'm back to what I was in '03 when I broke a lot of long ones," Johnson says. "I'm back. I can tell I'm different. I feel it. I can see it. Just looking to be quicker and keep my strength up. Having more endurance."
No question, he says. Healthy, he thinks he could have had 1,600 yards. In '06, he thinks he can get as many as 1,700.
Of course, Johnson hasn't exactly been chopped liver since '03 (by the way, he's off the red meat) in setting the club's single-season rushing record in '04 and '05 while not missing a game. Give him his average of the last two seasons (1,456 yards) over the last four seasons of his contract and he'll pummel Corey Dillon's all-time club rushing record by more than 1,700 yards.
ALL-TIME BENGALS RUSHERS

No.
Player
Seasons
Yards
Rushes
YPC
TD

1.
Rudi Johnson
2001-09
9760
2326
4.2
81*

2.
Corey Dillon
1997-2003
8061
1865
4.3
45

3.
James Brooks
1984-91
6447
1344
4.8
37

4.
Pete Johnson
1977-83
5421
1402
3.9
64

5.
Harold Green
1990-95
3727
968
3.9
8

6.
Essex Johnson
1968-75
3070
675
4.5
18

*Projected
And last year, according to STATS, Inc., Johnson had the NFL's fourth most runs of 10 yards or more with 39, trailing only the NFL's top rushing trio of Shaun Alexander (64), Larry Johnson (47), and Tiki Barber (43).
But when it came to runs of 20 yards or more, STATS ranked Johnson tied for 13th with just five. This from a guy who had five runs of at least 38 yards in two games alone (Kansas City and San Francisco) in his breakout year of 2003. His 54-yarder put a dagger in the unbeaten Chiefs and he put the Niners on the last train to the Coast with runs of 47 and 49 yards.
Johnson has gone 21 straight games without a run longer than 33 yards, and there is a good reason for the 16 of last year. In a Red Badge of Courage season, he played all but one game with torn knee cartilage and was always a tweak or twist or turn away from going under the knife.
"It definitely hurt my game; I couldn't accelerate," Johnson says. "What I wanted to do this year is not have any pain. Last year, I basically got yards (1,458) because I knew the scheme."
It's a scheme anchored by one of the NFL's top offensive lines that has made the black-and-blue-collar Johnson one of the team's Most Valuable Players in its resurgence (the Bengals are 11-0 when he carries at least 25 times), made him a leading favorite in Bengaldom with one of the most distinctive chants in sports ("R-uu-di, R-uu-di") and literally made him the poster child of the 2006 defense of Cincinnati's AFC North title.
"It's cool; they did a good job," says Johnson of the billboards and posters around town featuring him and the Bengals schedule. "It's nice to see hard work paying off."
Johnson can see it every time he gets off the Ridge Avenue exit, where RudiVision presides over Interstate 71. That's how he gets to his custom-built home in Amberley Village, the one with 30 flat TV screens that are usually turned to SportsCenter and movies. It's also where he eats most of his meals after five seasons of eating out every night.
Gaining healthy eating habits Facing arthroscopic surgery to repair the cartilage, Johnson felt like he had to take steps to raise his game. With rehab putting him in Cincinnati for the entire offseason for the first time in his career, he hired a nutritionist and a chef and they have cooked up schedules in six-week blocks.
"Every day the food is either delivered to my house or at the stadium, but since I'm usually at the stadium, I get it here to take it home," Johnson says. "If I eat out, it's only on the weekends. I wouldn't always eat fast food, but I'd always eat at a restaurant. Oh yeah, I'd always top it off with dessert. I can't remember the last time I had a dessert."
He has also benched his favorite, cheeseburgers, for fish and chicken, and has heaped on the vegetables.
"Eating before 7:30 at night has really helped, too," he says.
That has been the conventional way.
His training, as strength and conditioning coach Chip Morton admits, has been decidedly unconventional because of the February scope.
"Not a lot of running, but more agility, more circuit conditioning, more (biking)," Morton says. "He's as far along as he's ever been at this point in the season and I know this. He's emphatic about what he's going to do over the next four weeks before training camp."
Johnson may have rested the knee from football in the spring camps until the mandatory minicamp two weeks ago, but he, Morton, and assistant strength coach Ray Oliver were going hard on the sidelines and in the weight room in one-on-one drills, twice-a-week biking sessions, and a grueling aerobic circuit Morton calls "10 rounds, no stool."
"We used low impact stuff like Jacob's Ladder, the revolving staircase, sandbag work," Morton says of his toys in the attic. "We'd go in 30-second segments of different body weight with cals, like jumping jacks, squats, different kinds of pushups, leg raises, jackknives. No rest in between and we'd keep repeating it. We started a little over 12 minutes and worked up to 30 minutes straight. Ten rounds. No stool."
Why not for a guy whose middle name is "Ali," after You Know Who? What transpired is Johnson is that 218 pounds now from '03, down from about the 225-230 he would be about now.
"It's a different 218," Johnson admits. "Before, it was just me. Now, it's everybody together. The chef, the nutritionist ... "
2005 NFL Leaders for rushes of
10 or more yards

Player
Team
No.
Total yards

Shaun Alexander
Seahawks
64
1880

Larry Johnson
Chiefs
47
1750

Tiki Barber
Giants
43
1860

Rudi Johnson
Bengals
39
1458
That number 218 isn't to be trifled with in Bengaldom. Go back to '03 and that 43-carry game against Houston and the 165-yard game against the Chiefs a week later and those were weeks he weighed in at 217-218.
"Believe me, I hear about it every day," Johnson says. Asked if he hears it from Morton and Oliver, Johnson points to the ceiling. Marvin Lewis? Johnson keeps pointing to the ceiling.
"Oh yeah," Johnson says of his owner. "Through Chip and Ray. But that's all good. He remembers. He knows it was a record day (against Houston). When he sees me, he always asks how the knee is, and we talk."
Brown mentioned it one time to Morton a year or two ago. Gee, didn't it seem when Rudi had his best games, he was 218 or so? Morton didn't think so but when he looked it up, there it was.
Other Rudi-isms as he wraps up his training:
On the Bengals imploding mentally in the Wild Card game against the Steelers: "Yeah, it did get a little exposed, but we were playing one of the veteran teams in the playoffs. They kept their composure and it showed. That's how they were able to go from the sixth seed and win the Super Bowl because they are a very mature team. That's where we're trying to get to. We watched those guys advance, so I think our (mentality) is we're trying to take it a step further. We're expecting bigger and better things."
On the team makeup: "There's a lot of new guys, new faces. The addition of Dexter (Jackson) and Sam (Adams) is a big help. Also bringing back Madieu (Williams). I think those three guys are really going to elevate the defense to a whole new level. And on offense, just pick up where we left off last year and get better."
What if he played for a team that lived on the run? Two thousand yards. (Smile.) Maybe. (Smile.) Pittsburgh. Baltimore. Kansas City. Sure. Everybody would like to get the ball more. But we spread the ball around. We've got a lot of weapons. You have to keep the defense guessing. That's why we've got one of the top offenses in the league, if not the top."
The day to take stock of what Johnson has accomplished here is Oct. 1, when Dillon, his friend and mentor, comes to Paul Brown Stadium with the Patriots.
"It's on my birthday, in fact," Johnson says of the day he turns 27, three weeks before Dillon turns 32.
By the time Johnson is 29, he should break Dillon's club record of 8,061 yards. He says, "It's going to happen, it's already locked in on the radar," and by the time his contract is up, he's on pace to rush for 9,760 yards and score nearly twice as many touchdowns as Dillon did with 81.
"No, not that big," says Johnson, when asked if he's a stat guy. "But it's a good measuring stick."
And passing Dillon means something to Johnson. He doesn't talk to Dillon much, but he considers him a good friend and he'll never forget what Dillon did for him in '03 when they split time because Dillon was hurt.
Publicly, Dillon would bristle when asked about Johnson getting the bulk of the carries, making it clear he felt he was the better player. But privately, he encouraged Johnson and told him he'd make sure he'd get carries. Indeed, how many times did Dillon say it?
"Rudi is my ticket out of here." It was Good Cop Bad Cop, NFL style.
Even Johnson doesn't understand some of the things Dillon did when he was here. He constantly puzzled his coaches and management by often taking himself out of games and Johnson admits, "I didn't understand why after he'd break a long run he'd come out of the game, but that's CD for you.
"All I know is that we had a good understanding; a good relationship. And it worked out for both of us. We had a good understanding and we played it to a 'T.' He helped me a lot."
The only time they've met in the regular season, Dillon won the game by a touchdown (35-28) and Johnson outrushed him by a yard (89-88) back on Dec. 12, 2004 in Foxboro.
So Oct. 1 is one day Johnson has in mind. He has a lot of them in mind because he's had a lot of time to think. Because that's what he does when he works out.
The bald head is still glistening as he ticks off what he thinks about during a workout.
"I think about what's coming up; the season," Johnson says. "The fourth quarter. The Ravens. Pittsburgh. The AFC North."
He even thinks about plays in the fourth quarter.
"The fourth-and-one against Kansas City to run out the clock," he says of '03. "And in Pittsburgh this last year."
You mean the 14-yard touchdown run in which you ran over Pro Bowl safety Troy Polamalu with 6:09 left to give the Bengals a 38-24 lead?
Johnson can smell a fourth quarter in late June, even though the only fumes are from an extra treadmill session.
"Sweat. Blood," he says. "You can't get tired."
Ten rounds. No stool. And Rudi Ali Johnson isn't going back to his corner any time soon.