A.J. McCarron is ready to come out throwing this spring.
By the tender age of 22, A.J. McCarron had already won two national titles and the heart of Miss Alabama.  Now a grizzled 24, he's looking to win over an NFL coaching staff that for years has been seeking a young up-and-comer to develop into a legit reliever while backing up their franchise quarterbacks.
In seven years Carson Palmer's youngest No. 2 was 24-year-old journeyman Ryan Fitzpatrick in the 2007 season he turned 25. Andy Dalton's youngest backup in the last four years has been the much traveled 27-year-old Josh Johnson. After a year hiatus, Johnson is back to  compete with McCarron, last year's fifth-round pick energized by a Twitter-less offseason and a trip west he says has transformed his throwing motion and arm strength into a better passer than the one that threw 77 touchdown passes with just 15 interceptions for the Crimson Tide.
"I'm excited to finally show them what I can do when healthy. How I can play the game," McCarron says the other day, fresh from yet another workout in his hometown of Mobile, Ala. "They haven't seen the guy they drafted. I feel like I'm a totally new person, even from the time they saw me at the end of last season. I feel like I'm throwing a much better ball. Quickness with pop on it."
If it sounds like McCarron is as hungry as the 22-year-old, it's because he is. He has gone back to his gym rat grinder days and deleted Twitter while adding Tom House to his phone this offseason and replacing distractions with drop-backs.
At Dalton's urging he signed up for the burgeoning quarterback guru's weekly session back in February in Los Angeles and is going back to see House in July while continuing to work four times a week at the University of South Alabama with David Morris, his QB coach that has been with him from proms to drafts.
"In the past there were times I had to call him and say, 'Hey man, what's the deal? Are we going or not going?'" says Morris, who has worked with McCarron since he was a high school freshman at St. Paul's Episcopal School. "This offseason he's been the one reaching out predominantly. He's hungry. He's got a lot to prove. He's a guy that's had a lot of success in his career. What's really impressive about him is that he's never been impressed by success. He just likes to compete."
Tyler Siskey, McCarron's offensive coordinator at St. Paul's, got a taste of the edge one Sunday morning on the way to church a long time ago, after McCarron and his St. Paul's baseball team got knocked out of the state tournament.
McCarron had been warning him that if they weren't in the tournament, he planned on playing in the spring football game that Thursday. Siskey had been telling him, no way, he hadn't been practicing, and why not give that pitching arm a rest? It wasn't a blowup, but it was an icy disagreement. Naturally, St. Paul's got knocked out Saturday night before the game but the showdown came a lot sooner than Siskey thought.
On his way to church the next morning, Siskey swung by the field at about 7:30 to pick up some game plans for the scrimmage when he noticed his throwing nets had been dragged out to the field. McCarron cut a solitary figure running sprints and when Siskey approached, he simply said, "I want to play," and kept running.
"I think he threw for something like 300 yards in the first half without practicing," says Siskey, now the receivers coach at South Alabama. "I don't think you can define it. Intelligence, Drive. Refuse to lose. Work ethic. To me, he's the standard of how you judge a quarterback."
That's how they see McCarron in his neck of the woods, a gritty winner in a blue-collar town hard by the Florida line and easy in the Gulf Shores. A place where he's comfortable enough to cheerily sign an autograph for the lunch-time waitress in downtown Mobile's Royal Scam restaurant in shorts and hoodie and where he hopes one day to settle and become a high school athletic director. When, undoubtedly, he'll let the quarterback play in the spring game even if he's playing baseball.
"I was watching the NCAA championship game," says McCarron, a lifelong fan of coach Mike Krzyzewski's Duke Blue Devils.  "Jay Bilas was talking about how the Coach K that coached him wasn't as good as the one that coached Jay Williams. And that Coach K wasn't as good as the one that coached (Monday) night. He keeps winning, but he's getting better every year and that's the mindset and the way I look at it. I've been productive, but I want to keep getting better."
But he also knows the Bengals coaches have no idea what he can do after he missed all but three weeks of practice as a rookie with shoulder tendinitis.
 McCarron is an NFL blank slate and that's why they hauled Johnson back here last week. If it's anything NFL coaches covet, it's a known quantity and McCarron is Jimmy Carter unknown. That's the one thing Johnson is. Known, with six pro seasons under his belt, and he knows the Bengals offense.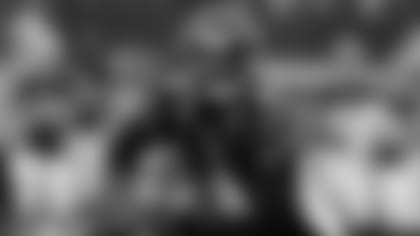 Josh Johnson is back to compete with McCarron for the backup job.
But, just like McCarron, he hasn't thrown an NFL pass in it. And the Bengals think he has the potential.
"A.J. McCarron has everything that you want in a quarterback, a successful quarterback in the NFL," head coach Marvin Lewis said last month.
"At the end of the day, we know Andy is our starting quarterback," McCarron says. "I'm trying to go in there and show them that I can be a productive player for us. I'm excited to meet Josh and to get to know him. I'm sure it will be a great room like it was last year with Jason (Campbell) when the three of us were practically like brothers. Then we're all going to go out and compete."
McCarron couldn't do that after they drafted him last spring because he couldn't break a pane of glass with the tendinitis locking up his shoulder. The Bengals decided after seeing a few lobs at the start of training camp that he needed to be shut down for at least a month with no throwing whatsoever. And then, under the eye of rehab director Nick Cosgray, he had to be brought back in a two-month throwing program that began from five yards with tennis balls.
"He did everything we asked and, believe me," says Bengals trainer Paul Sparling, "the hardest thing was getting him not to do so much. The instinct is to throw but the best thing for him was rest. It's the only thing he hadn't done.  He told us all the time that he felt good so we'd accelerate it, but we kept to the schedule."
And McCarron is glad they did.
Three days after the season he was at South Alabama at 9 a.m. throwing with Morris, the director of the quarterback school QB Country. Morris quarterbacked at Ole Miss, where, he jokes, Eli Manning ruined his career when he arrived the season after Morris. But schooled in  Oxford  under current Duke head coach and Manning guru David Cutcliffe, Morris knows his mechanics so he gets a little uneasy when McCarron says he's changed his throwing motion.
"I wouldn't call it different," Morris says. "I think he can self-correct, self-diagnose a little better. I think he's in position to be more sound. A.J. has always been a natural thrower with a real natural motion. Very quick and precise. He did have a tendency in the past to get a little long…but there's no doubt he's more compact now."
If his motion isn't that different, Morris does say both McCarron's arm and body are stronger than this time last season.
But McCarron says it feels so good it feels like a new throwing motion. "It's like night and day,' he says from his days at 'Bama.
Both McCarron and Morris went to House's camp at USC and they've been trading videos with the staff ever since to keep everyone current. During that week McCarron broke down the changes this way:
"Now my hips go first and my shoulder reacts after that. I'm keeping my shoulder in longer. That creates a lot more torque…All these mechanics, by changing them and putting them in sync more, that will definitely let me play the game a lot longer."
Two months later, McCarron says he's still sticking with House's tweaks.
"He showed us some things that helped quicken my motion and so my front shoulder wouldn't fall away from the target," McCarron says. "It helped tremendously. It's what they call opposite and equal arm. I was falling off that and my arm was lagging behind. Now I just kind of stay more into it and stay more square at the end. My arm doesn't fly open. It's a little more compact and I feel quicker."
Now there are more tweaks than tweets. Since the end of last season, McCarron, never one to shy away from his opinion, has been off Twitter. If he has anything he wants to post, he goes through a person from his agency, such as when she posted his congratulations to Dalton for making the Pro Bowl. McCarron also had her post a good luck tweet for Duke before the victory over Wisconsin Monday night.
 "It just fills your mind with clutter. You don't check your phone a ton during the day, it's just relieving," says McCarron and when asked if his life is better he let out an "Oh yeah. It can be good or bad. I think it becomes a distraction when you're trying to work and get something done and achieve something you always wanted to achieve, you just kind of put things to the side. It's helped. You don't worry about who's talking and who's saying what. You just live your life and enjoy it and be thankful."
The spring game isn't Thursday, but it's close. 'Bama's only quarterback to win back-to-back national titles and marry a model in the Gulf Coast's biggest wedding maybe ever has had enough of the noise and just wants to get back to the gym.
"I just wanted to calm everything down, get back to 100 percent football and not worry about the outside life," says McCarron, who laughs when asked if he no longer needs an iPhone.
"I think I'll get one of those razors T-Mobile used to have,' he says.
He doesn't need a phone to know off-season workouts start April 20 at Paul Brown Stadium.