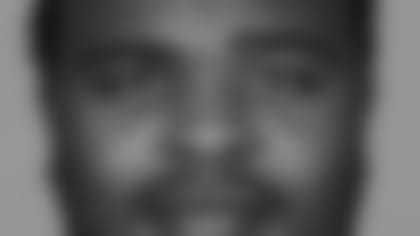 The Bengals offensive line will have its sixth different lineup in 10 games Sunday in New Orleans when Stacy Andrews makes his first regular-season start on any level at right guard in place of Bobbie Williams.
Williams should also miss the following two AFC North games against Cleveland and Baltimore after an appendectomy because the Ravens game is only two weeks away on a Thursday night. And it has a domino effect with injured left tackle Levi Jones now feeling even more urgency to return on his surgically-repaired knee, although it most likely won't be this Sunday.
"Before there wasn't too much pressure. Whit is doing a great job and I was confident how he was protecting Carson (Palmer)," Jones said before Thursday's practice of rookie left tackle Andrew Whitworth. "But now that's changed."
The change didn't become clear until head coach Marvin Lewis announced after practice that Williams, believed to have missed just one snap since signing as a free agent in 2004, had become the third starter on the offensive line to miss multiple games.
Not to mention the third Bengal this season to undergo an appendectomy, joining offensive lineman Kyle Takavitz and quarterback Anthony Wright. Wright had surgery Oct. 13 and returned to practice as the backup Nov. 1. The same timeframe puts Williams back for the last four games.
Takavitz has since been released.
The Bengals already have had five different line combinations because of the knee injuries to Jones and center Rich Braham. Both looked to be going through individual drills Thursday, although Braham is listed as out and Jones is questionable for the Saints.
The Bengals had hoped to have their "new" offensive line intact for five straight games after Palmer called its work last week in the 545-yard assault on San Diego its best in years.
But it was not to be. In the last four games Whitworth has started at left tackle with Eric Ghiaciuc at center, the Bengals have allowed eight sacks after giving up 17 in the first five games.
"That's the only disappointing thing; the last month this particular group has been getting progressively better," said offensive line coach Paul Alexander.
It may be Andrews' first start regular-season start on any level, but the coaches have confidence in a guy they took in the fourth round of the 2004 draft out of Mississippi as a project. Andrews, a world-class track athlete who played only an estimated 70 college snaps, has always wowed them with his athletic skill. They felt he just needed seasoning and that he's got it after three seasons and 24 games on special teams and in specialty situations.
"He'll do fine," Alexander said. "He's started in preseason games and he's taken snaps in real games as a tight end and on goal line and short yardage. And he's had a lot of work in practice."
Alexander isn't too concerned about how Andrews will react Sunday to the din of the Louisiana Superdome. Since he survived a preseason game in the surround sound of Lincoln Financial Field in Philadelphia, Alexander thinks Andrews is going to be fine.
But the right side of the line has been untouched since Opening Day of 2004, when Williams arrived as a free agent and where Pro Bowl right tackle Willie Anderson hasn't missed a game in seven seasons.
But the Bengals certainly don't lose any size with the 6-7, 340-pound Andrews replacing the 6-4, 345-pound Williams. Plus, he may be making his first NFL start, but he'll be playing next to Anderson in his 162nd. Jones isn't saying when he'll be back this season, but maybe the most important thing is the treatment is being done in the hope he won't have the same problems next year that he had in 2004 after his 2003 arthroscopic knee surgery.
He has now torn the lateral meniscus cartilage in each knee.
"It's the same meniscus, but it was two totally different types of tears and two totally different techniques," said Jones of an injury sustained in the Oct. 15 loss in Tampa Bay.
The major difference is that three years ago Jones came back to play six days after surgery during the Bengals' bid for a playoff spot and paid for it when he limped through the first half of 2004 and never truly felt right until his second alternate Pro Bowl season of 2005.
"It has the potential to (repeat) but I'm doing everything not to have that happen," Jones said. "The trainers are restricting me to make sure."
Jones is working in individual drills, but hasn't practiced in team 11-on-11.
As for other injuries, Anderson (shoulder) did appear for individual drills at the beginning of Thursday's practice and looks primed to make his team-leading 106th straight start after not practicing Wednesday.
Wide receiver T.J. Houshmandzadeh, listed as probable after suffering a concussion last Sunday, didn't practice Thursday after missing Wednesday, but is listed as probable. Cornerback Deltha O'Neal (shoulder) and strong safety Dexter Jackson (Achilles), both questionable, didn't appear early and didn't practice.
Anderson didn't work in team drills, and neither did Houshmandzadeh or defensive end Justin Smith (neck), but they remain probable. Added to Thursday's list were running back Rudi Johnson (thigh) and middle linebacker Ahmad Brooks (groin) after they didn't practice. But they are probable.