Andre Smith has heard his name called again.
Andre Smith had the verdict Monday afternoon.
"Two pressures," he said of his day against Von Miller Sunday in the Bengals' 20-17 victory in Denver.
Not a bad day's work. In fact, not a bad two days' work for Smith, the veteran right tackle turning into one of the best off-season pickups in years. In fact, there are whispers around Paul Brown Stadium that the last two games are among the best of the 76 games he's started for the Bengals stretching back to that rookie season of 2009.
The running game is still the worst in the history of the franchise, barely on pace for 1,000 yards. (The 1,088 would be better only than the 949 they racked up in the nine games of the 1982 strike-shortened season.)
And while the pass protection is still a massive work in progress as part of the NFL's dead last offense ranked 30th on third down, a light at the end of the tunnel has glimmered. When the Bengals left on their three-game trip at the beginning of November, they were 30th in the NFL allowing sacks per pass and were facing defenses ranked first (Jacksonville), 30th (Tennessee) and 12th (Denver) in generating sacks per pass.
The Bengals allowed just five sacks on the journey, which came against third-down defenses ranked first (Denver), eighth (Tennessee), and Jacksonville (tied for 13th). It coincides with Smith's promotion out of a tackle rotation two weeks ago in Tennessee when starting right tackle Jake Fisher's season ended with a heart ailment. In those two games, profootballfocus.com charted Smith for allowing no sacks, one hit on quarterback Andy Dalton, and three hurries.
The web site gave him all three of the pressures last Sunday in Denver, which did lead to one of the Broncos' two sacks. But given that Smith was opposite Miller in Miller's building on a day Dalton threw all three of his touchdown passes on third down and the Bengals converted nearly half of their  15 third downs, it was a heck of a day.
"I was just trying to fight him every play," Smith said of his mindset against Miller. "He's a great pass rusher, probably the best in the NFL. He got me with a pressure at the end, but I was just glad we were able to make enough plays on offense to win the game."
With the winless Browns looming Sunday at PBS (1 p.m.-Cincinnati's Channel 12), head coach Marvin Lewis had a "We all have work to do," Monday.  But he did pause to salute Smith after he, along with Dalton and A.J. Green provided the offense with experienced ballast that put them on the brink of winning back-to-back road games for the first time in two years. Smith helped give Dalton and Green enough time to hook up on fourth-quarter touchdowns that gave them the lead (in Tennessee) and a two-score game (in Denver).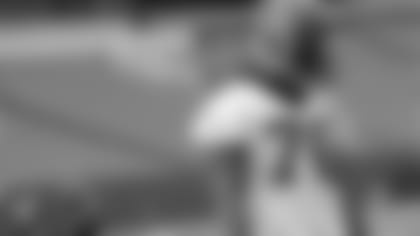 Cedric Ogbuehi tries to take the next step.
"Andre has been … very physical, and has stepped up in his leadership," Lewis said. "That's been great — I'm certainly glad we have him here."
In the two games the offensive line rotation has been ditched, left tackle Cedric Ogbuehi has also appeared to settle down.  PFF has charged him with allowing one sack and a hurry after he gave up four sacks and 17 hurries in the previous eight games.
"All of our guys battled yesterday," Lewis said. ":We did the one thing you want to do when you play in Denver: make sure you have the lead. That enables you to control the (pass) rush a bit. They have three outstanding edge rushers. But, we all have work to do.
"At the end of the day, you don't feel as good about it as you should. A few of those plays were on the goal line or at the end of the game, but we're failing to get the job done. Unfortunately, (the errors) are spread amongst a few people, rather than one or it being just a correction. We have to keep doing it together the right way, all of the time."
That's because offensive coordinator Bill Lazor was looking at a grim stat sheet on Monday. As good as they were on third down, it was another struggle trying to run the ball.
"I think we had six minus runs and three zero runs. So nine zero or minus runs, not counting the kneel-downs," Lazor said. "I thought some of those others kept us on track. If you want to drive the field and hold the ball, those kept us on track and kept the third downs manageable. But the negative ones are the ones right now that kill us."
The Bengals averaged just 1.9 yards rushing last Sunday and rookie running back Joe Mixon was again less than three yards per carry at 2.5. His longest run of the trip was 13 yards and he hasn't had one longer than that since. Oct. 22.
But in Denver he did have six runs of at least four yards compared to seven total in the first two games of the trip. The play before the 29-yard TD pass to wide receiver Alex Erickson was Mixon's six-yard run that made it third-and-four. The play before the 18-yard TD to Green was Mixon's five-yard run that made it third-and-two. In the first two games of the trip, the Bengals had third downs of four yards or less four times compared to six in Denver.
"That bust-out run has been a little bit elusive. But we had some fives," Lazor said. "We had some fives where it was just blocked enough where Joe Mixon made it five. I thought he did a nice job. He showed some maturity as a runner in this game. Taking some where it wasn't blocked perfectly and rather than stuttering and looking for a home run somewhere else, he jammed it in there and made it five yards. That was big for us, that probably helped us with some of those third downs that were more manageable."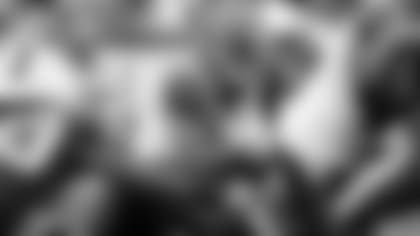 Running back Joe Mixon is seeing more daylight.
In the eight games since his sudden elevation to offensive coordinator just two games and four days into the season, Lazor has made sure he's getting the ball into the proper's people hands.  And it's not easy.
"I've probably never been in a situation where people spend so much time doubling a receiver like they do with A.J," said Lazor, an NFL veteran of the last decade and a half. "I mean literally. You can watch the safeties run off the hash at times, sometimes put two on him."
But while Green was targeted just 18 times on the trip, he did average 17 yards per catch and had two touchdowns. Under Lazor, Dalton has thrown 16 TDs compared to four picks. That's a passer rating of 103.2.
Lazor's effort to display the best he's got was personified Sunday on that third-and-three with 4:09 left in a game the Bengals were trying to kill the relentless clock with a three-point lead. He called Dalton's number with a zone read and there were more options than handing it to running back Giovani Bernard or keeping it for six yards like Dalton did.
"They in essence had A.J. doubled, that side in essence had almost four-on-three on the other side of receivers. In essence, we are putting the game in Andy's hands," Lazor said. "Because he's got a lot of pass options that can go with it. Or the zone read option. We just said we trust him and if they leave certain guys in situations we will throw it to them, if they don't let's give it to Gio and, there are a lot of things to it that they have to cover. We trust Andy to make those decisions."
Cincinnati Bengals take on the Denver Broncos in week 11 of the regular season.