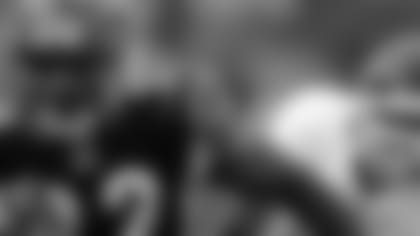 Rudi Johnson rushed for 96 yards and a score. (AP Photo/Ed Zurga)
KANSAS CITY, Mo. - Marvin Lewis's password during the week had been "grind."
The user name turned out to be running back Rudi Johnson when he wrung the clock out of the Chiefs with 11 fourth-quarter carries on the way to 96 yards and the Bengals' 23-10 Opening Day victory.
Johnson laughed when asked if on his 22-yard touchdown run he could have run away from free safety Greg Wesley on his way to the pylon like that last year with the torn cartilage in his knee.
"Could I? It might have been difficult with the knee. It could have been possible, but the knee is back," said Johnson, then realizing that quarterback Carson Palmer came back, too, Sunday. "We've got some healthy knees around here, so we've got to keep it that way."
It was eight months to the day of Palmer's reconstructive knee surgery, and yet that's how smooth his rehab has been. He made you forget about it even though parts of the game were played in a driving rain, and instead he made you focus on the way he played, which was good enough and brutally efficient.
Palmer only had to throw it six times in the second half, but when he had to throw it in order for the Bengals to take control of the game, he hit his last seven passes of the first half for 66 yards as the Bengals took the game by the scruff of the neck with a 17-3 halftime lead.
"It was like we lost offensively," Palmer said. "It was ugly."
In the second half, Palmer only had to complete three passes. One went for his longest of the day, a five-yard flip to wide receiver Tab Perry against a blitz that turned into a 30-yard gain, and a 14-yard arrow to Perry on third-and-four that set up Shayne Graham's 42-yard field goal that put out the lights at 20-3 with 11:35 to play.
"Feels great," said Palmer of the knee, and that was all. Naturally, he spent more time talking about the health of Chiefs quarterback Trent Green, rendered unconscious on a hit by defensive end Robert Geathers and had to leave the field strapped to a board.
Green had reached out to Palmer during his knee rehab during the offseason because he had suffered a similar injury seven years before, and now Palmer would probably do the same after Green gets out of the hospital. He would be there at least until Monday, with initial reports he was conscious and had feeling in his extremities.
"He's a guy I know and respect tremendously ," Palmer said. "All you can do is hope and pray he'll be all right."
Although Palmer threw for just 127 yards he was very good with the game on the line. In order to get the Chiefs out of their eight-men-in-the-box defense and the Bengals offense out of a funk, they went No Huddle and Palmer drilled five passes out of five attempts for 51 yards.
It was all intermediate stuff with wide receiver Chad Johnson catching four of the balls for 41 yards in front of and around cornerback Ty Law, and it was enough to get the Chiefs blitzing, and it was the blitz that sprung Johnson for the 22-yard touchdown run on third-and-one that gave the Bengals the lead for good at 10-3 with 5:15 left in the first half. Johnson converted two third-and-ones on the 11-play drive, and they were the only snaps not out of the No Huddle. The TD run came after the Chiefs called timeout, and Johnson said the Bengals came into the huddle with what right tackle Willie Anderson described as an isolation power play on that right side.
"Jeremi sprung me when he got his hat inside a linebacker," said Rudi of the block by fullback Jeremi Johnson. "We knew we had them on the edge. Their backs were to the wall. We could feel them breathing hard. We could feel the defense wearing down a little bit. We wanted to keep pushing. That's what our mind frame was in that drive, especially when we got in the red zone."
That came on the next series, when Johnson lugged the his team into the red zone on a 16-yarder up the middle and third-down back Kenny Watson scored on an eight-yard pitch to the left out of the shotgun formation that made it 17-3.
This was pure power stuff. Left tackle Levi Jones pulled and obliterated a defensive back on the play. He would later leave the game when it was locked up for the last two series after his sprained ankle flared up, but it appeared he would be OK to play next week.
The Bengals weren't the least bit surprised that it turned into a tractor pull. Not with rock-ribbed conservative Herman Edwards making his close-to-the-vest coaching debut with the Chiefs.
"Marvin told us it was going to be a grind-it-out game. He predicted it," Anderson said. "He said it wasn't going to be pretty. He and Herm know each other pretty well. Both of them kind of teach the same kind of football. A balanced attack, a grind-it-out running game. A grind-it-out stop the run."
The offensive line loves this kind of game. Anderson smiled when told the Bengals had given the ball to Rudi 11 times in the fourth quarter.
"That's the new Bengals look," he said, but he also said, "It's smart ... that's Bengals football, being physical, running the ball and stopping the run. ... People want to see all the pretty passes and big-time points. When our passing game comes, it comes."
Indeed, the Bengals have lived on the smashmouth. Over the past three seasons, they are 12-0 when Rudi runs it at least 25 times.
"Not a regular Chad day, but it will do," said Chad, who still led the Bengals with 48 yards on five catches. "The defense played a hell of a game. Next week, hopefully we'll balance it up. Due to the weather, we weren't able to do the things we wanted to do offensively. "We all had to step up with 'Whosyourmomma' not in there," said Johnson of wide receiver T.J. Houshmandzadeh's absence. "We'll be all right. We'll be back next week."
But Johnson said it was "real smart" to pull in the reins after getting the lead, and he agreed that the No Huddle got everything rolling.
"It threw them off balance. They really don't know what's coming," Johnson said. "It's sort of hard to call defensive plays when you're in the No Huddle, so we want to line up and just play ball."
The first TD drive was so significant because Palmer went right back to Johnson after the duo's miscommunication on two plays ended one drive and prevented a touchdown in another.
"Chad's the type of guy where we're similar in (those) situations," Palmer said. "If he makes a mistake, I expect him to make up for it and he did, running great routes, getting open. ... That's where I need to come back and be myself and he needs to be himself and that's where Chad responds so well."
On one third down, Johnson went short while Palmer went long and during the punt they talked on the sidelines. With the Bengals trailing, 3-0, and facing a third-and-15 from the Chiefs 19, Palmer had Johnson open in the end zone, but he threw it low.
"It was mistimed. I didn't let him do his job and run his route. I threw it too quickly," Palmer said of the play in the end zone. "It was my fault. We just need to get the timing down and we will."
Of the first mishap, Palmer said, "I need to do a better job of communication with him. I need to help him out and he needs to help me out better. They're small mistakes. It didn't end up hurting us."
But there were enough mistakes to displease Palmer, even though he raised his starting regular-season record to 18-12, the only true stat that matters. The Bengals have won with him throwing for fewer yards (93) in last year's 23-20 win over Cleveland.
"We feel like we lost offensively," Palmer said. "Guys in the locker room, we're kind of looking at each other, and we're all like, 'What happened?' We didn't play our best. We're lucky our defense showed up and played phenomenally."
This is the kind of day it was:
Anderson can't remember having two penalties called on him in the same game, but he did Sunday on the first two series. The first was a holding call working against Chiefs first-round pick Tamba Hali, and the second was a false start.
"Carson took the blame on the false start because we were in No Huddle and he gave the wrong code word and we all moved and they called me," Anderson said. "But the hold, yeah, I held him. I'm not going to let him hit my man back there. I admit I didn't watch much film on him and he gave me a move I didn't expect. It was a sloppy play on my part."
But in minutes, Anderson had atoned by detonating Hali and anyone else standing in the vicinity of the right side on Johnson's touchdown run.