Tyler Eifert proved to be a factor right away Sunday in his first full game.
LONDON - Never before have the Green-Dalton Bengals had two games like it back-to-back on offense.
A total of 974 yards with 423 of them coming on the ground. Never before had they had a game like Sunday at storied Wembley Stadium where both a wide receiver and a tight end each had 100 yards. And a total of 35 first downs, eight forced by penalties. Or a wide receiver reaching 896 yards at the half-way point of the season.
At times it was Masterpiece Theatre and at other times it was Benny Hill with slapstick turnovers and inane penalties on both sides, a 27-27 tie reached on basically two blown extra points, the first of its kind in the decade-long International Series.  The Bengals' Mike Nugent actually missed a 33-yard PAT while Washington's Dustin Hopkins could have won it with a 34-yard field goal with 2:09 left but whiffed to the utter amazement of everyone involved. 
And when the offense had a shot to win Sunday's slugfest against old friend Jay Gruden's slippery Washingtonians, they couldn't get the necessary yards for the win in their last four drives. It left them at 3-4-1 and a bye week to ponder a run in the last eight games to a sixth straight postseason with an offense finally hitting some semblance of stride and all their weapons back in the lineup.
"It's tough. I thought we played pretty well and still didn't win," said left tackle Andrew Whitworth.
They had a chance to kill the clock with a 27-24 lead at the end of regulation and then win the game at the end of regulation, but with Washington bringing the heat quarterback Andy Dalton went 0-for-4 and got sacked yet once again on a safety blitz to send the game into overtime.
Then after the defense held on the first series, Dalton couldn't steer them into field goal range. His 14-yard scramble on third-and-nine bailed them out of center Russell Bodine's holding call, but when they were at the Washington 43 needing about 13-15 yards for a comfortable field goal they got stymied. Dalton missed rookie wide receiver Tyler Boyd deep down the middle with a high throw on second down and on third-and-nine Washington sack leader Ryan Kerrigan used a twist for his one sack of the day to force the punt.
Then after the Bengals got the ball back after the Wembley Wobble, Hopkins' miss, Dalton drove it to the Bengals 46 with 1:11 left in OT, but he fumbled away the third-and-one quarterback sneak that had been called from the sideline.
"I can't do that," said Dalton, who committed his first two turnovers of October in a game that took no prisoners.
But after a stagnant first six games without scoring 24 points, on pace for their fewest rushing yards ever, and being punch-less in the red zone, the Bengals punched in all four red-zone forays, one of them by tight end Tyler Eifert in his first full game since injuring his ankle in the Pro Bowl one day shy of nine months ago.
So now there are some things for this offense to look to during the bye since Eifert makes them whole. There was his leaping 15-yard touchdown catch that gave them a 13-10 lead on the first drive of the second half and there was Green's how-the-hell-did-he-do-that-40-yard-one-handed snare down the left sideline despite a pass interference call on Washington cornerback Josh Norman to set up the last touchdown at the Washington 7 with the clock moving past the mid-way point of the fourth quarter.
Eifert had nine catches for 102 yards for his first 100-yard game since the 2015 opener to go along with Green's 121 yards for his fourth 100-yard game of the season. It was the first time Dalton had two 100-yard receivers in the same game since putting up 49 on the Jets three years ago with Green and Marvin Jones.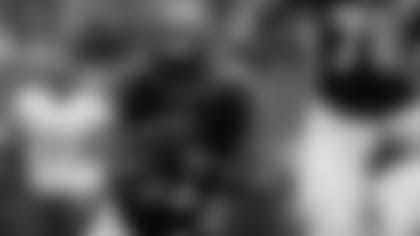 Jeremy Hill's one-yard run gave the Bengals a short-lived lead with 6:54 left.
"Tyler opens up everything," Green said. "The safeties have to play honest. He's sneaky; he's smooth (in the red zone). He just closes it out."
Eifert, who played just 14 snaps and had one catch in his season debut last week in the win over Cleveland, is, well, b----aaaaaaa---ck.
"It felt good. It was a long, hard fought game," said Eifert, who played most of the Bengals' 81 plays. "Coming into the game there were some health concerns, but all the things I was rehabbing (ankle, back) feel fine."
 The TD came on a brave throw by Dalton, getting lit up on a  slot blitz as he threw, and Eifert climbed the ladder with two disinterested safeties nearby on what Eifert said is essentially a seam ball thrown into a zone.
"We've been running that play for many years," Eifert said. "Running that same concept. You get the right protection and the right coverage and Andy has time to put the ball where it needs to be, good things are going to happen."
You think Eifert makes a difference? Forget the TD.  Look at the bloodless conversion Eifert he made on third-and-four with 8:45 left and the Bengals trailing, 24-20. Eifert, too big for a cornerback and too fast for a linebacker, burned a backer on a double move over the middle, took a hellacious shot,  kept going for 22 yards to set up Green's 40-yarder on the next play.
"(The route) takes a little longer to develop so the line had to be firm and they were," Eifert said.
It was quite a day for three of the best tight ends in the game. Washington's Jordan Reed, who scored more touchdowns than any tight end last year but Eifert, had nine catches for 99 yards and beat usually impeccable linebacker Vontaze Burfict on a 23-yard catch-and-run TD.  And Vernon Davis, a 13-TD-a-year man before Eifert was a glint in the Bengals' eye, scorched them for 93 more.
But Eifert said he wasn't caught up in the math of this tight end summit that he missed in New England two weeks ago.
"People like to compare me when we're playing against them," Eifert said. "But Vernon's been in the league a long time and he's a great tight end. Jordan, obviously you see what he's done last year and this year. I try not to pay attention to that. I'm not playing them. That's the defense's job."
But there was plenty of hype surrounding the mano a mano matchup of Green and Norman, the cocky, showy cornerback who has emerged as the richest and one of the best in the game in the last 12 months.
Unlike what he did (or rather didn't do) against the Steelers' Antonio Brown, Norman shadowed Green and the Bengals responded by putting him all over the place. While Green had just one catch for 10 yards in the first half, he also drew three penalties, two on Norman. Then Norman picked up three penalties in the second half (two were declined) as Green continually beat him on every type of route.
Profootballfocus.com had Norman tailing Green for 11 targets and five catches for 76 yards and three passes defensed.
Norman also made some nice plays on a couple of deep balls when he batted them away at the last instant. But if Dalton had some more time on some others, they might have been TDs because Green had Norman beat.
"Sometimes it's going to be like that," Green said of the penalties. "We just have to give Andy time to go downfield and make plays. He didn't have a lot of time.  I knew he's running back there."
Green said the 40-yarder was "a great ball," but he was surprised he caught it one-handed.
"I did?" he asked. "I was just trying to bring it in."
And he did despite Norman getting called for pass interference for hand checking him all the way down the field.
"It was a Go Ball. An all-out Go Ball," Green said. "He was trying to grab me. I was trying to hold him off because I saw the ball."
The exuberant Norman gestured all game, but the ice-cold Green didn't melt until he flexed for the crowd when he got up from the 40-yarder. But that wasn't a response to Norman.
"It was big part of the game. We needed that. We got a touchdown (out of it)," Green said. "Nah, he didn't talk. He's just a competitor. He's fine."
After the game, Norman told him, "Good game. Hell of a battle," although he ripped the officiating and specific refs after it was over. Green enjoyed the challenge.
"If you want to be one of the best you have to against the best," he said. "I liked being on this type of stage. It was fun."
His teammates are going one better.
"A.J's the best receiver in this league," Dalton said.
"Green had a great day. I always say my guy is the best," Whitworth said. "He's going out proving it game after game."
Now with the bye here, the Bengals hope they are saying hello again to the offense that led them to last year's 8-0 start. But they'll take 6-2.
Cincinnati Bengals host Washington Redskins at Wembley Stadium as part of the NFL international series 10/30/2016