John Ross looked smooth Tuesday.
There is plenty of time to get to the defense.
But, let's face it. The bulk of this offseason has been about reviving the worst offense in the land and on Tuesday head coach Marvin Lewis offered a limited but anticipated first glance during a session that began what is expected to be nine voluntary practices before mid-June's mandatory minicamp.
Lewis prohibited reporters from saying where his players lined up as offense met the defense for the first time this year, but given the practice went off pretty smoothly despite a new playbook it was pretty clear they were already fairly comfortable where offensive coordinator Bill Lazor put them.
Andy Dalton and the quarterbacks got the ball out fast and the receivers were there to respond for the most part. Naturally, Dalton hit 2011 soulmate wide receiver A.J. Green deep a few times, but this is the spring and summer of getting Green and Dalton help.
"We got the ball out quick and on time," Dalton said, "and for a first day, that's what you want."
And the Bengals weren't even working on tempo. That will come later. But the urgency that Lazor has instilled in the last five weeks has made the offense quick enough that some were observing it was the quickest the offense has looked since Hue Jackson ran it from 2014-2015.
Much has been made of the youth of this club, but the relative smoothness of the offense's debut is a reminder Dalton in his eighth season. Not only that, new backup is Matt Barkley in his sixth season. Lazor is on his second team as a coordinator. New quarterbacks coach Alex Van Pelt is in his 13th NFL season and Hall-of-Famer Aaron Rodgers is still miffed he left Green Bay in January. New receivers coach Bob Bicknell has coached three different 1,000-yard receivers in the league.
Of course, there were moments. Dalton had routes jumped by two cornerbacks, veteran Dre Kirkpatrick and rookie Darius Phillips. But other than that ...
"I think we're headed in the right direction," Barkley said. "A pretty good first day."
And there was something old (tight end Tyler Eifert) and something new (wide receiver John Ross) bouncing about on Tuesday that reflected their efforts to unite their weapons in a marriage of points.
Plus, new O-line authoritarian Frank Pollack has decreed everyone on his beleaguered unit has a clean slate and on Tuesday he offered the much-maligned Cedric Ogbuehi as proof playing both tackle spots while planning to also put him at guard down the road. But that slate needs to include versatility and Pollack vowed that everyone would switch sides on Wednesday.
"The speed at which we practiced in the first phases really helped us," Eifert said. "We were running a lot in the first two phases and it was good to see there was not a lot of mental errors."
Just to see Eifert in what they like to call a Phase Three of the off-season workouts is a breath of fresh air. It's believed to be the first time since his rookie season of five years ago he's romping around in 11-on-11. He agrees. It's the best he's felt since he tore tendons in his ankle in the Pro Bowl after the 2015 season.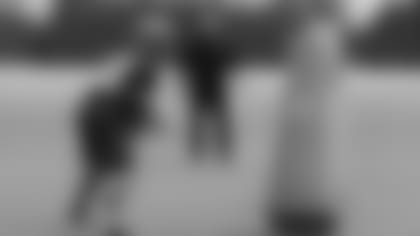 New defensive coordinator Teryl Austin urges on his six-time Pro Bowl tackle Geno Atkins.
Although Lazor has built a different offense than the one that gave him 13 touchdown catches that season, Eifert doesn't see an enormous difference. Except for how the plays are called and that the running game is different with the same plays blocked with different technique.
But Eifert sees what everybody else sees and probably better. Pollack has changed the culture up front and since Eifert's brother-in-law is Cowboys guard Zack Martin with three Pro Bowls under Pollack in Dallas, he had a sneak preview.
"(Martin is) a big fan," Eifert said. "With his success in Dallas you can see he knows what he's talking about. He brings an energy. He's hard-nosed, he's got a gritty attitude. That's what he passes on to the players. He's tough on the guys, but the guys respect him."
That's exactly what Lewis sought as he attempted to re-build a unit that yielded the worst rushing season in franchise history. There had been whispers from among even their own coaches the previous two seasons that the line had been "soft," the kiss of death for any line.
But Pollack, who started six games during eight seasons with the 49ers, is anything but.
"We're not here playing chess, I know that," Pollack said after practice. "The last time I checked its football and you have to kick the guy's ass who's across from you. Nothing's changed … I don't care what we do with the rules … at the end of the day it's a physical, violent game and you have to be mentally tough. I can get a lot of drunk fraternity guys to start fights, but that's not football, that's mentally weak."
Lewis is seeing why he and Lazor didn't want Pollack getting out of the building back in January when he came in for an interview.
"He's a very aggressive, physical person," Lewis said. "He's an excellent teacher, He's very detailed. Every single step, every single movement has been broken down piece, piece, piece, piece, piece, piece."
Ross, another much-maligned young player who also seems to be getting a clean slate, is another guy that doesn't see a whole lot of difference in the offensive scheme. But there is something clearly different with him.
"Confident," Kirkpatrick said. "He looks a lot more confident."
Ross looked relieved, if not exhausted. The 2017 first-round pick who only caught flak last season (he didn't have a line but a rhombus with 17 snaps, two targets, one fumble, no catches) caught a little bit of everything Tuesday. Some balls over the middle. A swing pass on the edge. A deep ball where he made a nice adjustment, contorted his body to come back to the pass, and caught it before he kept going.
"It's my first (OTA), so I really didn't know what to expect," Ross said. "It's a real big workload. I thought it was going to be like the workouts we had the last couple of weeks, but it was a lot of harder than that. It was good. You can always do better. I'll watch the film tonight."
Last year he was famous for a fumble on his first NFL carry. On Tuesday, it looked like he caught everything. But a high pass in one-on-one. Maybe it was too high. But when he leaped, he touched it.
"That's on me. I touched it," Ross said. "I should have had it. That drop hurt me bad."
But on a first day that was pretty good, that was OK.