Forget Marvin Lewis or Mike Zimmer or Scouts Inc.
The best person to give the scouting report on Antwan Odom is the person he says knows him best. The girl he met in the weight room at West Alabama, where the future Brooke Odom played basketball after a high school career that also included volleyball, softball and cheerleading ...
"My brother played football, but I was the athletic one, too," she said and her husband confirmed, "She's the better half. She knows everything you want to know about me," nodding toward his wife Tuesday as she stood in the Paul Brown Stadium locker room during a media session.
"She knows what I did wrong and what I did well."
Here is the take of Brooke Odom and, yes, she does watch film.
And, with her husband, who now looks to be the 4-3 right end successor to Justin Smith.
(Who, by the way, also met his wife in a college weight room.)
"He needs to work on technique. It's not his ability. He's got great ability," Brooke Odom said. "He's fast, he's quick off the ball, but I don't think he's ever been coached on technique."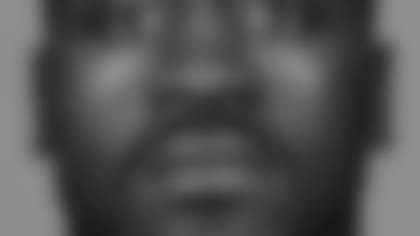 Brooke Odom has high praise for Antwan's defensive line coach in Tennessee, the estimable Jim Washburn. She says he's probably had the most influence in her husband's career. But she thinks playing on Zimmer's defense is going to take him to the next level with technique.
The shadow that Pro Bowlers Kyle Vanden Bosch and Albert Haynesworth cast over that Titans defensive line is formidable.
"I have nothing against Coach Washburn. I love Coach Washburn," Brooke Odom said. "But Coach Washburn spent a lot of time with Kyle and Albert and kind of put Antwan on the back burner, and going through five coaches at Alabama was tough.
"I really like Coach Zimmer. I think it's an awesome fit for Antwan. He's aggressive and I think he's going to teach him things that he hasn't been taught before."
And Odom is ready to be taught.
He hit it off with strength coach Chip Morton and he feels that Morton can jack him from 262 pounds to somewhere between 270 to 273 in his effort to bulk up against the run "and get more tackles for loss," he said. Odom isn't afraid to go into the weight room. Heck, he met his wife there when he came over to introduce himself.
"His friend played football at West Alabama and he would visit," Brooke Odom said. "We just clicked. I liked his personality right away. Antwan is very humble. We're best friends."
They are friends that have kids ages four, three, 19 months, and seven weeks. So this was probably the biggest decision so far of their life together. Both Alabamans (he's Mobile, she's Jasper), they were anxious what they would find. Kings Island helped during Monday's tour of Mason, Ohio.
"I didn't think I would like it here," she said. "Because when I saw Cincinnati, it wasn't what I thought. I thought of Cincinnati with snow and being real citified and it's not like that at all. There's a city, but there's an outside of the city and it's really nice. The kids are going to love it."
The Odoms know the questions are coming. It was easy to get eight sacks playing opposite Vanden Bosch and next to Haynesworth, they'll say. What about when the offense is keyed on you and they're running at your 262 pounds? they'll ask.
Her husband didn't bat an eye.
"That motivates me a lot because when I was in Tennessee, it was Kyle Vanden Bosch and Albert Haynesworth and they're great players," he said. "Great players. Don't get me wrong. But I just want to step out and make a name for my family.
"I'm flexible, athletic. I can do things a lot of guys can't do. I'm a rare breed, I guess you could say. Size and speed and quickness. (I need to improve) my hands and my hips and my footwork, and getting around the offensive tackle."
Zimmer's scouting report? He's clearly an end.
And, maybe the most important thing is Zimmer says Odom is a good guy. Zimmer loved it over lunch Monday when Odom, in the middle of talk about money and moving, simply said out of the blue, "I love to play football." "To me, those are the kinds of guys that we want to be on this team," Zimmer said. "Guys that are passionate about this game, about playing hard every snap, and he's done that throughout his career. Obviously he's improved every single year, that's why I was so excited about him."
Odom is coming off his first year as a starter, where he played about 70 percent of the time and Travis LaBoy the other 30 percent. Quick outside move, good inside move, and good enough against the run that the Titans finished fifth in the NFL against the run.
But he's slender and some Titans observers wonder how he'll hold up on a line without Vanden Bosch and Haynesworth. When Haynesworth didn't play against the Bengals last Nov. 25, Cincinnati ran for 148 yards on 36 pops in a 35-6 victory.
"He's got long arms. He's going to have to make up for it with his arms," Zimmer said. "And his leverage. He's tall, so he's going to have to get down there. But a lot of stopping the run is want-to and he wants to play football."
At a speedy 6-5, 262 pounds, Odom is looking to put on 10 pounds and Zimmer is looking to use his versatility in various looks even if he is pretty much a pure end. The club is going to continue to try and find a big tackle even though the big-names are pretty much off the board.
The Bengals confirmed Tuesday's visit of Browns backup nose tackle Ethan Kelley, a 6-2, 338-pounder and fifth-year pro who played a career-high 13 games with 24 tackles in Cleveland last season.
Head coach Marvin Lewis indicated the Bengals defense is still a base 4-3 and Zimmer says he wants to get the front four set before moving to other issues. But Odom says he's comfortable dropping into pass coverage after playing some fire-zone packages in Tennessee. With Odom probably lining up opposite left end Robert Geathers, another 6-5ish end athletic enough to play linebacker this past season, it looks the Bengals are moving to Zimmer's desire of mixing up the 3-4 and 4-3 looks. "It gives us more versatility than we had before," Lewis said. "We had to jerry-rig stuff around to make sure Robert was in the right spot at times. Now we don't have to worry about that as much. It gives us a little more flexibility."
The Bengals hope the speed and move of both can free the other up to improve a sack attack that was dead last in the NFL in sacks per pass.
Odom likes toughness in more than football players. He's a big fan of NASCAR, where his favorite driver is Dale Earnhardt Jr. It figures because he was also a big fan of Dale Jr.'s father, "The Intimidator." He said he hasn't met Junior yet.
"I went to one race, but I never got to meet him," Odom said. "He's kind of small. Have you looked at him? The cars are bigger than them. It's crazy."
"I feel like I'm able to do it all," said Odom, after a season he logged eight sacks in his first season as a starter. "The biggest thing I want to work to improve is stopping the run and I think I can get to 270 to do that."
Also Tuesday, Lewis disputed reports that the trades for tackles Shaun Rogers and Dewayne Robertson fell through for financial reasons.
"It wasn't dollars and cents," said Lewis, leaving the door open for Robertson at a later point.
After Monday's tour of the northern suburb of Mason, Ohio and a meeting with right guard Bobbie Williams, a Bengal that shares the agent firm of Eastern Athletics, Odom and Brooke felt comfortable.
Also playing into the equation were Lewis, Zimmer and defensive line coach Jay Hayes. Plus, Morton convinced Odom his staff could build him up to improve against the run.
"The right fit," Odom said.
It's a rare fit, too. Two weeks ago Lewis talked about how 4-3 defensive ends like Odom are a vanishing breed because they are now drawn to basketball.
When Odom was a teenager and joined his mother working on a shrimp boat n Mobile, Ala., he told her, "Don't worry, I'm going to the NBA and I'm going to buy you a big new house."
On Tuesday, he had that NBA-like five-year, $29.5 million deal with $11.5 million guaranteed.
"Now I can get that house for her with that contract," Odom said. "This is just the way it worked out."
It worked out that the Odoms went to the airport Monday night for a trip to their next team, but they never boarded the flight to Phoenix and went back to Paul Brown Stadium via a ride from Lewis.
"What it came down to is they didn't want to leave Cincinnati," Lewis said. "They kind of pushed to his representation, 'Let's get this done. We really don't want to get on the plane and go anywhere else. We like it here, we enjoyed the day here.' (Brooke) had an opportunity to see the community a little bit and I think he felt comfortable with our direction and coaches, etc., and he spent a lot of time with Mike and Jay."
Odom must have felt a bond with Lewis the instant he walked into his office, where a picture of former Steelers 3-4 linebacker Greg Lloyd hangs prominently. But Lewis didn't have to point it out.
"He found the picture himself," said Lewis, who coached the Pittsburgh linebackers for four seasons.
Asked who he wants to play the game like, Odom smiled.
"Greg Lloyd," he said. "He was an animal. If you ask me what a defensive end was, it would be him. He was strong, big, quick, tough. Everything that I want to be."
But it was that mean streak that put Lloyd on Lewis' wall.
"Brooke assured me that he does (have one)," Lewis said.
"I'm his biggest fan," she said, "and his biggest critic. I want him to be the best. And so does he."