Old looks to be new again with Andre Smith the starting right tackle.

Houston, home of the World Series champion Astros, just lost a fall baseball coach.
But it was out of the six-year-old division, where Eric Winston coached his son until this week when the Bengals called him back to provide depth for an offensive line still trying to find its way when the second half of the season starts Sunday (1 p.m.-Cincinnati's Channel 19) in Tennessee.
The Bengals' youth movement up front has slowed considerably now that Winston, their second-oldest player who turns 34 next week, is back in the fold, right tackle Andre Smith, 30, assumes the starting right tackle position he had for eight seasons until they let him go to free agency two years ago, and Jake Fisher's first season as the starting right tackle ends with an undisclosed illness.

There is something to be said for good old-fashioned steadiness on a line that is custodian of the NFL's last-ranked run game and bottom-ranked offense. Winston has been through it all as president of the NFL Players Association that has been in the crucible this season and Smith has been a key member of the Bengals' six post-season runs over the last decade.

"Obviously being away from things and being able to watch it, it gives you a little different perspective," said Winston before Wednesday's practice, suddenly in Fisher's locker in a locker room he resided until Sept. 2 and cut down day. "But at the same time, I don't have a magic potion to give them that all of a sudden it's going to turn it into something."

Still, he likes the feel of the place despite the 3-5 record.

"I think it's always nice to have steady hands on the coaching staff and in the locker room, and I've seen that this morning," Winston said. "I look at these coaches -- no one's acting any different than they would, in my opinion, if we were 5-3 or 6-2. Obviously there's a sense of urgency around here, and it's always good to have that. At the same time, I don't think anybody's in panic mode."

Head coach Marvin Lewis wouldn't reveal it but indicated that Fisher's illness isn't career-threatening.

"I don't think so. Again, the procedure that he needs to have sounds worse than it likely is," said Lewis, who wouldn't divulge the problem. "I think the things that happen around it … from now on, I should say 'we will see.' … When he saw another physician yesterday, the recommendation didn't change. But after the procedure and medication and so forth, he needs to not be playing a contact sport for a period of time."
Fisher's move to the non-football illness list not only ends his season, but also probably ends the tackle rotation they implemented with Smith as the swing man between Fisher at right tackle and Cedric Ogbuehi at left. Some believe that stability is going to help simplify what has looked to be a series of miscommunications yielding just 3.1 yards per carry on the ground while giving up the fourth most sacks per pass in the league.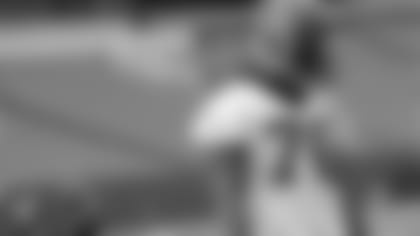 Cedric Ogbuehi says Sunday's top priority is running the ball and getting yardage on first down.

"I think there are more opportunities to be in the right spot and the line being able to communicate better," Lewis said "But that had little effect on what we're speaking of. We were trying to urge a guy to take hold (of the position). We were trying to promote that. That was the goal — promoting someone with, 'Here's the opportunity, now you go win the job.'"
Now the guy who has the job has it for all the snaps, it would seem, since they are no longer developing Fisher.  And isn't this where Andre Smith came in on a one-year deal after his one-year hiatus in Minnesota?
"I like to think so," Smith said of going full-time. "That's why they brought me back here. I hate how it happened. It sucks for Fish. But the opportunity has occurred and I have to take advantage of it."

Here's the thing about having a proven vet up there ready to go. Smith faces the Titans leading sacker, outside linebacker Derrick Morgan, for the third time in his career. The 6-4, 261-pound Morgan, playing in his 100th NFL game Sunday, has no sacks in those games and a total of two tackles and three assists while Smith was playing all but a handful of snaps. Smith opposed Morgan in Bengals' victories over the Titans in 2011 and 2014 and played all 63 snaps in the Vikings win over Tennessee in the 2016 opener and all but two in '14 when the Bengals put up 33 points.

"Mr. Morgan," is what Smith calls him, a sure sign of respect. "He's a first-round pick (2010) and he knows how to play. He's a lean guy who is powerful. He's got strength, but he's got some speed. You can't sleep on that. You watch film and prepare."

Smith has played just 199 snaps this season and he's hopeful the more snaps he gets the better he'll be. Profootballfocus.com has him rated ahead of Fisher, but before he played in 74 percent of the snaps he hit 70 percent just twice and that was in the wins over Cleveland and Buffalo.

This is also where Winston came in. It was three years ago Smith suffered a season-ending arm injury with three weeks left in the season, they signed Winston after he failed to hook on with Seattle in the preseason, and he started for Smith in the playoffs.

"I watched them, I've got a lot of friends here, rooting for them," Winston said. "Obviously not the start everybody was hoping for, looking for. But I've seen things like this turn around pretty quickly as well. I think it's there. We've got to find a way to do it."

If there's one thing they have to do it's find a way to run the ball in order to free Andy Dalton and A.J. Green in the passing game. They couldn't do it against the two worst run defenses in the league in the Colts and Jaguars and now they're saddled with facing the Titans' 10th-ranked rushing defense.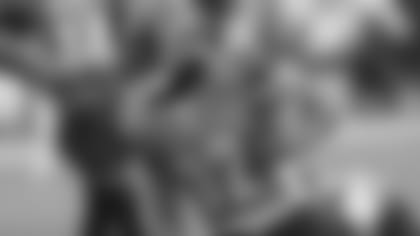 Two No. 32s., Jeremy Hill (above) and Rudi Johnson are the only two Bengals running backs to gain 100 yards against a Dick LeBeau defense.

Not only that, they're facing old friend Charles Richard LeBeau, the Titans defensive coordinator and the former Bengals defensive coordinator and head coach who worked in Cincy for 18 years. As the D-coordinator for the Steelers for 13 seasons in two different stints, the Bengals had two 100-yard rushers in those 26 games.

Now they're trying to get to four yards on first down.

"I think anytime you're having problems, whether it's running the ball, protecting, you've got to look inside yourself and find a little bit more and if everybody does that, you'll probably get over the hump," said Winston, who's not coming in here telling people what to do. "I'm just going to be here doing whatever they ask me to do and whatever that role might be."

Ogbuehi said what everybody is thinking.

"If you run the ball, it helps you do everything. Move the chains. Just go from first and 10 to second and six. That's good enough and we keep going backwards on first down. We're not getting enough yards," Ogbuehi said of the early downs. "Running the ball just opens up the offense and just makes everything easier. That's what we need to fix. That's our number one priority.

"It's a lot of different things. A player here, a player there, we just need to come together and be one running group. It starts this week. You can't look backwards, you have to look forward … Execute. Whatever play is called, execute. All 11 guys just block your man. You do that, just run the ball. That's our number one priority coming into this game."

Winston knows what to expect. The plan may be to stick with two tackles, but the plan doesn't always stay the plan.

"You better be ready to play if you're on the roster," Winston said. "I can't say I'm that far out of (shape). Obviously eight weeks is eight weeks and it's a while. But at the same time, if you put a jersey on in this league, you better be ready to go. Nobody cares what your problems are.

 "I think the aerobic, I'll be OK. I think I'm in pretty good shape right now. You can't replicate the physical nature, but that's also something you can with technique and obviously being around for a while, knowing what to expect, I think I can get over that hump rather quickly."


Cincinnati Bengals host practice at Paul Brown Stadium Practice Fields 11/08/2017