Wide receivers A.J. Green and Mohamed Sanu (above) made hay Sunday against an elite pair of cornerbacks.
With each game the Bengals play this preseason, the more the top of their roster gets better while the more gray area envelops the back end.
Sunday's 19-13 victory over the Cardinals in Arizona saw a winning effort for the Ones, although the defense held up a bigger end of the bargain. Still, when the offense got settled, they moved the ball well enough against a good, fast defense to keep it 9:52 of the final 11:49 of the first half.
Bottom line. They beat a good team on the road.
Injuries and inconsistency hampered the second-teamers again, making Saturday's final cut to 53 players a jigsaw puzzle. Still, you pretty much know which 46 are going to be active on Sundays so they're in better shape than a lot of teams.
With the starters expected to be rested for much of Thursday's 7 p.m. preseason finale at Paul Brown Stadium against the Colts (11:35 p.m.-Cincinnati's Channel 12), if any, Tuesday's cut down to 75 isn't an easy exercise, either.
The allotment at each position is going to determine the final roster more than anything and injuries always have a say in that. It always seems to be the same positions. Nine or 10 offensive linemen? Nine or 10 defensive backs? Six or seven linebackers?
The number in parenthesis is how many they traditionally keep at that spot and the players are listed according to NFL experience.
Jason Campbell (10), Andy Dalton (4), Matt Scott (1), Tyler Wilson (1), AJ McCarron (R)
If you drew up the kind of preseason you wanted Dalton to have, isn't this it? He's completed 70 percent of his passes without an interception. Campbell looked more comfortable on Sunday night and he figures to get most of Thursday's game to get polished up. Scott didn't play Sunday and Wilson (head) couldn't, so maybe the Bengals practice squad quarterback is coming off waivers.
Brandon Tate (6), A.J. Green (4), Dane Sanzenbacher (4), Marvin Jones (3), Mohamed Sanu (3),  Cobi Hamilton (1), Jasper Collins (1), James Wright (R), Colin Lockett (R)
Green and Sanu were superb Sunday night against an elite pair of cornerbacks in Patrick Peterson and Antonio Cromartie. They won't see a combo like that in the AFC North. Joe Haden and Justin Gilbert are both top ten picks in Cleveland, but Gilbert is a rookie.
The play behind them hasn't exactly been scintillating and Tate keeps sticking around because he's solid and no one has stepped up to grab it from him. With Jones out the first three games, Sanzenbacher is a key slot guy, so it looks like the sixth and last spot is coming down to Hamilton and Wright.
Wright spent Sunday night in Arizona with a concussion and even if he doesn't play Thursday he looks to have a leg up because of what he can do on special teams, although he's had a teams' penalty in every game. Hamilton had his biggest play of the preseason Sunday night on a 34-yarder down the middle from Campbell, but he also dropped what would have been a first down in the red zone.
The lack of production behind Green and Sanu makes you nervous, but you also wonder how much tight end Tyler Eifert is going to be split out until Jones comes back. He and tight end Jermaine Gresham figure to line up all over  the place so that third receiver may not see all that many snaps, anyway, while Jones (foot) is out
BenJarvus Green-Ellis (7), Cedric Peerman (5), Giovani Bernard (2), Rex Burkhead (2), Jeremy Hill (R), James Wilder Jr. (R)
Hill changed the tenor of Sunday's game, didn't he? His power running is going to be a boon against Pittsburgh and Baltimore. Bernard didn't have a whole lot of help and still made something out of nothing when he could. It looks like Bernard and Hill could both get about 200 attempts. Green-Ellis (hip) has been chewed up the last few games, and it makes you wonder if Thursday is his last game as a Bengal. The injury situation will have a lot to say about that. You have to figure it's why they kept this many backs in the first place. Burkhead (knee) is walking without a brace or limp and it sounds like Peerman (hip) is going to be OK.
Orson Charles (3), Ryan Hewitt (R), Nikita Whitlock (R)
How good of a pickup is Hewitt out of the college free-agent ranks? Offensive coordinator Hue Jackson wishes they could have blocked the Cardinals better in the run game, but they've been resolute on keeping Hewitt with the first group and he had a nice block on Hill's run on third-and-one. It looks like Hewitt is the Opening Day starter if Jackson chooses to send a message to the Ravens right out of the gate with a power look.
Charles actually played one fewer snap than Whitlock Sunday (8-9). Whether that means both are ticketed to the practice squad is anyone's guess.
Alex Smith (10), Jermaine Gresham (5), Tyler Eifert (2), Kevin Brock (2).
Eifert (shoulder) didn't play for the second straight week and it's doubtful he goes Thursday, but he'll be ready for the opener. Gresham made a nice 33-yard catch down the seam. They continue to rely on Smith as a blocker (he played as many snaps as Hewitt with 12) and you figure he's the kind of guy they need when they play Baltimore.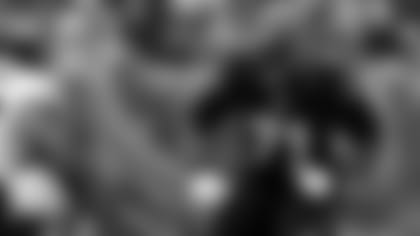 Will Andre Smith (concussion) play his first game of the year in the opener against the Ravens? Or will they give him some snaps Thursday if he's cleared?
LT Andrew Whitworth (9), T-G Will Svitek (9), G-C Mike Pollak (7), RT Andre Smith (6), T Marshall Newhouse (5), G Clint Boling (4), G Kevin Zeitler (3), C-G Trevor Robinson (3), G-T Tanner Hawkinson (2), C-G T.J. Johnson (1), G Trey Hopkins (R), C Russell Bodine (R), G Dan France (R).
Injuries may dictate they have to keep 10 instead of nine. It was a shame that Hopkins injured his shin Sunday and it looks like it may be serious because he had it in a boot in the locker room. But it's unclear how badly he's hurt. The undrafted rookie out of Texas looked to be close to a lock to making it.
They want versatility in their backups, so that would seem to help Newhouse, Pollak and Hawkinson. Pollack played 24 snaps and Hawkinson 38 on Sunday. Robinson played 17 snaps at center and Svitek 32 at tackle. That looks to be a key decision. Do they keep four or five tackles?
They also like the way T.J. Johnson is playing guard, but he got carted off with an unknown ailment Sunday. They have to sort out the injuries before making calls here.
Bodine continues to be challenged. He didn't get out-toughed by 314-pound nose tackle Dan Williams and he responded well physically. But he continues to get used to seeing different varieties of looks.
*E-T Robert Geathers (11), DT Domata Peko (9), E-T Wallace Gilberry (7), T Geno Atkins (5), E Carlos Dunlap (5), T Devon Still (4), T Brandon Thompson (4), T Christo Bilukidi (3),  E Margus Hunt (2), E Dontay Moch (2),  E Sam Montgomery (2), E Will Clarke (R), T LaKendrick Ross (R), T David King (R).  *
There seems to be no fallout of Atkins' return from his ACL injury Sunday night. He had 13 snaps and played in both the base and nickel looks. As defensive coordinator Paul Guenther said last week, the big battle is for the fourth and last tackle spot (to go with five ends). Still's hamstring injury as he tries to fend off Bilukidi is a complication. They could also fill that spot off waivers on cut-down day. Ross didn't play Sunday, but he's viewed as a potential practice squad candidate.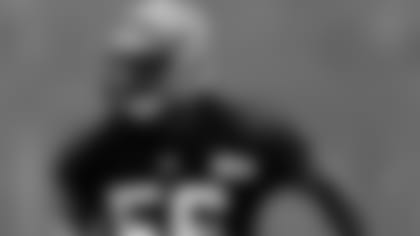 *Sean Porter's first game of the season on Sunday night was solid enough to warrant a closer look Thursday night. *
Rey Maualuga (6), Vincent Rey (5), Vontaze Burfict (3), Emmanuel Lamur (3), Jayson DiManche (2), Brandon Joiner (2), Sean Porter (2), J.K .Schaffer (2),  Marquis Flowers (R), James Davidson (R).
By the way, Maualuga's block on cornerback Terence Newman's 54-yard interception return for a TD was a thing of beauty when the 250-pound Maualuga buried 316-pound tackle Bobby Massie to give Newman clear sailing down the sideline for the final 10 yards. Marvin Lewis said Burfict (hamstring) would play in Baltimore and Lamur looked to have his best game of the summer with three tackles and a key pressure of Carson Palmer Sunday night.
Porter made a strong bid with a good outing in his first game of the year Sunday and punctuated it with a game-ending interception. Another game like that Thursday and he probably makes it. He played mostly outside while Flowers tries to get acclimated to the middle. There doesn't seem to be much to choose here among Porter, DiManche, and Flowers, but only two of them can be behind the starters if they only keep six. Is anyone playing that well to make them expand to seven?
CB Terence Newman (12), S Danieal Manning (9), CB Leon Hall (8), CB Adam Jones (8), S Reggie Nelson (8), S Taylor Mays (5), CB Dre Kirkpatrick (3), S George Iloka (3), CB Chris Lewis-Harris (2), S Shawn Williams (2), CB Onterio McCalebb (1), CB Darqueze Dennard (R), CB Victor Hampton (R), CB Lavelle Westbrooks (R).
Here's a spot where they could only keep nine. Since no one has claimed that sixth and last cornerback spot, could they keep just five and go with four safeties? Right now they have five and Nelson, Iloka, and Williams don't look like they're going anywhere. Nelson (a third-down pass defense) and Iloka (really good at the line of scrimmage in the run game) had good nights Sunday.
Kirkpatrick had the hit of the night as a gunner when he blew up Ted Ginn on the first punt return of the night.
K Mike Nugent (10), LS Clark Harris (6), P Kevin Huber (6).
It was never really in doubt, but Nugent still had to come through to beat out Quinn Sharp because Sharp made a nice run that ended with his 51-yard field goal Sunday night. Nugent has been his rock solid self and hit all four of his field-goal tries in preseason, giving Sharp the gate on Monday. This marks the fifth straight Opening Day roster these three have been the specialists.  Can they beat out Shayne Graham, Kyle Larson and Brad St. Louis and their run from '04-'08?