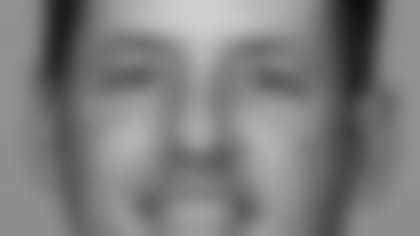 It looks like Ken Zampese is staying as Bengals quarterbacks coach. Citing a source, the
South Florida Sun-Sentinel
reported Tuesday that Zampese won't interview for the position of offensive coordinator for the Dolphins because of the lack of play-calling duties. New head coach Cam Cameron has said he'll call the plays.
KOOISTRA RE-SIGNS: The Bengals signed backup offensive lineman Scott Kooistra to a three-year extension Tuesday that puts him in Cincinnati through 2009 and is consistent wth a team bracing to lose left guard Eric Steinbach to free agency.
Kooistra has started one game since arriving from North Carolina State in the 2003 seventh round and plays both guard and tackle as well as special teams. He played in 15 of his 54 career games last year with his one start coming at left guard in the 2005 season finale.
The undisclosed deal is a mild surprise with some observers thinking Kooistra would try the free-agent market, which opens March 2. But he acknowledged Tuesday he's comfortable with a system he's been in for four years.
"I don't have much experience and I don't know what would have been out there, so it would have been a risk to see if there was another team," he said. "But the Bengals came with this and I like the system and have been in it for a long time, so it worked out."
It's not believed the deal is going to curtail the eforts to re-sign such regulars as Kevin Kaesviharn, Kenny Watson, Reggie Kelly, Tony Stewart and Marcus Wilkins, or a decision to franchise or reach a long-term deal with defensive end Justin Smith.
The offensive line, where nine players are usually kept, is getting crowded. Four of the starters are signed up beyond 2007, as are Kooistra and tackle Andrew Whitworth. The Bengals have to make a decision on how much they tender restricted free agent Stacy Andrews, the first guard-tackle off the bench next to Whitworth on the left side. A one-year tender offer of $850,000 to Andrews would bring the Bengals fourth-round compensation while $1.3 million would bring a second-rounder.
With the Bengals hesitating to add Steinbach to the top five NFL position salaries with tackles Willie Anderson and Levi Jones, Whitworth is poised to play left guard while Kooistra stays intact as the backup on that side.