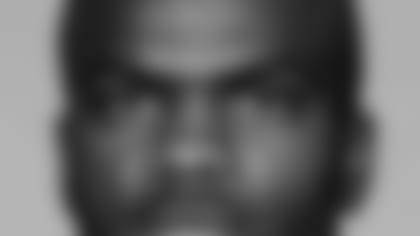 Backup quarterback Anthony Wright is out for Sunday after undergoing an appendectomy Friday, meaning No. 3 Doug Johnson probably gets promoted to No. 2 and the Bengals go in with just two quarterbacks and an emergecy list.
Heading it is probably rookie wide receiver Reggie McNeal, the former Texas A&M quarteback who has yet to be active for a game. Other players that have been mentioned in the past as possble emergency QBs are cornerback Keiwan Ratliff and wide receiver Kelley Washington.
Estimated time on the shelf for apendectomies is two to three weeks.
DOWNGRADED: With strong safety Dexter Jackson (ankle) and strong-side linebacker Rashad Jeanty (foot) not appearing early in Friday's practice, their prospects for playing in Sunday's game narrowed, although Jackson could still be a game-time decision in Tampa Bay. But they have been downgraded to doubtful. FEELING BETTER:
Not having those two again is going to put more heat on the defensive line and tackle Sam Adams welcomes it. Before Friday's practice, Adams revealed he'll need arthroscopic knee surgery after the season but he says he's feeling better than he did even last week.
"I'm just working through it. I didn't want to miss that much time, so I'll wait and get it done later," said Adams, who says he tore "something" nearly two months ago in the preseason against Green Bay.
Adams hasn't missed a start even though he has been able to practice only on Fridays, but he's still seething from the past two games in which the Bengals have allowed 406 rushing yards.
"No one is doing their job if people are running more than 200 yards against you," Adams said. "It's a mentality. There are a lot of great players that have to really step up, and I'm one of them. I have to step up and play better."
Adams is probably his own harshest critic. Even though teammates have praised his leadership and presence during games, he says he's been "invisible." But he also thinks a fire has been lit under the group.
"It makes you mad when it happens to you as a defense and I think we're mad now," Adams said.
HIGH PRAISE: Rookie defensive tackle Domata Peko got some high praise Friday. Defensive end Bryan Robinson, a former Bear, said he recently spoke with Tommie Harris, the Chicago defensive tackle and the NFL MVP candidate. "He said he really admires the way (Peko) plays," Robinson said.
VINCENT ON THE BLOCK: Any Troy Vincent talk looks to be premature. The Bengals apparently haven't discussed the 15-year safety since Buffalo released him Thursday as the Bengals prepare for a game this week and address backup quarterback Anthony Wright's appendectomy .
And Linda Bodley, Vincent's agent, said Friday she's waiting for her client to return from Buffalo, where he's stuck in a snowstorm. She says Vincent is interested in continuing to play and noted that in March of 2004 Vincent narrowed his choices to the Bills and Bengals.
Since then, Vincent has been hurt, turned 35, and the Bengals have signed Jackson. Jackson figures to miss his third game Sunday, but he should be back in a week or two. Whether the Bengals inquire about him after the weekend remains to be seen.