Pro Bowl left tackle Andrew Whitworth hopes to blank the Giants' Jason Pierre-Paul for the second straight game.
Don't blink. Monday night's game in New York (8:30-Cincinnati's Channel 5, ESPN) is going to come down to how quickly and well the quarterbacks get the ball out of their hands.
Bengals quarterback Andy Dalton because the Giants defensive end tandem of Olivier Vernon (30) and Jason Pierre-Paul (26) is 2-3 in the NFL in quarterback hurries, according to profootball focus.com. Giants quarterback Eli Manning because he's so much better when he gets the ball away fast.
 According to PFF, Manning has a passer rating of 91.9 and completion percentage of 69.7 when he gets rid of it in 2.5 seconds or less. When it's longer than that, it drops to 81.2 and 53.1, respectively; although he has the same number of TDs and interceptions either way with six and four, respectively.
Dalton's numbers are actually better when he holds it for at least 2.5 seconds. Although his completion percentage dips to 56.8 from 71.4, he's got five touchdowns and no interceptions for a 105 passer rating for plus 2.5 seconds compared to a 94.6 rating (four TDs and three picks) in less than 2.5 seconds.
But left tackle Andrew Whitworth doesn't envision Dalton holding on to the ball against the Giants. That's why he thinks his foe on Monday, Pierre-Paul, has just 1.5 sacks to go with all those hurries.
"The teams they play, nobody is standing back there trying to throw it on them," Whitworth said of the pocket. "I don't think many teams go in to play them with the mentality of standing back there and winging it. You've got to get rid of it."
It will be recalled the Bengals beat the defending Super Bowl champion Giants four years ago this week at Paul Brown Stadium, 31-13, while not allowing the gold medal pass rush that stymied New England's Tom Brady a sack. Whitworth blanked Pierre-Paul that day and he'll take another outing like that because he thinks JPP is better than ever.
It's the first time the Bengals play Pierre-Paul since he lost sections of multiple fingers on his right hand in a fireworks accident on the Fourth of July before the 2015 season. But Whitworth can't see any drop in his game.
"If anything he's better," Whitworth said Friday after practice. "His pressures and hits on the quarterback are up there. You still see him pushing back people into the quarterback. He still makes people miss with the unbelievable moves he has for a big, tall, long guy. He's always had amazing bend and change of direction. He's still got that and that doesn't have anything to do with your hand.
"It wasn't like he was a push-and-pull-a-lot-of-tug rusher anyway. He's always been an explosive bring-it-to-you guy, so I don't know how much that affects you. It may affect you some in the run game trying to get off blocks, but as a pass rusher there's not a lot of gripping and ripping."
INJURY UPDATE: Middle linebacker Rey Maualuga (fibula) didn't practice for the third time this week Friday and they're trying to figure out if this is a season-ending injury or not. So look for him to be out Monday and Vincent Rey to come off the bench for him. But here's the thing. With the Giants almost always going with three wide receivers and a running game ranked last in the NFL, Maualuga would have played single-digit snaps if any because the Bengals are going to be in their nickel package all game.
It looks like backup wide receiver James Wright (hamstring), the special teams leading tackler, is going to play. He returned to practice Friday and was limited. Limited for the second straight day were starting linebacker Vontaze Burfict (thigh), starting right end Michael Johnson (calf), and back-up defensive tackle Pat Sims (ribs).
With the addition of Wallace Gilberry, a defensive lineman that has been active all year figures to be inactive Monday. Look for Sims to be active as the only backup behind Domata Peko and Geno Atkins. Johnson looks like he's ready to go with starting left end Carlos Dunlap. Gilberry is No. 6, so that leave a choice between Margus Hunt and Will Clarke.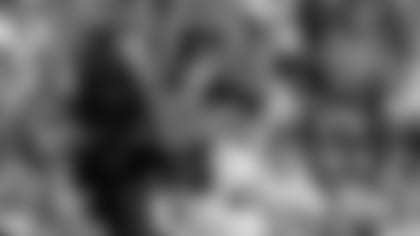 With 25 catches, Tyler Boyd has the most by a Bengals rookie wide receiver at the mid-way point of the season since A.J. Green had 40 five years ago.
GREEN-ER PASTURES: It seems the like the Bengals haven't played since Grover Cleveland's second non-consecutive term, but wide receiver A.J. Green still leads the NFL with 59 catches despite not playing for 12 days. He has lost the receiving yardage lead to 2011 draft soulmate Julio Jones (970-896), but not the respect of former teammate Leon Hall, now a Giants cornerback.
"I don't know who's playing better than him right now. Maybe like Julio Jones, I don't know," Hall said in this week's conference call with the Cincinnati media. "He's tough to cover.  I don't know. He's a freak athlete, one of those guys that you can't compare to anybody else. Calvin Johnson-type, game-breaker."
Hall has also noticed a wide receiver that wasn't here when he was here in rookie Tyler Boyd, a second-round pick who could be opposite him in the slot. With 25 catches for 283 yards in the first half of the season, Boyd has already surpassed the rookie year totals of the last five wide receivers drafted before him (Mario Alford with one catch in 2015, Wright with five catches in 2014, Cobi Hamilton with none in 2013 and Mohamed Sanu with 16 and Marvin Jones with 18 in 2012).
  "He's got a lot of energy out there, which is nice," Hall said of Boyd. "His effort is always 100 percent. He runs pretty good routes. He plays the game pretty smart as far as zone coverages. He knows how to get open in man, which is not always the case with some young receivers."