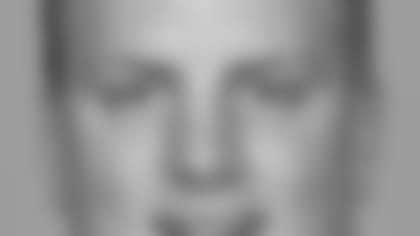 Now we know why the Bengals picked back up rookie center Dan Santucci off the Colts practice squad. Center Eric Ghiaciuc (neck), along with right tackle Willie Anderson (foot) and cornerback Johnathan Joseph (foot) are classified as questionable for Monday night's opener. But wide receiver T.J. Houshmandzadeh (knee) and kicker Shayne Graham (hip) are probable.
Also Friday, Peter Schaffer, the agent for Bengals defensive end Frostee Rucker, said Friday that his client has won his appeal and won't be suspended one game by NFL commissioner Roger Goodell.
Perhaps reflecting their uncertain status along the offensive line, the Bengals reacquired Santucci and cut wide receiver Antonio Chatman to make room on the active roster. Although Ghiaciuc apeared to just be rested after working the previous day.
The move leaves the Bengals with just five receivers, but Chatman (hamstring) had already been ruled out for Monday night and has barely practiced all summer.
Yet he isn't going anywhere. He was still in the locker room after the release was announced and the Bengals say they are keeping their options open as he continues to rehab.
Houshmandzadeh worked early in practice by himself on the side in helmets and shoulder pads as the Bengals began Friday morning's practice, and was classified as limited. Anderson had a full practice and cornerback Johnathan Joseph was limited. Ghiaciuc didn't dress after working Thursday.
Rookie wide receiver Jesse Holley, released on Cutdown day, also was at practice after just being signed to the practice squad.
Santucci, a seventh-rond pick out of Notre Dame, had been released in the wave of moves the day after Cutdown day when the Bengals opted to go with just eight offensive linemen. But with Ghiaciuc, Anderson and left tackle Levi Jones all battling some type of ailment, the Bengals must have felt they needed a ninth lineman.
Santucci certainly now knows Interstate 74. He got there Tuesday, but with the Colts opening their season Thursday night he only worked out once. And as he was planning to watch the game, he got the call from agent Ralph Cindrich.
"Pack your stuff, they want you back."
The lure of the 53-man roster is the game check, which is much more than the minimum $4,700 salary for the practice squad. Teams can offer more, which the Colts must have because the Bengals had wanted Santucci on their practice squad.
"It was basically a better deal and I thought I had a better opportunity there," Santucci said. "But I'm excited to be back."
Ghiaciuc's backup is fourth-year player Alex Stepanovich, a guy with 30 NFL starts for Arizona.
In Baltimore, Ravens left tackle Jonathan Ogden (toe) is questionable after a limited practice Friday, as is defensive end Trevor Pryce, added to the list Friday with a back injury after a limited practice. Cornerback Samari Rolle and wide receiver Mark Clayton were also limited Friday with ankle problems but are probable.
Goodell suspended Rucker after he pleaded guilty in May to one count of false imprisonment and one count of vandalism while Rucker was at USC. The basis of the appeal was that the incident took place before Rucker came into the NFL.
Schaffer said Bengals head coach Marvin Lewis's testimony at a hearing also greatly enhanced Rucker's case.
"I think a big factor was the work Frostee has done in the community since he's been with the Bengals," Schaffer said. "Marvin talked about what he's done and his character since he's been with him and we're appreciative that Marvin did that and we're thankful the commissioner understood our arguments."
Schaffer wouldn't confirm reports that Rucker has been fined a game check instead. Rucker, a third-round pick a year ago who has yet to play in a game because of injuries, has been ruled out of Monday night's game with a hamstring problem.