 Houshmandzadeh: Looking for man-to-man coverage Sunday
One thing we know about the Carson Palmer era.
In the four games he's played against Baltimore, his wide receivers have come up big against one of the NFL's best secondaries.
"Probably because they play us a lot of man-to-man," said T.J. Houshmandzadeh, whose career-high 171 yards came against the Ravens in 2004. "We've been able to run the ball also to make them play us man-to-man. We overall have played a complete game."
But it's not the same defense against which Chad Johnson has amassed a career 800 yards in leading all Baltimore opponents. Or even the one from last year against which rookie Chris Henry caught two touchdowns.
"But last year Ray (Lewis) was hurt, Ed Reed was hurt so it will be a different game," Houshmandzadeh said. "It's a different team. They've got a lot of linebackers with a lot of versatility. They play D-end, they play linebacker, they play safety, they can do a lot of different things. They've got basically a lot of big athletes. They've just got guys that can do so many different things."
There's no question the high caliber of competition gets the Bengals juices going. Against the Pro Bowlers Reed at safety and Chris McAlister at cornerback two years ago, Johnson and Houshmandzadeh combined for 332 yards and Palmer's 127 passer rating that day more than doubled the Ravens defense's NFL-low 62 rating it had been allowing quarterbacks.
Now here come the Bengals again against a defense allowing passers a 61 rating.
"It's more of a challenge some weeks," Johnson said. "This week it's high quality across the (Baltimore) board."
That didn't stop Johnson from saying he would end up "picking on Samari (Rolle), picking on McAlister, picking on Ed. Picking on Bart Scott."
Henry picked on the Falcons last week returning from what amounted to a three-game suspension with a 55-yard touchdown catch for the Bengals' longest ball of the season.
Henry admitted Thursday that he came up sore last week after the first day of practice, but he still continues to be a scoring machine. Of his first 47 NFL catches, nine have gone for touchdowns, which gives him a score every 5.2 catches.
Stack that against the all-time Bengals receivers. Carl Pickens, in his first two seasons, had 69 catches and seven touchdowns. Cris Collinsworth had 67 catches and eight touchdowns his rookie season. Henry is right there with Isaac Curtis, 45 catches and nine touchdowns his rookie year. Johnson? He had 97 catches in his first two seasons, but just six touchdowns.
"All three of us are good; we make plays," Henry said. "They can't sleep on either of us (Henry and Houshmandzadeh) and they can't double up on Chad the whole game."
The Ravens have been blitzing, but they've also been giving up some long plays lately. In their last two games against the Panthers and Saints, Baltimore has allowed nine passes of at least 30 yards and four of at least 40.
It looks like the Bengals have found the panacea for their inconsistent long ball game, where Henry has played the fewest games yet has three of the team's four longest catches.
But if the Ravens decide to back off those blitzes that allow one-on-one coverage (like most teams seem to be doing against the Bengals), their secondary waits with an NFL-best 15 interceptions.
It clearly is strength against strength. Hue Jackson, who has coached the Bengals receivers during this run since '04, knows his guys see the names.
"Ray Lewis. Ed Reed. Chris McAlister. Samari Rolle. You say Baltimore and you know that's one of the best defenses in football," Jackson said. "If you're a football player, you naturally want to do your best against the best."
Johnson reiterated his vow on Thursday.
"Hit Ray in the mouth," he chortled in between bites of a Big Mac.
Somebody will have to. In the Palmer era, the Bengals are 3-1 against Baltimore and running back Rudi Johnson has averaged 89 yards in the victories.
Footnote: Only two running backs have done better than that this season against the Ravens: The Chargers' LaDainian Tomlinson with 98 on 27 carries and the Broncos' Tatum Bell 92 on 19 in games Baltimore split.
"We've always seemed to get a complete game from everybody, offensive line, everybody," Houshmandzadeh said of a day another one is needed.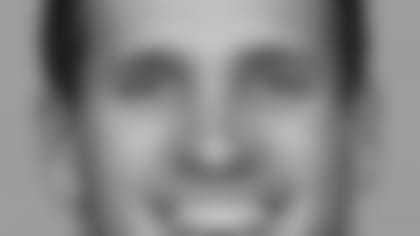 ROOM SWITCH:
Speaking of receivers, rookie safety and special teams staple Ethan Kilmer has been practicing at both spots and has been attending both offensive and defensive meetings the last few weeks. The kid from a small town in the northern tier of Pennysylavia (Wyalusing) is quite a fit with the big-city guys of Johnson (Miami), Houshmandzadeh (Los Angeles), and Henry (New Orleans).
"We have fun with him," said Jackson, an L.A. native himself. "He adds to the flavor of the room. He's fun to be around. He asks good questions. He'll develop as we go along. We're not going to put him in a situation that's not fair."
Which means you probably won't see him at all at wideout as long as the Big Three stay on the field, and Kelley Washington (hamstring) gets back in a few weeks as hoped.
But the 6-foot, 204-pound Kilmer at least has experience at receiver. The Bengals put him at safety the minute he arrived with the first pick in the seventh round, where he had no snaps at Penn State. Although he didn't start playing football until three years ago, he had three starts at wideout and caught 15 balls for 236 yards and had six along with a 24-yard touchdown in the Orange Bowl against Florida State.
"It's a privilege to be around guys like that and learn from them," Kilmer said before Thursday's practice. "They've all helped me. I'm all ears."
A 4.3 and 4.4 40-yard dasher as a track guy, Kilmer can run with those guys, but he's clearly still learning the game. Here's Houshmandzadeh's scouting report:
"You can tell he's got a ways to go, but he's got nice hands and that's the first thing you look for. He can run, but there's a difference between running routes and running straight ahead. We'll see how he develops over the offseason, unless they put him back at DB. But he can catch it, that's for sure, and that's what they want to see now."
"We know we're always going to have him because he's going to play special teams," Jackson said of his Sunday lineup.
Kilmer, the gunner on punts, has been among the club's top special teams tacklers all season. That gives him the edge over Reggie McNeal, the transplanted rookie quarterback who has yet to be active for a game, although he has been the third quarterback the past three weeks. That ends Sunday with Anthony Wright's return from an appendectomy. But with running back Chris Perry able to split wide and rookie Glenn Holt playing well on special teams, don't look for McNeal to be active this Sunday. BIG FELLA:
Defensive tackle Sam Adams, who wears his Ravens Super Bowl ring "once every blue moon," isn't all emotional about a trip back to where he played two seasons and was a big part of Baltimore's title and two playoff runs.
"Different team, different time, different era," said Adams, who referred questions about his lack of playing time in the second half last Sunday to head coach Marvin Lewis.
Lewis indicated it wasn't Adams' type of game as the Bengals tried to mirror Michael Vick, but this Sunday's game is clearly the kind of AFC North smashfest he signed up for back in April.
Adams has been hampered by a knee injury that needs arthroscopic surgery in the offseason, but he did practice Thursday.
"I signed up to help us win a championship and that's what we're going to do," Adams said. "We're going to compete every week, we're going to get into the tournament and we're going to win it. But it takes one week at a time and fixing things as we go along and when we get to the tournament, we'll be that much tougher."
How tough were Adams and that Ravens crew? With Lewis as the defensive coordinator, they set NFL records allowing just 165 points and 970 rushing yards all season and Adams's presence with Tony Siragusa in the middle were big reasons why.
But if that was a different time, the Bengals are along running a different defense.
"This is Chuck (Bresnahan's) scheme," said Adams of coordinator Chuck Bresnahan. "Marvin has a little bit to do with it. This is more side-to-side. That was more (straight ahead)."
Ravens defensive coordinator Rex Ryan, Adams' line coach there, is the only assistant left from the title team.
"Rex comes from that 62 defense," Adams said. "He has a rich heritage of great defense, attacking defense and he knows exactly what he's doing. He's been overdue to be a defensive coordinator in this league for a long time. He's showing everyone that he's very capable of putting together a great defense."