With Cedric Peerman and Rex Burkhead down against Miami, George Iloka served in the critical role of personal protector on the punt team for the first time ever in a game.
How tough has this season of transition been for special teams coordinator Darrin Simmons?
Since 2011 the Bengals have been in the top ten three times of Rick "Goose," Gosselin's NFL special  teams rankings, but heading into Sunday's game in Dallas (4:25 p.m.-Cincinnati's Channel 12), ProFootballFocus.com has rated them 15th.
Plus, in uncharacteristic fashion they split the first four games in the field position battle and find themselves 20th in the league in drive start and 22nd in opposing drive start, a category they finished in the top three last season.
"The first couple games were pretty rough on me, just because we pride ourselves on trying to win this full field position deal, and we weren't capitalizing on plays through inexperience," Simmons said after Thursday's practice. "We had guys in the Jets game, for instance, get out of position on a kickoff cover play. That doesn't normally happen to us. We had kind of the same thing happen against Denver. It was the same thing, a couple young guys get out of spot."
They lost their Andy Dalton when special teams captain and Pro Bowler Cedric Peerman broke his arm during the preseason. And with the influx of new receivers, tight ends, and defensive backs, the core of his unit are first- and second-year players.
Try this. Special teams captain Vincent Rey and long snapper Clark Harris each have more career punt return snaps than the rest of the punt team put together.
That said, Simmons senses it gelling.
"I think we're coming. I think we're maturing," he said. I thought we played pretty good against Pittsburgh in coverage, in all forms of it, punt coverage and kickoff coverage. Last week I thought we played really well in kickoff coverage. So we're coming along. I think we've been really good in protections on punts, which that's the quickest way to get you beat is to give up a blocked punt."
But injuries and youth have jammed them up. For the Thursday night game last week, every player with the exception of the two gunners and the snapper were different than those that lined up against Denver four days previously. A week later, he's calling for the punt and kick return teams to come through.
"There's no question we've got to get going in the return game. We've got to get field position. We're not getting enough of that right now. It starts with us playing better on kickoff. Kickoff sets up punt return," Simmons said.
"We're not doing well enough in controlling field position for a variety of reasons, our team and us included," he said. "We haven't gotten enough opportunities where we the punt team backed up, like in the preseason where I can put the gunners up the whole way. We haven't been in enough of those situations to get going. It all goes back to the better you play on kickoff, the better you're going to be on punt return. We haven't played well enough on kickoff to be able to pin our ears back on punt return yet."
He says he simply can't be disappointed in rookie punt returner Alex Erickson because he doesn't have enough to go on. They've been among the league leaders in punt return the past few years with the explosiveness of Adam Jones and the steady play of Brandon Tate. But they're 28th in punt return and Jones is at a 6.3-yard average on four returns, way below his franchise-best 11.4 yards per return.
Plus, he suffered his first lost fumbled punt as a Bengal in the home opener, his first in 85 returns.
"We've got to get Adam's stinger back a little bit," Simmons said. "He kind of got it taken away from him a little bit in the Denver game. But as all great players do, he'll respond. I've got to get him to get his stinger back and he'll be fine. 
"The first couple games (Erickson) had a couple iffy decisions back there. He caught a couple balls back deep he probably should've let go. The last two games he's shown a lot better. He's made a couple non plays, or decisions, where he let the ball go and the ball hits and goes into the end zone. There was one in the Denver game where the ball is on the 35-yard line, it hit and went in in the end zone. That's 35 gross, 15 net. That's a huge play for us. He made a smart, veteran decision, where earlier in the year he might have caught that ball. But like I said, we haven't had enough opportunity to vice them up to give him room to get going. So it's hard for me to evaluate. It's still a little bit of an open book in terms of him returning the ball."
But things are looking up, especially with the return of linebacker Vontaze Burfict that has Vinny Rey back as a core special teamer.
"I can't over-emphasize how important that is to the group. It's just a calming effect with the rest of the group having Vinny in there," Simmons said. "I know I have one guy who can I can put in the middle of things who knows exactly what's going on, because he's seen it and done it all."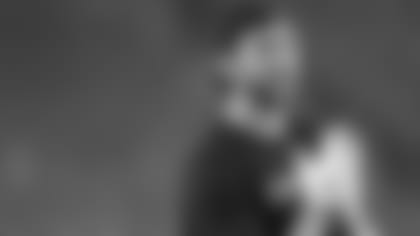 When is Tyler Eifert back on the field?
SAGA UNFOLDING: The saga of Tyler Eifert continued Thursday when the Bengals Red Zone Regent didn't practice for the second straight day, but it's believed they're waiting to see how his back feels Friday before making a call on him for Sunday's game (4:25 p.m.-Cincinnati's Channel 12) in Dallas.
That came after head coach Marvin Lewis refuted reports that the Bengals had already ruled Eifert out of the game. Appearing on Sirius XM NFL Radio, Lewis confirmed Eifert has a sore back, according to profootballtalk.com.
The surprises just keep coming. Starting right tackle Cedric Ogbuehi, who wasn't on Wednesday's injury report, was on the field but didn't practice. Backup tackle Jake Fisher (back), who was limited Wednesday, also didn't practice.