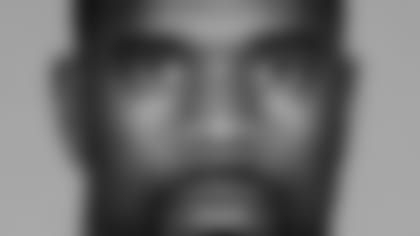 Linebacker Brian Simmons has played more games for the Bengals defense than anyone in the league and yet injury denied him the chance to play in his first NFL shutout last Sunday in Cleveland.
"It's been hard to miss all of them," Simmons said before Wednesday's practice. "It wouldn't have mattered if we gave up three points, seven points, whatever. Just to be out there playing with your teammates. ... "
Which is why Simmons is trying to play Thursday night after missing the last four games and playing only 20 snaps since Oct. 1 with a pinched nerve in his neck that has weakened the strength in one of his arms.
He practiced Wednesday and is again listed as probable, but center Rich Braham (knee) didn't work for the second straight day in team sessions and is listed as questionable for his return after a nine-game absence. Defensive tackle John Thornton (knee) also didn't work again and is doubtful.
After missing his second game in five years against Tampa Bay Oct. 15, Simmons tried to come back in a reserve role the next week against Carolina and held up only nine snaps. After the coaches opted to move him from the middle to strong in place of the injured Rashad Jeanty the next week against Atlanta, he could only go 11 plays and hasn't suited up since.
"I felt like I could go and play through it. I guess it showed I couldn't. I hope the same thing doesn't happen tomorrow night," Simmons said. "I'm at the point I'd rather go out there and let it tell me I can't go instead of sitting on the sidelines wondering if I can."
Simmons knows that the linebacker corps has come together in the last two weeks with the return of Jeanty and the promotion of Caleb Miller to the middle in place of injured rookie Ahmad Brooks. Miller has led the team in tackles the past two weeks and has forced two of the team's nine turnovers in a stretch the Bengals have allowed just 16 points.
"I play. Coaches' decision," Simmons joked before getting serious. "Everybody is playing well (at linebacker). It's not a matter of coming in and fixing something. It's just adding to it. My thing tomorrow is going out there and if I can help the team in any way, that is what I'll try to do."
Simmons can help whether starting or subbing. He can play all three spots (the Atlanta game was his first ever at strong) and with Brooks spelling Miller in the middle, Simmons has good speed defending the pass, can give breathers to Jeanty and weak-side backer Landon Johnson, or vice versa.
If there has been one constant in head coach Marvin Lewis's bid to transfer his success in Baltimore to Cincinnati, it has been the inconsistency in the middle. While Lewis built his Ravens defense around Hall of Famer Ray Lewis, suspensions and injuries have hindered the Bengals at that spot.
On Thursday, Ray Lewis lines up for his 144th game. If Miller starts for the Bengals, it will be their sixth different starting middle backer against Baltimore in the eight games they've played them in the Marvin Lewis era: Kevin Hardy, Nate Webster, Landon Johnson, Odell Thurman, and Brooks.
Also not practicing Wednesday and questionable is cornerback Deltha O'Neal (shoulder).
Wide receiver Kelley Washington (hamstring) practiced for the first time in about a month Wednesday, but is questionable. Tight end Tony Stewart (hip) worked and is questionable.
PRIME TIME : Former NFL cornerback and Reds centerfielder Deion Sanders checked into the locker room Wednesday. He's in town doing a feature for NFL Network on Bengals wide receivers Chad Johnson and T.J. Houshmandzadeh, a pair he knows well from his camp in Dallas.
Sanders wouldn't answer how he would play them Thursday because, "That's one of the things I'm going to talk to them about," but he did offer a scouting report on what makes each tick.
Johnson: Attitude. Florida. Hips. Feet. Knowledge of the game.
Houshmandzadeh: Physical. Toughness. Preparation. Both guys have the will inside them to want to dominate.
As for being the NFL's best receiving duo, Sanders said, "They're among the best, but when you're talking duos you have to talk about Marvin Harrison and Reggie Wayne (the Colts) and the two guys in Arizona (Larry Fitzgerald and Anquan Boldin)."
SLANTS AND SCREENS Head coach Marvin Lewis is now in a class with Gorbachev and Reagan. He met with NFL Network play-by-play man Bryant Gumbel before Wednesday's practice. Defensive tackle John Thornton, who missed Tuesday's practice with a sore knee and is listed as doubtful, was suited up before Wednesday's walk through and said he's trying to get back on the field after missing virtually all of Sunday's game. He's played in 75 straight dating back to his Tennessee days, but remained doubtful after not practicing Wednesday.
Defensive tackle Sam Adams, who lined up in six playoff games for the 2000 and 2001 Ravens, on the play calling of Ravens head coach Brian Billick: "Brian Billick calls it going to the dark side when they have to run the ball. He doesn't want to go to the dark side. He's a passing quarterbacks coach. They're good enough to do anything."
In the five games since Billick has taken over the play calling, it hasn't been all the run in the 5-0 stretch. Passing yards are up from 177.3 to 231.6 and Baltimore has six passing touchdowns after eight in the first six games. Steve McNair has thrown it 159 times compared to 169 in the first six games. The big difference is McNair has a 96.8 passer rating compared to 64.1 under Jim Fassel.
"There are subtle differences," said Bengals defensive coordinator Chuck Bresnahan. "There's a little bit more play-action passes to the runs that are tied in with it, but it's more complementing each other because Brian has the feel of the whole game now. They are complementing each other between offense, defense, and special teams and they're playing well in al three phases. That's the biggest difference. They're not asking Steve McNair to go out and score 40 points."